Colour of the Truth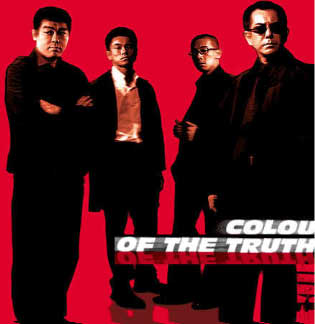 ---
Reviewed by YTSL
Time was when crime dramas were a dime a dozen in Hong Kong cinema. If it were still the case, this solid 2003 work's makers would not have been accused -- as they look to have rather unfairly been -- with seeking to ride on the coat-tails of "Infernal Affairs". Granted that the Wong Jing and Marco Mak co-directed effort does have two actors who were members of the 2002 box office champion's cast (in the increasingly gravitas possessing Anthony Wong and the buffoonish Chapman To). Then there's the fact of both of these films featuring consequential roof-top encounters. However, the story that unfolds between the two of these scenes that occur in the later movie varies in many ways from that which is central to the Andrew Lau and Alan Mak co-helmed offering that proved to be a major critical as well as commercial success (whose re-make rights have been bought up by Brad Pitt and Jennifer Anniston).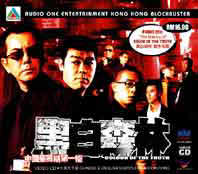 Also as befitting its being the more modestly budgeted production, COLOUR OF THE TRUTH possesses a plot that's observably more stream-lined plus has "just" one character at its heart. This would be the individual who's played: early in the film by the talented boy-actor whose previous notable appearances include in the Peter Chan helmed portion of "Three" along with Riley Yip's "Just One Look"; and then for the rest of it by Raymond Wong Ho Yin (someone whose abilities had looked to have been hitherto under-appreciated by others besides Johnnie To). He -- whose surname is changed thrice in his life (due to his mother getting widowed and then twice remarrying) -- adapts the nickname of "Cola", in the style of his father (who was known to his colleagues and foes as "7Up"). And like his old man, Cola too becomes a plain clothes police operative.
But is he otherwise similar to 7Up: a law enforcer (essayed by a guest starring Lau Ching Wan) who met his death at the hands of what many people -- including his widow (played by Pinky Cheung) -- surmised were those of police detective inspector Wong Jiang (Anthony Wong in the sort of role that allows him to show his mettle)? Therein lies what could be said to be the key question of COLOUR OF THE TRUTH; one on whose answer this thought-provoking offering's climactic scene does hinge. And at any rate, it does seem to be so that Cola will need to find out what really happened on a Mongkok roof-top back in 1993 before he and at least one other man can go ahead and truly consign that far from incidental incident to the past.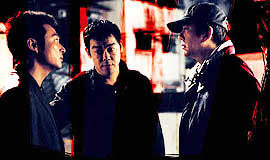 In the meantime, what is known for sure is that three gun shots were fired on that particular roof-top and that two of them killed a man each. The second victim was 7Up's friend, Blind Chiu (Francis Ng is another respected actor who makes but a short appearance in COLOUR OF THE TRUTH). A Triad boss, he was trying to elude capture -- with the clandestine help of 7Up, who thus was effectively working against other policemen -- when stopped up on the roof by Wong Jiang. And like with 7Up, Blind Chiu also was to leave behind an angry widow -- who showed her contempt for Wong Jiang by spitting on the detective inspector upon encountering him at a memorial service for 7Up -- and son (in this case, named Dawei and portrayed by Jordan Chan; who grows up to become a man truly bent on seeking revenge on his father's murderer as well as another who decided to follow in the older personality's professional footsteps).

By way of a few brief scenes, it gets established that the relationship between 7Up and Blind Chiu's family did not end with the deaths of the two men. Indeed, in the eyes of Dawei, the circumstances of their fathers' demise made it so that he had a special bond with Cola; one that presupposed that the career policeman -- however law-abiding he otherwise is -- would share with the influential gangster a desire to take the life of their fathers' killer and possess a similarly willingness to act upon that impulse when the ideal opportunity arose. So, rather than be put off his belief in the individual whose growth and development he -- and others, and albeit from a distance -- had tracked from early on, Dawei thought it to be a move towards the culmination of a long harbored ambition when Cola ended up being a member of a select unit headed by the formidable Wong Jiang.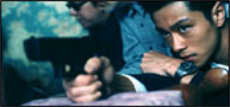 After all, since this police group is routinely involved attempting to hunt down dangerous criminals like the Vietnamese thug (played by Terence Yin) who seemed to have turned on the serpent-like Huang (portrayed by Patrick Tse) and, consequently, sought to snuff him and members of his family (including a cutie-pie looking daughter essayed by Gillian Chung), situations will not help but arise in which Wong Jiang could end up getting killed without much explanation needed -- and any post-incident investigation undertaken -- regarding how he came to meet a violent death. But will Cola take advantage of (any of) these in the way that Dawei expects? The fact that I was left guessing for much of this movie re whether its protagonist would take the low or high road in this matter is what went a long way towards making COLOUR OF THE TRUTH a work that proved involving to view.
My rating for the film: 7.5
---