The 5 Billion Dollar Legacy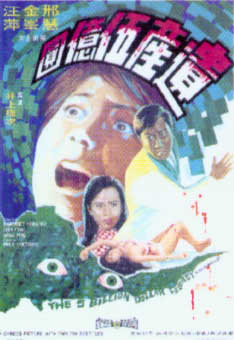 ---
Departing from the kind of films that he usually made for Shaw, Japanese director Inoue Umetsugu strayed from glossy musicals to make this enjoyable suspense thriller. Of course before coming to Hong Kong, Umetsugu had made a number of films in non-musical genres so this was not a great leap for him. Not only was this perhaps a return in style to his Japanese directing days, but was also a physical one as nearly the entire film takes place in Japan (though the interior scenes were likely done on the Shaw lot). Umetsugu focuses on creating a tight fast moving plot that has its share of "surprise" twists – that truthfully most viewers should see like an oncoming truck with headlights flashing. Even so the film breezes along with just enough complications to keep you slightly on your toes, but not exactly forcing you to exert much brainpower in putting this fun puzzle together.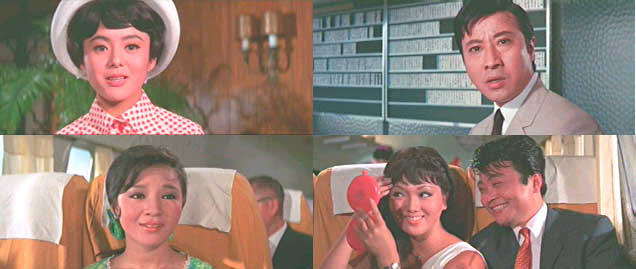 There isn't a lot of star power in the film – basically a group of unknown young actresses and a few older male character actors. This may have been considered something of a launching pad for the actresses but their careers never really took off afterwards. Umetsugu specialized in working with young actresses who were at the beginning of their careers or just beginning to become stars such as Lily Ho, Cheng Pei-pei, Li Ching, Chin Ping and they gave him some of their best work and in return he made them all look glamorous and chic. That is not really so much the case with the main female threesome in this film – though they are certainly not lacking in appeal – but this film is not steeped in make believe Technicolor glitz like his musicals.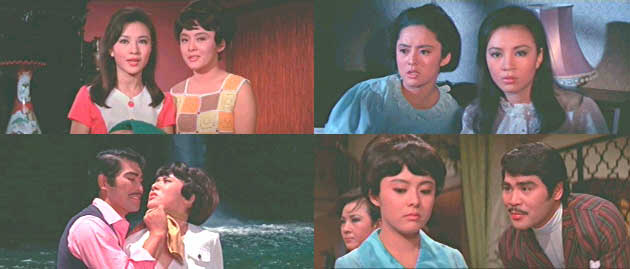 The three main actresses here are Margaret Hsing-hui, Kuo Man-no and Wang Ping. Wang Ping had perhaps the most success of the three – she was born in 1950 and joined Shaw Brothers in 1969 and debuted in this film in the same year. A year later she was to receive some success in two Ti Lung/David Chiang vehicles – "Vengeance" and "Singing Killer". Initially portrayed in films as a shy innocent, she moved – like most actresses of the time – into martial arts roles in films such as Duel for Gold. In the late seventies she moved to Taiwan to work but returned to Shaw in 1982 to act in "Tiger Killer" for which she received the Golden Horse Best Actress Award and retired for good soon thereafter. Kuo Man-no had been in film for a few years already – first starting at Cathay but moving to Shaw in the late 1960's and undergoing an image change to a sexy young thing that she definitely pushes in this film. She was out of film within a few years.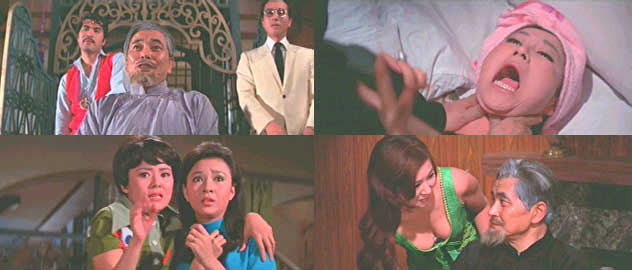 Margaret had perhaps a more interesting life after she left film than while in it. She was born in Shanghai in 1944 but soon moved to Hong Kong and after graduating from high school was enrolled in the Shaw acting classes. In the first few years she only had a few minor roles as she watched her classmates Cheng Pei-pei and Li Ching garner much fame. Her first lead role was in 1966 (The Joy of Spring) and over the next seven years appeared in a number of not quite "A" level films. In 1973 she left the business and she moved to California where she married. Here she vanished from the public view until in 1994 her mother's body was discovered and after a year stuck in a mental institution Margaret confessed to killing her and was sentenced to eleven years in jail – meaning I guess that she gets out soon.* In this film Margaret is quite the goody two shoes – no dead mothers in sight – and is very appealing with I thought a resemblance to current actress Rosamund Kwan.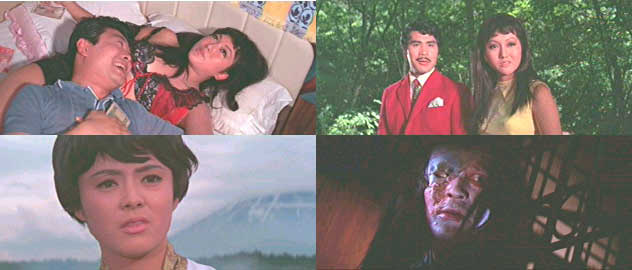 The plot for this film has a suspicious similarity to the recent Hong Kong Twins outing "The Death Curse". Three young women receive letters from a man claiming to be their unknown father. He tells them that he is now extremely wealthy and feels bad for never getting to know them and for never contacting their respective mothers. He invites them to visit him in Japan and tells them that they are the heirs to his fortune that comes to five billion dollars. They are pleased. I'd be pleased to. The women – Margaret, Wang and Kuo – co-incidentally meet on the airplane and learn that they are half sisters . . . and also that they have some others to share the will with. Wang is blind and only too happy to meet family as she is an orphan, but Kuo is less than thrilled – in her previous life she and her pimp boyfriend had run cons on men by setting them up sexually with Kuo and he played the irate husband who discovers them. On the plane they all meet Chin Feng who is going to Japan to investigate the mysterious death of their father's lawyer.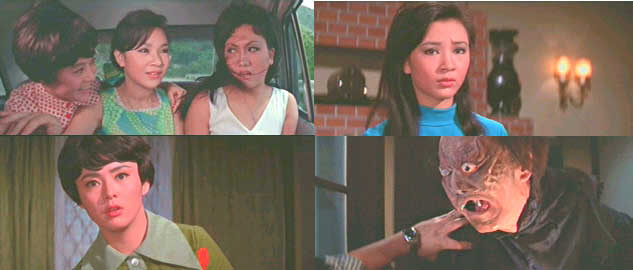 Once they reach their father's huge estate things begin going askew. Their reclusive father who is paralyzed in a wheel chair tells them that he has changed his mind and left his money to his sleazy leech of a nephew. Then a ghost begins stalking the halls at night and an ogre with one eye hanging out of the socket takes an interest in them. Creaky doors and heavy footsteps soon follow with a fair amount of female panic and running around. With no money to be had they think about returning to Hong Kong, but then the first dead body shows up with a knife sticking out of it like an uninvited guest – others are to follow.
*Information on Margaret Hsing-hui derived from an article in Totally HK – in the wonderful series of actor profiles from Paul Fonoroff called "Reel Lives".
My rating for this film: 6.0
---