The Final Option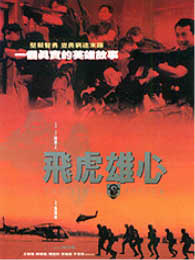 ---
Reviewed by YTSL
These days, mention the name "Michael Wong" and the word "Option" in tandem, and many a Hong Kong filmophile is going to think of the straight-to-video "New Option" movies that the Asian-American man with "Fitzgerald" as his middle name looks to have been largely reduced to appearing in. However, back in early 1994, this would have brought to mind a Gordon Chan directed cum scripted police action-drama that Paul Fonoroff endorsed as "intelligently scripted, directed, and acted" as well as "the most satisfying Cantonese film to be released so far this year" (See the South China Morning Post film critic's "At the Hong Kong Movies", 1997:377).
THE FINAL OPTION was a box office success which went on to spawn follow-ups in "The First Option" and "Option Zero" as well as copy-cat efforts like Andrew Lau's "Best of the Best". As Fonoroff noted when this Bruce Law action directed work had its run in local theatres though, there's "nothing new in terms of the raw subject matter, as the [Hong Kong Police's Special Duty Unit (SDU)] has been the subject of numerous motion pictures over the past decade" (Ibid). And if one were to look further back, its focus for much of the film on the rigorous training that not especially well-paid men are prepared to undergo -- more so, in fact, than the even more life-threatening battles that do ensue, in which they are called to apply what they have learned -- is a contributory factor towards making it feel like the contemporary police descendant cum equivalent of kungfu movies like Lau Kar Leung's "The 36th Chamber of Shaolin" and Chang Cheh's "The Shaolin Temple".
At the same time, there were several innovative touches which made THE FINAL OPTION appear to be a standout Hong Kong production for its time. On a technical note, its makers utilized synch-sound at a time when it was far less common -- and especially for action, as opposed to art-house, works -- than has become the case. Then there's it being so that, at a time when martial arts fantasies were still being churned out even while there already were indications that a new "C'est La Vie, Mon Cheri" inspired touchy-feely drama cycle was coming into its ascendancy, here was a rare movie which not only had policemen as its protagonists but also those who looked to have been the closest thing that Hong Kong has to elite plus "gung ho" military men.
Additionally, and against the odds, Gordon Chan looks to have come up with a script for THE FINAL OPTION that has quite a bit of emotional resonance even though it serves a story and sub-plots that might be said to be pretty clichéd. In this regard, the main man behind the scenes of this actually not really big budget effort looked to have been assisted by his not particularly big name -- yet, as it turns out, able cast. As an example, although Peter Yung's Ho Choi Wan character is that of somewhat stereotypical young cop who decides to volunteer to become a member of the SDU after his partner is killed while in the line of duty, the little known actor who was given the lead role in this work managed to make his character feel pretty believable plus sympathetic. Furthermore, there's the bonus of the protagonist's scenes with Carmen Lee (who plays his girlfriend, May) coming across as admirably natural; and their relationship being accorded a far more nuanced depiction than one might expect in a male-oriented action movie.
Then there's Michael Wong. Maybe it was because the much maligned personality was furnished with a role in which he was able to speak -- and act in -- his first language (English) for the bulk of THE FINAL OPTION. Or perhaps the character of tough and often gruff SDU trainer-commander Stone Wong was one that whoever was called to essay it could not do much wrong with. Whatever the reason, the fact of the matter is that this surely physically demanding effort is one of those rare movies in which he shines. And, really, this is one work that needed him to do so since Stone Wong is the charismatic task-master character most responsible for powering the film along as well as molding a group of men into a select team of formidable modern day warriors.
For all this though, THE FINAL OPTION would not have been the successful production that it is without its having the kind of villain who is distastefully despicable plus dangerous. So not only did Gordon Chan and co. provide viewers with a cop killer for a bad guy but also one who's a thoroughly spoilt brat who guns down cops for kicks. And while it's easy enough to see who one of his victims will be early in the work, much credit is due to this movie's makers that the details of the final act of violence in which he was involved should be laudably as well as significantly less predictable.
My rating for the film: 7.5
---