The Singing Thief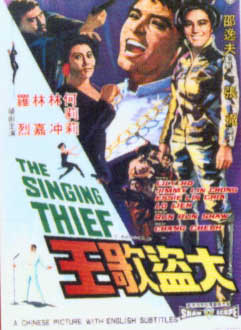 ---
Chang Cheh must have needed a breather from his typical male bonding blood soaked kung fu offerings. So he concocted this 1969 musical thriller set in contemporary times. With fey men in puffy white shirts, Nehru jackets and tight pants. This isn't exactly Chang Cheh territory and it feels as if he was trying to hone in on the work of Inoue Umetsugu who had dazzled Hong Kong screens with his lavish brightly colored sets and tuneful songs. But try as he might, Chang is no Umetsugu and this film falls short of the fashionable sophistication and frothy pizzazz that were the signature style of Umetsugu's films. Much of the first hour of The Singing Thief lumbers along in weak imitation until Chang finally sheds this artifice and returns to his roots with a blood splattering finale.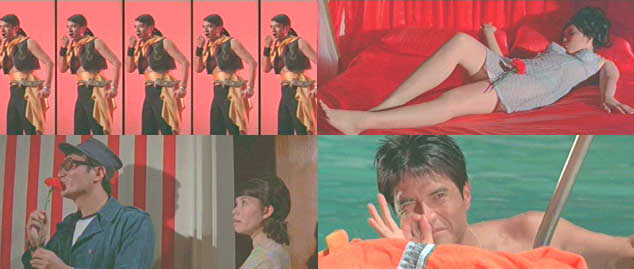 Besides a script that is completely lacking in tension and romance and painfully weighed down by obvious co-incidences that trip over each other like children on a school outing, much of the blame for this lackluster foray falls on the shoulders of the leading man, Jimmy Lin Chong. This Taiwanese actor tries so hard to ooze charm and personality – even winking at the camera from time to time – that you want to take a quick step back from him before you get slimed. It doesn't help that Chang has him acting like he is auditioning for La Cage Aux Folles with his mincing moves, silk scarves and overly dramatic gestures. Of course, there has been much written about the homosexual subtext of Chang's blood brothers films and this movie can only add fuel to that theory. Though this is lacking the typical "I will die for you a hundred times my friend" male bonding excess that fills his movies, there are still two choice scenes of homosexual subtext. One in which Lin Chong meets his friend Lo Lieh after a long period of time apart and like all male friends do they begin to beat each other up only to finally laugh and fall into each others arms and roll on the floor and then later on the dance floor, they leave their female partners (Lily Ho and Essie Lin Chia) and begin doing the twist together! Poor Lo Lieh is attired in a goatee, high buttoned burgandy jackets and cigarillos and looks embarrassed throughout.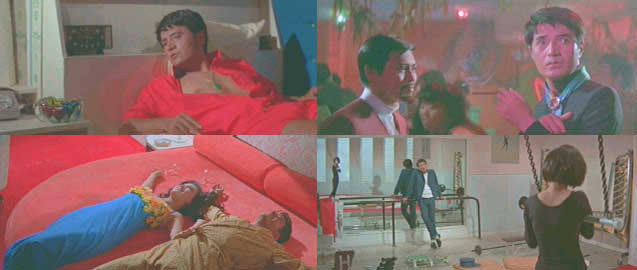 Jimmy is a nightclub singer pelting out romantic ballads every evening, but prior to this he was a master cat burglar who had been caught and sent to prison for six years. After spending those years with his cellmate Bruno and singing Judy Garland songs to help him sleep at night, Jimmy wants to go straight – I mean he wants to change his criminal ways. But as soon as he is released, jewel robberies begin again and his telltale sign, the red carnation, is left behind at the scene. The less than thoughtful keystone cops immediately jump to the conclusion that Jimmy is back in business and come to arrest him. Being so immensely suave of course he has no trouble getting away from them and decides to track down this imposter himself.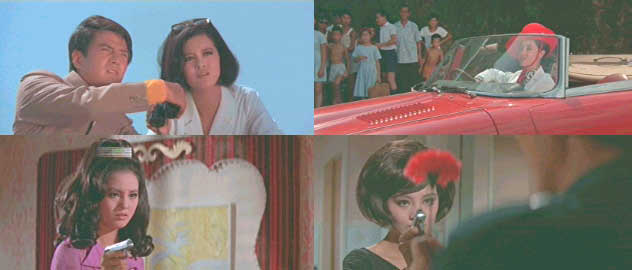 From his friend Lo Lieh, he acquires a list of the top five richest women in Hong Kong and plans to figure out how he would rob them and thus figuring out how his imitator would do it – and be there to catch him! Brilliant except for the fact that he now will be on the scene every time a theft occurs adding to the evidence against him. A mysterious woman in the lovely form of Lily Ho follows him around and has him forcefully brought to her house where she greets him while ensconced upon a high swing in her exercise room. It turns out that she is at the top of his list and wants to keep a close eye on Jimmy so that he can't steal her mound of jewels – it also turns out that she has a mild obsession for him and has been secretly taping his musical performances which she projects on her giant in-home screen. Eventually the true thief is revealed and the film suddenly turns very violent with gangs of bad guys trying to kill Jimmy with guns and various sharp implements – and suddenly we realize that he is in fact the kung fu singing thief! If they had simply cancelled his subscription to GQ they probably would have done much more harm to him. The action choreography is done by Chang's usual team of Lau Kar-leung and Tang Chia.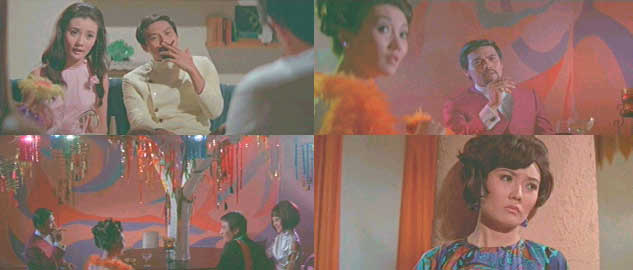 Lily is poorly utilized in this film as are most females in Chang's films and though we get to see her in various appealing fashions the film never turns into the Nick and Nora Thin Man repartee that I had been hoping for – instead Lily gets completely sidelined once the action heats up. The singing in the film is actually fairly sparse – two songs at the beginning and one at the end with a few small items in between. It could have actually used a few more songs! The DVD biography has this to say about Jimmy - he was born in Taiwan to a father who was a legislator and a Japanese mother. He began acting in Taiwan in the mid-1950's but made a circuitous route to Hong Kong. He went to study in Japan and then was hired by Toho to act in a few Japanese-Hong Kong co-productions - "A Night in Hong Kong" and "Hong Kong, Tokyo and Honolulu". The Shaw Brothers signed him up in 1968 and he went on to make a few films for them - "The Singing Escort" following on the heels of this one.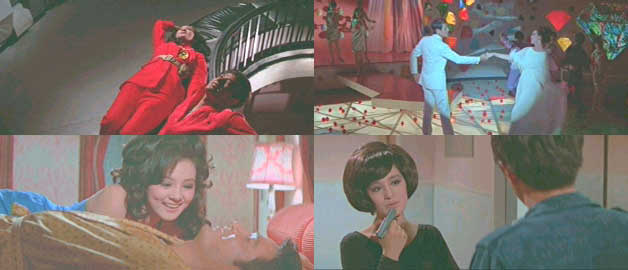 My rating for this film: 5.5
---