I Have a Date with Spring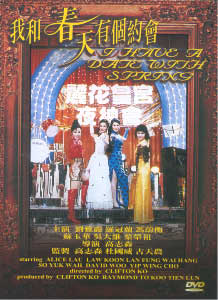 ---
Bathed in a warm buttery glow, this film is a lovingly nostalgic look back at Hong Kong in the 1960s. Based on a stage play by Raymond To, Clifton Ko brought this to the screen in 1994 and with a cast of supporting and unknown actors it became a surprise hit that ran in HK for over five months. The film is structured very much like a play – almost every scene takes place inside - and it utilizes very few cinematic devices (besides the flashback) to tell the story. The story it tells is a bittersweet one – of life flying by all too quickly – of love lost and lost friends – of success and failure – and the sad inevitability of growing up and growing apart.

A well known singer Alice Lau (Butterfly Yiu) returns to Hong Kong in the 1990s for the first time in years to perform a benefit concert at an old nightclub that is being torn down. Hearing certain music and seeing familiar sights set her off down memory lane and a series of flashbacks take us back into the 1960s. Alice and three other girls (Law Koon-lan, So Yuk Wa and Fung Wai-hang) portray a struggling but spirited singing group working for Uncle Po (Yip Wing-cho) at this club.
The film delves into the personal lives of the four girls and charmingly evokes their friendship and support of one another in pranks, tears and mahjong games. Outside of the club, Hong Kong is being torn apart by riots and bombs – but inside there is only their comradery and their music. Life though begins to intrude – one girl goes off to perform in Vietnam with her boyfriend, another begins singing at USO canteens and Alice gets her big break one evening when the headline singer (Chow Fai) gets waylaid by the bombs and Alice stands in for him.

Alice also falls in love with the saxophone player, David Ng, but success and pride drive them in different directions. Now Alice has come back to Hong Kong and the ghosts of her past begin to surround her once again. It is all told in a wonderfully moving manner – funny, sentimental and poignant. The acting from all the participants feels just right – and in particular Alice Lau is simply wonderful.

My rating for this film: 8.0

---
DVD Information:
Distributed by Universe
The transfer is very nice - excellent colors and lighting - it could be a tad sharper though.
Letterboxed
Cantonese and Mandarin language tracks
8 Chapters
The subtitles are Chinese or English or Bahasa (Malaysia).
There is a trailer for this film - plus ones for Curry and Pepper, Fun and Fury and The Last Blood.

---