The Butterfly Murders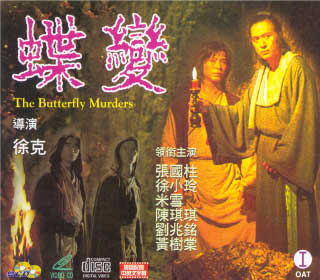 ---
Reviewed by YTSL
"Peking Opera Blues". "Shanghai Blues". The "Once Upon a Time in China"s (at least from I to III). "Green Snake". "The Lovers". "The Chinese Feast". "The Blade". They are all visually stunning but also thought provoking and emotionally impacting films. To have directed one of them would be an achievement but to have directed ALL of them PLUS have been the producer of (other) inspired works like "A Better Tomorrow", "The Killer", the "A Chinese Ghost Story" trilogy, the "Swordsman" trilogy, "Dragon Inn", "Iron Monkey" and "Burning Paradise"?! Only one man could have done this, and in fact did do it: Tsui Hark is his name (and invention, since he actually was born as Tsui Man-Kong but changed it in adulthood).
Going into my first viewing of his debut directorial effort, I wondered what clues and strands -- and how much -- of Mr. Tsui's later offerings I would be able to detect in THE BUTTERFLY MURDERS. This (re)viewer also was just plain interested to see what kind of surprises and delights this almost mythical -- not least on account of home video copies of it not being all that easy to find -- 1979 movie would have in store. Additionally, there was the issue of trying to figure out what kind of work it actually is, since I had previously read of it being a science fiction, historical martial arts, horror as well as mystery film. As it turns out, and as one might have expected of a master of more than one genre (and one who excels at mixing them to boot), this innovative -- and challenging -- offering really does comprise elements which one would not normally expect together in a single filmic production.

For the first fifteen minutes or so of THE BUTTERFLY MURDERS, I felt more lost than I have for a while now post entering the world of Hong Kong movies. This is not least because of there being so much to have to quickly take in as one gets plunged straight into a foreign land and faraway time, and is shown in close succession particular events which occurred in different years, both before and after the dawn of "the New Era" of Federalist China as well as introduced to more than one major and minor character (who include Tien Fong (the leader of the Tien Clan and the Color Flag Legions is played by Wong Shee Tong and a mysterious sprite of a woman named Green Shadow essayed by Michelle Mee).

It most definitely does not help that the convoluted film's narrator -- a scholar with no martial arts skills but plenty of reasoning ability named Fong (portrayed by Lau Siu Ming) -- is hardly the most loquacious of communicators. Fortunately, around the stage that I was about to give up with my efforts to figure out what was supposed to be going on, a conversation takes place which helps determine that: The period that THE BUTTERFLY MURDERS is concerned with is one in which 72 powers are vying for control; some of them have been attracted to the mysterious environs where there are rumored to be killer butterflies on the loose; and found upon getting there that the few of its residents -- including the couple introduced as Master and Lady Shum (played by Cheung Kwok Chu and Chen Chi Chi respectively), plus a mute girl named Ah Chee (who comes in the form of Hsu Hsiao Ling) -- who have not fled away or died have taken to living in the spaces under the impressive looking physical structure which they have effectively abandoned.

Gradually, events fall into place and connections are established between them and such as the earlier killing of a printing press owner by a man claiming to have eight previously unseen pages of scholar Fong's Red Leaf Memoirs. Over time too, more and more secrets -- than there previously were thought to exist -- of Shum Castle and its remaining denizens come to light. These include the realization that certain individuals might not be who they appear to be, along with there being within the subterranean labyrinths a room which seems to have been dedicated to studies of butterflies and another where experiments and inventions look to have been carried out to produce all manner of deadly technology (including explosive powder and metal armor).

To some extent, matters get complicated even more with the arrival of three renowned martial artists: Men who individually go by the names of Shuen, Kwok and Li -- and titles of "Flying Cat", "Hell's Fire" and "A Thousands Hands" (which give one an idea of their particular expertise: E.g., "A Thousand Hands" is the small weapons expert of the trio) -- but also are collectively known as "The Thunders". At the same time, their incorporation into THE BUTTERFLY MURDERS' complex setup represents and effectively fits in the final pieces of jigsaw that make clear that this definitely is a Tsui Hark picture.
By this, I mean that THE BUTTERFLY MURDERS is a multi-genre, multi-layered, multi-message movie that seeks to make major assertions -- e.g., that "a military society is founded on blood" and "a man who knows too much is a burden on himself" -- even while it succeeds in being a film that visually enthralls. Still, it will be pointed out that this is a dark and downbeat Tsui Hark offering -- containing little humor, if at all -- and therefore one more akin to "The Blade" than any other of his later offerings that I have viewed thus far. Also, even while this ostensibly commercial production surely is a technological achievement and all round solid piece of work, it suffers as a film from the main man behind it seeming to have made more effort to realize a particular vision of his than to actually (emotionally) connect with its viewers. All in all, it may be retrospectively surmised that although Mr. Tsui clearly had the technical know how at this early point in his career, it took a few more attempts and years before he became the master that he now is at getting his movies' audiences to feel as well as think what and how he wants them to. Nonetheless...
My rating for this film: 7.5

---