Cabaret Tears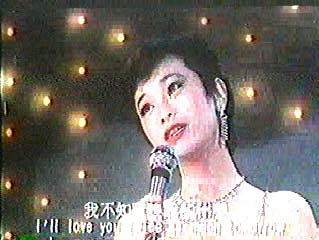 ---
Coincidentally, I had been watching the Jacques Demy film The Young Girls of Rochefort just recently and Cabaret Tears brought it back to mind. Young Girls is a very joyous look at young love among a group of itinerant performers who travel from small town to small town – with a song always on their lips. At one point in Cabaret Tears a tune written by the musical composer of Young Girls, Michel Legrande, ironically plays as the performing troupe in Cabaret Tears looks back at the small town they are leaving.

This Cinema City production though is far removed from the romantic yearning of Jacque Demy, it is in fact a surprisingly bleak, realistic and unromantic look at a female troupe of travelling entertainers. At times it almost has a John Cassavettes dark vérité feel to it. Stuffed into the back of trucks like refuse, they travel from small town to small town across Taiwan – stopping for a few days to play at seedy run down venues – sleeping on whatever floor space is available. Like old time vaudevillians, their shows consist of dance routines, a bit of comedy that leads up to the big event of the evening - a strip show. The gawking audience is all men – looking for a minor thrill in their humdrum lives.
There is no joy in this troupe – just a group of women hoping to make some money before their looks have vanished. Perhaps at one time these women had dreams of being in show business, dreams of making it to the top – but now they just grind out one day after another. Days are filled with internal acrimony and gossip, the nights with the show – and after the show perhaps they have to perform a "favor" for the theater owner.

Kung fu veteran Ku Feng runs the troupe and among the women is Sylvia Chang. Sylvia's older sister has brought her into the business and is pushing her into bigger and better roles – the solo dancer – but as Sylvia looks around her at the crumbling sad lives of the women, all she wants to do is get out. But her sibling loyalty makes this a difficult choice to make.
Though a part of you has to respect such an unyieldingly realistic film – no star is born here sort of material – the continuously downbeat story and the constant loud tirades of the older sister make it heavy and eventually unpleasant going. As a side note – here is yet another famous and highly respected Hong Kong actress (Sylvia) involved in a mud-wrestling match – the other being of course Maggie Cheung in Paper Marriage. Sylvia – a terrific singer with all her other talents – also performs two songs.

My rating for this film: 4.0

---