Lavender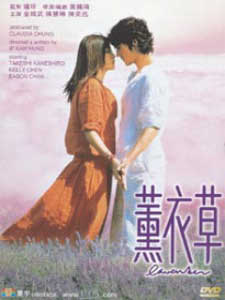 ---
This film seems to be full of tears and water all signifying something important I am sure. Not only tears and water, but also tears falling into water and at one point so many tears that it creates a rain shower. What it all means I am not sure. That it hurts to be human? In fact, I am not sure at all what the purpose of this film is other than putting Kelly Chan and Takeshi Kaneshiro together once again. They had some cinematic sparks in Anna Magdelana and even more so in Lost and Found, but here they rarely seem to be on the same page.

Takeshi plays an angel who comes crashing through the roof of Kelly Chan's apartment and injures a wing. Rather than being filled with wonder at having an angel in her living room, Kelly seems slightly peeved at the disturbance, but allows him to stay until he is recovered as long as he does all the household chores. Now if an angel fell into my living room I might be a tad curious about certain things – like so there really is an afterlife huh? And just what are the ground rules for getting into Heaven and which of the religions would be my best bet to practice and has John Lennon written any good songs lately. Of course, Kelly is in a state of enormous grief because of the death of her boyfriend. You know this because her cupboard is filled with hundreds of packages of noodles and nothing else – a sure sign of grief in the movies.

Grounded for a while – until Heaven opens its door again – Takeshi does the typical angel on earth types of things – drinking, smoking and stripping. Angels just wanna have fun. Takeshi doesn't need to eat – but he desperately needs the love of others to survive – just like rock stars and politicians – and when he doesn't get enough he begins to wilt. Meanwhile, Kelly tries to satisfy her need for love through smells, but she too has begun to wilt in her sadness. Clearly there is an opportunity in this film for either a sweet romantic comedy or a film filled with the poignant sense of loss and regret that only humans can suffer – but the film doesn't really go for either and becomes a bit of a muddled mess.

Much of the fault for this has to lie with a script that wanders around like a lost puppy looking for the kindness of strangers. One has to assume that director Ridley Yip (Love is not a Game but a Joke, Metade Fumaca) is attempting to convey a sense of magic and what it is to be human – sort of Wings of Desire for teenagers – but he has so little new to say that the film is taken up with scenes that leave you scratching your head with the pointlessness of it. Huh – why did we just spend ten minutes watching Takeshi looking for his lost sneakers – and when he finds them why does he declare "I finally know what true love is". For a pair of sneakers? I've had some great sneakers in my life – some I can recall with great fondness – but none that I would walk barefoot through the streets of Hong Kong for.

In fact, Takeshi has more shoes than Imelda Marcos after one of her infamous shopping sprees in Paris – so why this pair? If only I could uncover this mystery I am sure the film's meaning would unravel before me like the Boston Red Sox in a World Series game. Am I missing something obvious here? Are the shoes a symbol of how earthbound we are? I wish I had the answer in my back pocket, but I don't.

And why does the next door neighbor (Eason Chan) wear a hideous Afro-type wig that looks to have been borrowed from Angela Davis thirty years ago and gnawed on by rats ever since. And why is he gay? Yet another example of the gay neighbor syndrome – good for some cheap laughs in theory I suppose – and to show that gays can love and cry too? How profound.
Perhaps I am being too hard on this film – there are some parts that were done quite well (I strangely enjoyed the shoes on the escalator scene, the dancing shoes, the swing high above the city and Takeshi's exuberant run through the streets of Hong Kong) and the cinematography is as silky as a fancy pair of new pajamas and the city shots are absolutely lovely. But there is no emotional connection here between the audience and the characters or among the characters themselves and this kind of story is built for emotional release. At times it feels as if Yip is reaching for this, but then he pulls back to go cutesy (the apple in the armpit routine) and photogenic instead.

I have to confess to slowly having a sneaking affection for Kelly Chan these days. I am not sure how this happened. I would have thought it more likely to find a $1,000 bill in a box of Sugar Smacks than for this to occur. I have to put the blame on my mouse pad. I got a Kelly Chan mouse pad included with a magazine a month ago and have been rubbing my mouse across it ever since. This seems to have created some sort of good feelings from my side – though the mouse pad has yet to respond. Maybe I should get one of President Bush (Environment? What environment) to get through these next four years without losing my sanity.

Anyway – taking this odd affection into account – Kelly is great in this film – a much better cryer than I had given her credit for – and follows up on her bath scene in And I Hate You So with three in this film! Kelly looks very good in a bath and may spend her entire next film in one. She has become the premier actress in Hong Kong these days at portraying annoying spoiled yuppie brats – but she is so attractive (that's my mouse talking) that one easily forgives her.

Also appearing are Cheng Pei Pei as one of Kelly's students, Vincent Kok as the man in her store and Terrance Yin as the street violinist.
My rating for this film: 5.5

---
DVD Information:
Distributed by Universe
The transfer is excellent - great colors, sharp.
Letterboxed
Cantonese and Mandarin language tracks
There are 8 Chapters.
The subtitles are in either Chinese or English - and on the black border.
There is a trailer for this film plus ones for Skyline Cruisers, Marooned, and Summer Holiday.
Star Files - Takeshi Kaneshiro and Kelly Chan.

---