Summer Snow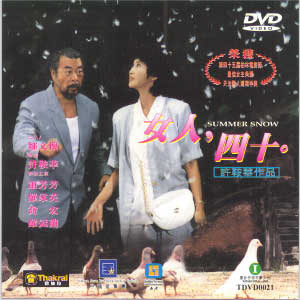 ---
Reviewed by James Chang
Summer Snow is definitely one of the best Hong Kong films I have EVER watched. This film is the masterpiece of Hong Kong New Wave director Ann Hui and can probably be considered the best HK film produced in the past decade. Legend of the silver screen Josephine Siao starred in this vehicle and gives the audience her best performance to date. However, what really makes this film stand first among equals is its emphasis on humanity, its realistic presentation of daily lives blended with a superb sense of humour and its ultimate respect for human dignity. I was immediately 'conquered' by its unique charm. Regrettably, I have found only very few contemporary HK flicks which show this sense of self-respect. I use the word 'contemporary' since originally, throughout the 50s to the 80s, HK films were mostly good-natured. For such reasons, Summer Snow was awarded the Humanitarian Award and the Silver Bear for Best Actress in the Berlin International Film Festival in 1995.

Actually, one can hardly expect a film that stars Josephine Siao not to be exhilarating. She gave a few exceptional performances in the 90s. Although she was arguably the only actress in HK who is qualified to stand on the same stage with PAUL NEWMAN to receive their respective silver bears (in 1995), her performances were often hindered by the hammy overacting of others and/or the low standard of the average HK flicks, in which her fine acting is often interrupted by awkward jokes, unintentionally funny situations and a temperamental storyline.
On the other hand, director Ann Hui is not a good filmmaker. As an overly sentimental person, her output was sporadic and the tone of her works was often dreary and almost suffocating. The themes of her films were also heavy-handed - Vietnamese boatpeople, national struggle in 18th century China, serial murders in a shantytown etc. Sometimes, her presentation of these themes was even hysterical and yet she is still one of the most important filmmakers in HK film history and along with Tsui Hark, they are the only New Wave directors who have survived cinematically over the past 20 years.
However, she has her strengths. Think about it - what will the result be if we have the painstaking direction, the sense of humanity and seriousness of Ann Hui combined with the furious sparks in Josephine Siao's vigorous acting and the vivid and noble image of veteran actor Roy Chiao all put on to the same screen? The result is Summer Snow, a well-balanced film, where the pluses of the three outshine the minuses of the individual (The humour of Josephine and Roy vitalize and make personable Ann Hui's otherwise heavy-handed film).

The story is about the life of an old man (Chiao) burdened by Alzheimers and his daughter in law (played by the wonderful Josephine) having to face many difficulties. Besides taking care of the old man, she has problems with her boss, who was about to 'reorganize' the company through computerization. She has to take care of the entire family. And the disease of the poor old man gets worse and worse. Soon, he canít even recognize his own son (played by Law Kar Ying), beating him at night when he mistakes him for a thief. After all these conflicts - with their neighbours, with their son, within their own hearts, Josephine and Law decided to send the old man to a home for the elderly. However, Roy Chiao escapes from his new 'home' one day. Josephine finally brought him home. Now, she is the only person he still remembers. She promises to stay besides him until the day he dies.
I couldnít believe that such a heavy-toned story could be presented in such a delightful manner! The characters in this film are ordinary people, they're not heroes. The lives they lead are the most ordinary among us. Yet, under the collaboration of Josephine, Roy and Hui, every tidbit in our ordinary daily life can be of infinite interest. At the beginning of this film, we see Josephine arguing the price of a fish with the grocery keeper. The keeper told her that his fish were so expensive because they are kept alive. Then, he went away for a while to do something else. Within a second, the poor fish was slapped dead by Josephine. When the keeper is back, she said, "Who told you that your fish are alive? It's a dead one! You ought to charge me less!" This is method acting ( Marlon Brando once slapped his arm during a stage performance. After the show, he explained,' In the story, I was an explorer in Africa, how can you expect there to be no mosquitoes in an African rain forest?') It is obvious that Josephine's performance aroused the resonance of the audience, as everyone in the cinema broke into laughter immediately. On the other hand, nothing in this film is exaggerated, like in many other HK films.

To be frank, although Ann Hui was the director, it is very appropriate to call Summer Snow "a film by Ann Hui and Josephine Siao" since without Josephine, the film will definitely lose 90% of its humour. If Roy Chiao were also replaced, the entire film would immediately become as dreary as Eighteen Spring (1997, Ann Hui). The two of them provide the film with a sense of humour - an ingredient missing in most of Ann Hui's other works. Summer Snow can therefore be considered as a realistic portrayal of the lives of ordinary people in HK --- lives mixed with tears and laughter.
The Chinese name of this film, "Woman at the Age of Forty", also tells us something. What does it represent? Themes of work both at the office and at home, children about to attend university (or at least high school), old people at home waiting for her to take care of them, her youth and vitality vanishing bit by bit. Everyone has to face such problems. And Summer Snow proved that HK filmmakers are good enough to handle source materials from our daily lives.

Besides leading actress Josephine Siao, Roy Chiao's performance was also topnotch and it is no wonder that he was awarded the Best Actor in the Hong Kong Film Award. Law Kar Ying's portrayal of Josephine's husband was also very subtle and refined, winning another award for this film in the HKFA (Best Supporting Actor). In conclusion, I strongly advise everyone who considers HK cinema as 'cult' cinema to watch this film and I' m very sure that after watching this film, you will agree with me that we do have disciples of Franco Rossellini and Vittorio De Sica in HK.
My rating for this film : 9.0

---
DVD Information:
Distributed by China Star/Thakral
The transfer is very average - not a problem to watch but nothing to get excited about.
Letterboxed
Cantonese and Mandarin language tracks.
Menu is in Chinese - only options are for chapters, language and to start the film
The subtitles are burnt on Chinese and English.
12 Chapters
No extras.

---