Bakery Amour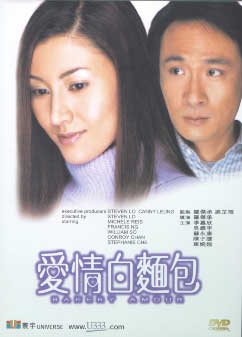 ---
Reviewed by YTSL
There have been times -- including post viewing such as "Love in the Time of Twilight", "From Beijing with Love", "Love is Not a Game But a Joke", "Love on Delivery" and "When I Fall in Love...With Both" -- when this (re)viewer has wondered whether she was fated to never get much joy and/or satisfaction out of checking out (Hong Kong) movies with the word "love" in their titles. There also have been films in which Michelle Reis looked to me to have become the female version of Andy Lau (NOT a good thing in my book since by this, I mean that she sleepwalked through -- or at least under-perform in -- some works in which she had quite a bit of screen time). Additionally, it's taken me quite a while to learn that Francis Ng can believably portray likeable characters as well as the sort of demoniacs that I like to avoid in reel as well as real life.

In such a context, it should be understandable why I didn't exactly run to check out BAKERY AMOUR: A cinematic concoction released in Hong Kong on Valentine's Day, 2001; with the French word for "love" in its title; and whose lead duo are the actor whose screen acquaintance I first met as half of a pair of not particularly attractive Siamese twins (in "The Bride with White Hair") and the former beauty queen who part of me will forever think of as Kiddo (the cross-dressed tomboy she essayed in "Swordsman II"). Moreover, it wasn't as though this Canny Leung scripted and co-produced offering did great business at the local box office (In fact, it grossed less than HK$2 million). However, in part because of praise having been lavished on this tale of love, good intentions and baked bread by certain overseas HK moviephiles (notably <www.heroic-cinema.com>'s Mark Morrison), this romantic film was sampled, and found to be a pleasantly sweet work which provides one with lots of little bits to savor plus does leave one with a good taste in one's mouth.

Indeed, virtually right from the get go, BAKERY AMOUR sucked me into its well-filmed world (which made what might otherwise have been prosaic events, occurrences and places seem otherwise). In the first scene, in which can be heard a lively piece of music, we witness the ascent up many flights of hilly Hong Kong Island steps of two friends since childhood -- "pen pals since Primary 5" (i.e., 5th Grade or so, for Americans) -- to an apartment block that will soon house him (Chanty -- whose name means Eldest Grandson (presumably in his Hakka mother tongue) -- is played by William So) and his Uncle Jet (portrayed by Francis Ng as an eccentric but cute and lovable character) as well as her (Lok To comes in the attractive form of Michelle Reis). Moments later, Lok To is seen reacting in a shocked manner to the contents of a recently arrived letter from her boyfriend (Gala is played by Convoy -- could it be Conroy instead?! -- Chan) announcing the breakup of their relationship on account of her not having replied to the 99 epistles from France that he had previously sent her; this not least because she hadn't received any of Gala's prior attempts to communicate with her while he was (temporarily) away from Hong Kong.

In the new apartment he's moved into along with his architect nephew (to help look after him), Uncle Jet finds those missing letters. The man who aspires to operate a detective agency surmises that they had been stolen by a stamp collector who had been (one of) the flat's previous dwellers. Curiosity getting the better of him, and not knowing at the time that Lok To (still) lived in the same residential block (or that she's the friend of Chanty who found this space for him and his uncle to occupy), he proceeds to read all 99 of those love missives. Upon making her acquaintance (formally over a meal at a tea house, which provides for what may well be BAKERY AMOUR's most amusing scene), a guilty -- for having poked his nose into the romantic business of the sometime bakery shop worker -- Uncle Jet decides to make amends by getting more deeply involved into her affairs and hatching a multi-phase and fairly improbable -- but nonetheless quite logical -- scheme to help her get back together with Gala.

Suffice to have it be known at this juncture that Uncle Jet's machinations involve setting up a bakery and getting Lok To to bake its bread (which turn out to sell like hot cakes despite their being of the plain kind). Also, that contrary to the assertion of one of its characters that "We mustn't make love very complicated", BAKERY AMOUR ends up containing not just one love triangle but a trio of them (with Stephanie Che's Ching Wai character -- someone who enters the film fairly late -- being another woman who (at least) two men find attractive)! Misgivings to the contrary, all this works out pretty well and often charmingly. While there is no way that this movie -- whose nice touches include some scenes at a Hakka village (whose matriarchal figure is played by Helena Law Lan) -- is much more than a fluffy piece, it certainly ended up being one unabashedly romantic offering that I enjoyed way more than quite a few other love-oriented efforts.
My rating for this film: 7.

---
Reviewed by Brian
I have finally discovered the perfect sandwich: Michelle Reis's face between two slices of warm bread. In one of the films sweetest moments Michelle takes two slices of just baked bread and holds them lovingly against her cheeks and positively glows with the happiness of that instant. Unknown to her, Francis looks on and falls in love completely. Though most fans might rightfully find Francis's eccentric character to be another feather in his growing acting cap (would anyone have predicted Francis would become a romantic lead actor a few short years ago?), Michelle gives a wonderfully fetching performance as well.

It might seem that one would have to slightly suspend their belief that this bedazzling modelesque neighbor would fall in love with the nerdy socially inept but kindly uncle of her friend. But Michelle plays it very low key and appears as surprised as anyone that she has this growing affection for Francis. His clumsy charm slowly works its way into her heart like an unregistered virus and by the end they somehow seem perfect for one another.

Of course, this being a love story in a movie, the writers have to introduce a conflict – will Michelle realize what we all know or will she fall in love again with her old flame. Every romance film has to have some entanglement, but (other than the horrible English pop track) this is the weakest part of the film and it brings the last half hour to a near standstill. Whenever Francis and Michelle are in a scene together the film takes on a bit of quirky magic – but all the other scenes just feel listless in comparison. This is really a romance that didn't need outside conflict – just watching these two very different people find each other would have been satisfying enough.
My rating for this film: 7.5

---
DVD Information:
Distributed by Universe
The transfer is excellent - clean and sharp.
Letterboxed
Cantonese and Mandarin language tracks.
The subtitles are Chinese or English.
8 Chapters
Star Files - Michelle Reis and Francis Ng.
There are two different trailers for this film, but none for any others.

---