Love au Zen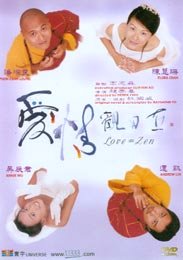 ---
Director Derek Chiu has risen quickly in the ranks of Hong Kong directors with his critically praised Sealed with a Kiss (1999) and Comeuppance (2000), but his recent film, Love au Zen (2001), mildly disappoints in comparison. While both of his previous films had a lyrical element to them, they also had an edge that created an emotional impact. Love au Zen is lyrical with moments of charm but it has no edge to it at all, no emotional resonance and in the end one feels very little for the characters or for the outcome of the film.
As one might expect from a screenplay that is based on a play from the same author, Raymond To, it is quite literate and at times fairly wordy – but it rarely grabbed my attention. Part of this might be blamed on the actors who never really inhabit their characters with any energy or depth. Though the four main characters are on screen for much of the film, I never get any sense of who they are beyond what we see and hear – they are simply the creations of their dialogue and little seems to come from within.

The film is interesting in the manner that it contemplates the conflict between love and a state of inner harmony. In a sense, Chiu almost concludes that the two are very much at odds with one another. Into his scenario he introduces two couples that he uses to explore these issues. One couple is Andrew Lin and Annie Wu who seem to have nothing really in common but are following in a shallow manner society's expectations of marriage. The other couple is Poon Chan Leung and Flora Chan – a more cerebral pair who after five years of being together are beginning to question where their relationship is going – if anywhere.

A few days prior to Lin and Wu getting married, Poon, the best man, disappears leaving his girlfriend, Flora, at her wits end. It turns out that he has temporarily joined a Buddhist monastery on Lantau Island in order to get a better understanding of who he is and where he wants to go in his life – and whether this includes Flora. He makes it to the wedding though – but Andrew hesitates for five seconds before his "I do" and this causes the spoiled and temperamental Annie to call the whole thing off. In an amusing follow-up, the two fathers stand up and tell Andrew that he should rejoice that he will not have to live with a shrew as they have done!

Poon convinces Andrew to return with him to the monastery to receive guidance from his Master, Ko Hon Man, an old classmate who has turned to a life of abstinence. The performance from Ko is the best thing about the film and he often reminded me of a young smiling Wu Ma. Soon the two women also find themselves enrolling at the monastery for reflection as well and the two couples slowly try and work out their issues and come to some better understanding of what they need and want from life – though the resolutions are not necessarily what one might expect.

It is difficult to understand why this film left so little impression on me. The production values are excellent, the story has a different feel to it than most Hong Kong films, the locales are lovely, the script is clever at times – but I simply never found the foursome all that engaging as they blandly go about their lives.
My rating for this film: 5.5

---
DVD Information:
Distributed by Universe
The transfer is excellent.
Letterboxed
Cantonese and Mandarin language tracks.
The subtitles are Chinese or English.
8 Chapters
Star Files - Andrew Lin, Annie Wu and Clifton Ko (producer).
There is a trailer for this film, but none for any others.
There is a 10-minute making of section with no subtitles.

---