Forever and Ever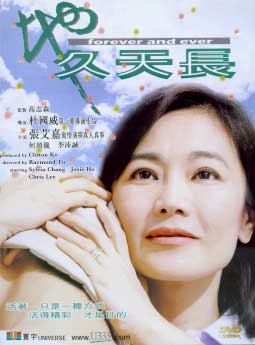 ---
Reviewed by YTSL
A drama about a hemophiliac who fatally contracted AIDs by way of contaminated blood - if nothing else than because of it seemingly being guaranteed to be a major downer of a film - would not usually be the kind of work that most people might be expected to be all that eager to want to view. However, the fact of it being the directorial debut effort of über-scriptwriter, Raymond To (among whose writing credits are the scripts for "Peking Opera Blues", "When Fortune Smiles", "I Have a Date with Spring" and "Hu-Du-Men"), as well as having the luminous Sylvia Chang - one of the leading lights of the first film To was scriptwriter for, "Shanghai Blues" -- as its star, made this Y2K1 movie the effort I had most looked forward to viewing thus far this year. Upon learning that Mark Li Ping-Bing (who lensed part of "In the Mood for Love" and is looked upon as Hou Hsiao Hsien's regular first choice cameraman) was its cinematographer, I felt that one could at least count on this Clifton Ko production to look good in addition to being a well written and acted work.

On these three important counts, FOREVER AND EVER does deliver. Moreover, while the now middle-aged (but still very sweet-faced) Sylvia Chang -- who portrays the mother of the young man who died when he was just twenty-three years of age - does own the screen whenever she is in the picture, the film's younger main cast members also put in convincing and often very emotionally affecting performances of their own. Although Josie Ho (who plays a HIV positive individual named Fion) is the best known among them, Chris Lee (as Fu, the AIDs stricken elder son of Ms. Chang's Tam Li Min Chun) and Chatman To (as Fu's best friend, Luk Chi Keung) particularly impress in terms of how "real" they made their characters appear (Since at least one of them is based on an inspirational someone who did live on this earth, this is as it should be). Additionally, in the short time that she's in the movie, particularly so in the segment in which her character is still a spirited schoolgirl, Perry Chiu shows why someone could love her without possessing her. The cute - but not at all mawkish! -- individuals who played the pre-adolescent Fu, Yang and "E.T." ought not be forgotten too when compliments and commendations get doled out.

Raymond To's script and film tells the story of a sickly child named Fu who: Managed to stave away death for far longer than he thought he ever could; as well as sought to have his name and memory live FOREVER AND EVER by way of an instructive biographical book he wrote (using the pseudonym of Chi Mo). By way of flashbacks that are seamlessly interwoven with "present day, 1999" scenes in which his legacy is shown as one which can positively impact the lives of many others (including people who had never known him when he was alive), the viewer gets shown how Fu's spunky as well as truly loving mother instilled in him -- and got him to live by -- such maxims as: "Life is not long or short. It is what you make of it"; and "Everyone runs out of time, but always have dignity".
Although both Fu and his mother could easily have come off as insufferably saintly, the beauty of this technically sound work is that they actually don't do so. While FOREVER AND EVER's main male protagonist definitely is much less of a pitiable victim than a thoroughly admirable person, he is shown above all to be a human being - and one who, for most of his life, was just a boy (who didn't want to get denied the ability to do such as play basketball with his schoolmates as well as get to go to university) at that. While Mrs. Tam is undoubtedly psychologically stronger and also socially more tolerant plus aware than many others, reasons do get provided - by way of the experiences she and her elder son undergo along with her Christian faith - for how and why she came by the consciously upbeat attitudes and views that she's shown to possess.

Considering its subject matter - and director cum scriptwriter To's obvious inclination to emphatically underscore as well as clearly send out the message that "AIDS is not a monster. Prejudice is" - though, it was probably inevitable that FOREVER AND EVER would come across at time as (overly-)preachy. Audience receptivity may also be hindered by way of the film having what might be seen as an old-fashioned sentimental streak plus tear jerking quality that can skate over the line towards the maudlin. In a home region where Christianity is a minority religion, one more strike - in local box office terms, if nothing else -- against this Albert Yeung presentation could have stemmed from its possessing at least a couple of scenes in which explicitly Christian imagery is employed and highlighted to a degree that I never imagined could ever be found in a mainstream, commercial, Hong Kong production (which boasts cameo appearances by such entertainment industry insiders as veteran actor Joe Cheung, director Ann Hui, scriptwriter Lau Tin Chi, theatre doyen Frederick Mao and actress Alice Lau like this work does).

All this notwithstanding, FOREVER AND EVER ended up raking in a respectable HK$4 million over the course of an approximately one month long run in HKSAR cinemas as well as got treated pretty gently by some of Hong Kong's famously critical film critics. I am glad of this for many reasons; one of which stems from an appreciation of this serious effort's makers having produced an all too rare work that doesn't rely on sex and/or violence to try to sell theatre tickets, VCDs, etc. Nevertheless, honesty compels me to state that this emotionally draining offering is less entertaining and enjoyable than many a less morally admirable movie that I have viewed. Rather unfortunately then, I feel that I can only really recommend it to those melodrama as well as socially tolerant folks who, more often than not, were already in the choir when Raymond To ascended up to the pulpit.
My rating for the film: 6.5

---