Cross Harbour Tunnel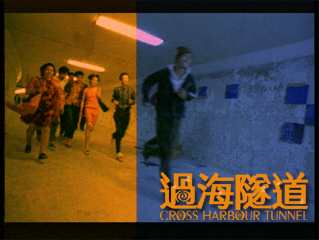 ---
Reviewed by YTSL
That which was apparently dreamed up in a single night by director and co-scriptwriter Lawrence Wong -- a Hong Kong born individual described on this 1999 movie's official web site as having "spent almost ten years in New England and a period of aimless rambling in Europe", "moved back to Hong Kong in the 90s" but "now resides in New York watching grass grow" -- was shot on Super 16 film in a single week. As one might expect, the piece has a rushed, loose and low budget look and feel to it. The definite sense I got when viewing this work though, not least on account of there seeming to have been no attempt whatsoever to hide these facts, was that these are attributes that were sought after and intended to be celebrated rather than just grimly accepted. Indeed, the individuals involved with the making of this offering -- many of whom (e.g., co-scriptwriter GC Goo Bi, music composer Anthony Teoh and art directors, Su Au and Kim Lo) made appearances in front of the camera as well as away from it -- seemed to have felt that what some would view as very real constraints effectively gave them artistic license to be quirkier in many respects than higher budget Hong Kong efforts.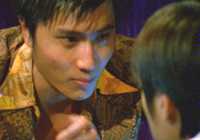 After one viewing of CROSS-HARBOUR TUNNEL (whose name appears to have been derived from the busy mile-long direct road link between Hong Kong Island and the Kowloon Peninsula), I have little doubt that it is a clever and creative piece of work. Additionally, there's no arguing against it being so that each of the generally darkly comedic picture's five mini-stories contains at least a few seconds and touches of what does come across as pure inspiration. On account of the best of them being the defining twists in each of the tales and my not knowing how to detail what they are without possibly spoiling the movie five times over though, I've decided that discretion ought to be the order of the day here. Still, even the briefest of descriptions re the main characters in each of these yarns -- that purport to be "based on true events of real people" -- ought to give ample sense of this Lawrence Wong, Karen Chu, Carly Wong and Ken Wong co-produced effort being one that, while not necessarily covering territory that had never previously been traversed, is still venturing through it in a rather novel way.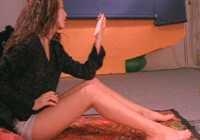 After a short introductory prelude that has what turns out to be this offering's entire cast coming together on the dance floor of a bar, CROSS-HARBOUR TUNNEL begins in earnest with a section of the film that has as its focus a yuppie couple (played by the straight-laced looking Syna Lee and William Yu) who seek to engage in their first husband and wife swapping experience. Some twenty minutes or so later, this married pair briefly cross paths with story number two's protagonist: A 15 year old neophyte "goo wat jai" (essayed by an appropriately callow appearing Martin Khan), who is seen -- in sort of flashback -- getting stuck in a public toilet's stall for longer than was comfortable on account of two plainclothes policemen unexpectedly stepping into that facility and the picture; during which time he overhears a most revealing as well as personal conversation between a pair of colleagues who also happen to be brothers.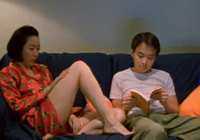 Sometime while the unlikely looking brothers -- one of them comes across as a big, slovenly galumph, the other appears too uptight to be really healthy -- are letting each other know that no secrets can be kept from siblings who also happen to share living quarters, another character with an interesting tale of his own to tell flits in and out of the lavatory area. Although the young man in question is shown spending a significant amount of time alone in an apartment (which does not belong to him), lanky he actually may be the main CROSS HARBOUR TUNNEL character who has what can pass for social interaction in an urban society with the most individuals (including someone he mainly knows via the person's writings and physical belongings, another who is referred to in the end-credits as Tunnel Girl along with a chatty taxi driver and the Filipino bar owner named Bruno (portrayed by Giezi Miranda) who ended up having a significant part to play -- along with the alternative sex seeking couple's Filipino maid (Veronica is played by Veronica Miranda) -- in this film's fifth and final story).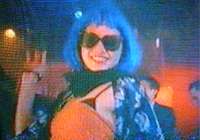 While pretty much all of CROSS HARBOUR TUNNEL's characters don't look or act like the most "with it" of people, I find it understandable to see the words "hip" and "cool" being used to describe this indie work that's often bathed in neon and infused with music that's emphatically not mainstream Cantopop. Although some people are likely to think otherwise, I'd suggest that this is not necessarily for the best. More specifically, I suspect that in the process of showing (off) their ability to whip up something that's distinctly imaginative and unconventional, the movie's makers failed to ensure that their offering possessed as much warmth as its stories should have generated if they had been related -- and shot -- using a style that called less attention to itself. As such, the end result -- at least for this (re)viewer -- was an insufficiently (emotionally) satisfying movie that intrigued in quite a few places but was never ever truly involving.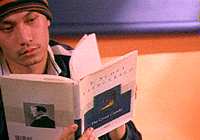 My rating for this film: 7.
Pictures borrowed from the official site.

---