Born Wild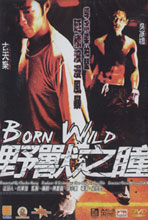 ---
Reviewed by YTSL
The first -- and way darker -- of two 2001 efforts from Patrick Leung boasts not one but three action directors, and impressive ones they look to be too. Despite their comprising Yuen Tak (whose previous credits include collaborations on "The Iceman Cometh", "She Shoots Straight", "Once Upon a Time in China III" and "My Father is a Hero") and Mars (a long-time member of Jackie Chan's stunt team) as well as Yong Wai Fai (someone without as sterling connections as his colleagues) plus the visually stylish movie they worked on being categorized as an "action" film on the HKMDB though, the fourth full directorial effort of the helmer of the very first Milkyway Image production -- "Beyond Hypothermia"...but, interestingly, no other since -- actually is his least blood-splattered (crime) dramatic offering of the three that I've viewed thus far (if nothing else than because boxing gloved hands, rather than firearms, are the weapons of choice of this work's primary fighters).

Once more then, like he did with the under-rated "Task Force" (that may be best known as the luminescent Charlie Yeung's last film), director Leung has confounded my expectations with regards to the action quotient of a production headed by someone who had been John Woo's frequent assistant along with the scriptwriter of "Bullet in the Head". While I don't necessarily consider it to be a bad thing for a movie to not be very bloody, I do reckon though that this fiery titled film -- which essentially starts off with two policemen informing an individual of the untimely death of a loved one -- would have benefited from its (supposed) main character having demonstrated that he had indeed been BORN WILD. That such did not occur is something I attribute less to the moody work's having an admittedly lackluster story than to pretty boy Louis Koo having the lead role in this offering (as Tan Ho, a previously undefeated underground boxer who gets killed the day before he would have reached his 26th year).

Another factor that surely contributed to BORN WILD's failing to be as exciting as it could have (otherwise) been was that of too much screen-time getting devoted to: Tan's tamer fraternal twin brother (Daniel Wu was too restrained, and therefore didn't exude much charisma, as the younger -- by three minutes -- Tide); and that quiet individual's low-key efforts to belatedly plus slowly -- albeit surely -- learn more about the young adult life as well as violent death of the sibling who had walked out of his and their father's life eight years ago. While Wu's fight moves and ability to take a battering look more convincing than Koo's, by the rather overdue point in the film that his windsurfing instructor character finally gets aroused to decisively embark on a serious, life-threatening even, course of action, my sympathies had already gone to two supporting as well as flawed -- but also way more interesting -- players in this Chang Hing Kar and Amy Chin co-scripted offering: Namely, Tan's romantic rival-turned-soul mate and fight manager-turned toll booth operator, Mann (Patrick Tam gave what ended up being a Golden Horse Best Supporting Actor performance here); and often sad-eyed Sandy (The under-rated Jo Kuk portrays the woman who steals more than one man's heart).
IMHO, that this is so is more a tribute to what Patrick Tam and Jo Kuk were able to make of their underwritten roles than anything else; and they it was who added some spark to BORN WILD plus almost succeeded in making the movie feel like it had "heart" as well as -- to quote Peter Martin of the "A Better Tomorrow" web site -- "style to burn". Unfortunately, all their efforts -- plus the no less admirable one of cinematographer Joe Chan -- were severely undermined by this 109 minute length film seeming to being bereft of much real intelligence as well as substance. A case in point of this lack of what's needed to allow this mediocre movie to rise above some of its limitations comes in the form of the problematic -- not least because it didn't seem all that necessary and therefore seemed quite distracting -- padding attempt to (biologically) explain how and why it was that Tan and Tide could have such divergent personalities even though they were born of the same mother (a woman who only appeared in somewhat disjointed flashback scenes).

To my mind, the nominal brains of BORN WILD also showed their stupidity by their choice of target for Tide to attempt to exact revenge on for the murder of his twin brother. Since I risk spoiling the movie for those who have yet to view it (and still want to even after reading this review of that which I would feel frustrated with, if I could get motivated to care that much about it), it is suggested that they stop reading at this juncture. To those who have viewed this work (and actually do think that it's worth discussing), here's soliciting your opinion re why it was that Tide opted to only go after the individual who delivered the fatal blows that killed Tan -- but really was just as much of a small potato in the greater scheme of things -- instead of the truly underhanded characters who run the sleazy plus illegal world of underground boxing plus do gain the most from having certain men beating others into a pulp?

My rating for this film: 5.

---