Heroes in Love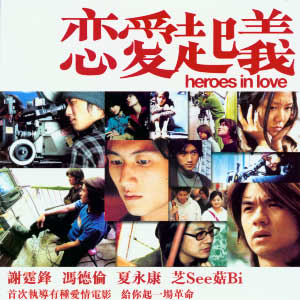 ---
Reviewed by YTSL
Although Hong Kong has sometimes been referred to as Hollywood East, I often see more salient differences than similarities between two of the world's largest movie producing territories. Among these are the seemingly not even particularly conscious tendency, together with easy ability, of many HKSAR film folks to frequently cross the line between what might best be referred to as rarified -- or (deliberately left) unpolished -- "art house" efforts and populist offerings whose natural homes appear to be multiplexes (bar for the rare occasions that they make it across the Pacific Ocean and actually get shown with their original language- plus sound-tracks in the subtitle-phobic U.S.A.). To wit: Can anyone really imagine someone like Harrison Ford or Arnold Schwarzenegger producing -- as well as lending their name to -- the kind of works that Jackie Chan (with "Rouge", "Centre-Stage" and "Tempting Heart") and Andy Lau (with "Made in Hong Kong" and "The Longest Summer") have done?
In any case, th(os)e Stanley Kwan, Sylvia Chang and Fruit Chan directorial efforts come across as pretty mainstream works when compared to this unconventional Gordon Chan and Jan Lamb co-production that consists of: Four short films of varying length (plus quality); three of which are helmed by first time directors (who all have made names for themselves in other sectors of the entertainment industry); and one of whose images are entirely culled from the other offerings that make up HEROES IN LOVE. Frankly (and at the risk of sounding ageist!), while I would have expected something like this from the director of "Out of the Blur" and one section of "Four Faces of Eve" (as well as still young media personality who probably remains best known as one half of the comedic "Soft and Hard Core Kids" act), it came as quite a surprise to learn that a middle-aged man whose directorial credits include "Fist of Legend", "Beast Cops" and "2000 A.D." would have chosen to be associated with a movie whose creative minds -- sometimes for worse as well as better -- seem to have gone out of their way to bring into being something(s) "new", "different" and "refreshing" (See the "Gordon Chan's Bold Foray..." section of the 2000-2001 "Hong Kong Panorama").

For the record: That which constitutes the first complete-unto-itself "chapter" of HEROES IN LOVE -- whose director, Wing Shya, has been an advertising art director, Hong Kong Commercial Radio creative director, music video director (for Gigi Leung) and stills photographer (for Wong Kar Wai) -- is unquestionably its most unorthodox feeling. While the 20 minute long "Kidnap" -- whose story centers on a not particularly appealing tomboyish female (who is portrayed by Elegant Tong) whose way of getting a girl she's attracted to (who is played by Gloria Cheng) to spend some time with -- and getting to better know -- her is by abducting the object of her affection -- may have had some potential to intrigue, this (re)viewer found its non-chronological and otherwise obscure as well as experimental presentation style to be excruciatingly difficult to take and enjoy.

It thus was with much relief that I greeted the start of HEROES IN LOVE's second section, one for which Nicholas Tse and Stephen Fung shared directorial duties (and also co-scripting credits with Patrick Kong). Unfortunately, this 25 minute long "short" -- whose main character is a troubled young man with a gun fixation plus active imagination that induces his favorite "Ejaculator"(!) to at times morph into an "excitement"-seeking femme fatale -- also ended up being too determinedly "different" for my liking. On a (more) positive note though: I found it interesting that even while all four distinct portions of this movie were lensed by O Sing Pui (and Tse and Fung's somewhat surreal "My Beloved" had the same art director -- Chau Siai-Hung -- as the segment that's helmed plus written by deejay, columnist cum scriptwriter and sometime actress, GC Goo-Bi), that whose charismatic lead actor is either named Por Wu or Wu Por (also) is noticeably the best -- in terms of its creative yet controlled employment of such as different camera angles and film speeds -- looking of the lot.

Having made it to the mid-point of this hitherto disappointing movie, I decided that I might as well go ahead and finish viewing the entire effort. Starting as it did with a rotating view from what turned out to be the inside of a 7-11's microwave oven, the third "chapter" of HEROES IN LOVE initially promised to be yet another too off-beat offering. Happily (at least for me) however, "Oh G!" soon effectively settled down to become a quirky yet quite satisfying segment whose protagonists (Lawrence Chou and Charlene Choi lend their first names to the two members of the ICQ set who they play in this 30 minute long work) are no more heroic than the pair of sad sacks who are this film's other main personalities but certainly do appear to be the most genuinely "in love" of those who feature in this unexpectedly predominantly downbeat offering.

Saving the best for last (IMHO), HEROES IN LOVE concludes with a five minute film directed -- and probably also written plus narrated -- by Jan Lamb. "TBC" utilizes spliced-together images that had been selectively gathered from this work's three other "chapters" and cleverly overlays them with an engrossing, meditative, first person pronoun-filled soliloquy -- about whether it is generally more ideal to be by oneself or with someone (else) -- that yet may actually sum up the individual musings, regrets and statements of (future) intent of all the young adults who were the movie's main on-screen personalities. In doing so, it seems to confirm that as important as it is for cinematic offerings to be visually innovative, what they really need, in order for their audiences to emotionally connect at some level with them, is to reach out by doing such as communicating a compelling tale that people won't consider to be too alien(ating).
My rating for this film: A 3 (for chapter 1) + 4.5 (for chapter 2) + 7 (for chapter 3) + 8.5 (for chapter 4) averages out into a 6 overall.

---