First Love Unlimited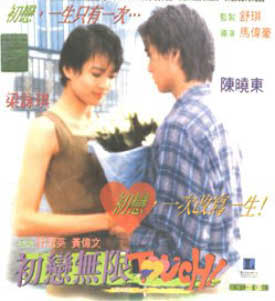 ---
Reviewed by YTSL
Before I -- who at least one friend has accused of being the least romantic person in the entire world! -- proceed to give my own positive comments and opinions about the very pleasing 1997 romance that stars Gigi Leung and Daniel Chan that I recently viewed, here's reporting what a trio of Hong Kong-based professional critics have written about this Shu Kei produced effort (See <http://filmcritics.org.hk/firstloveunlimited/review.html>):-

"A continuous string of realistic memories of love relationships propels the film's narrative. It's akin to [director Joe] Ma's previous "Over the Rainbow Under the Skirt", but with a weltanschauung that is even more pure and innocent" -- Ye Nianchen. "The film is particularly outstanding in portraying parental concern and understanding" -- Thomas Shin. "When the feeling's good, what does it matter if the story's shop-worn and the plot is passé ? Or even naive and childish? After all, isn't first love something simple and straightforward?. . .Great casting, with an endearing performance from the entire cast that deftly captures the "s/he loves me, s/he loves me not" quality of puppy love, the film exudes all the charms of youth" -- ManAlone Ho.

FIRST LOVE UNLIMITED is one of what must by now be a countless amount of movies that center on a boy from the wrong side of the tracks and an almost unbelievably good girl meeting and falling in love with each other. Thus the very fact that it managed to be not only captivatingly compelling throughout but also actually feel quite "new" in significant ways and parts is something that stands as a pretty wonderful testament to the Joe Ma and Matt Chow co-scripted film's cast and crew. What's maybe even more special as far as this (re)viewer is concerned is that -- much like with another quality romantic offering in which Gigi Leung appears (i.e., Sylvia Chang's "Tempting Heart") -- by dint of its makers seeming to be so sincerely wearing their hearts on their sleeves, what might otherwise come across as cloying or corny ended up striking me as touchingly -- and not at all sickly -- sweet.

Something else which surely helped prevent FIRST LOVE UNLIMITED from becoming a cliché-filled work in the tradition of the 1970s Taiwanese weepies that starred a simply adorable Brigitte Lin Ching-Hsia and the likes of Chin Han, Charlie Chin and Alan Tang is that neither of the young protagonists' parents were particularly awful (and entirely disapproving of their children's somewhat unexpected choice of first love). Indeed, I'd go so far as to suggest that it constituted at least minor strokes of genius for: the first major loving relationship shown in the film to be that between a mother and daughter; this extremely caring mother to have the -- novel for a motherly type -- physical appearance that she has (and be played by Tina Lau Tin Lam, whose other most significant credit may well be as "Love Massacre"'s assistant director); and there being that beautifully shot and edited opening sequence that showed that well nurtured daughter developing from a really young child into the elite high school student named Stephanie who's known to her friends as Tap (and portrayed by Gigi Leung).

In his corresponding role as the single parent of Gai Hong (the love-struck, than -lorn, boy who's winsomely essayed by Daniel Chan) and his lesbian younger sister (whose reaction to his girlfriend is a precursor to the funny moments that ensue in that section of the movie in which Tap pays her first visit to her boyfriend's home), veteran actor Ricky Hui successfully contributes some warmth, tenderness and a bit of drama along with comic relief to FIRST LOVE UNLIMITED. With regards to the well-acted work's other salient support performers: Wyman Wong does much better with a role -- that of Gai Hong's best friend, the strangely monikered Mimi -- that surely would have been an incredibly annoying one if it had been played by, say, the equally close-cropped haired Eric Kot; and Stephen Fung came across as appropriately considerate as well as straight-arrow in his part as Tap's big brother figure, Chris. Additionally, Joyce Chan -- as the extroverted Angie -- plus the actress who played the quieter Belle convinced as the kind of gal pals whose company the squeaky clean plus cute Tap would enjoy and keep; Vincent Kuk makes his "Fatty" character an interesting presence, if not personality; and Lee Siu Kei puts in a quite touching appearance as Mimi's amusement park security guard father.

Ultimately though, FIRST LOVE UNLIMITED belongs to -- and was made as greatly agreeable as it was for me by its leads coming in the form of -- Gigi Leung (who was given ample opportunity to display her quiet but nonetheless very effective charm in this movie), and Daniel Chan (who showed that his nominated for HKFA Best Newcomer performance in "Hu-Du-Men" was not a one-time deal). This fan of the Lanky One would also suggest that the particular production which its main actress had identified a few years back as "my best film, even though it's a very simple story, with no stars, no Andy Lau, no Stephen Chiau...", and not least because "that's (really) me" in it (See Miles Wood's "Cine East", 1998:88), is as immensely watchable as it is as a consequence of its makers very obviously having sweated the details (that include ensuring that the offering's theme song got sung at appropriately varying levels of quality by Tap in rehearsal, Tap in concert, and real-life Cantopop idol Gigi at the conclusion of the movie). At the very least, their actions ensured that this good natured effort rose way above its genre constraints to become a work that even the infamously curmudgeonly Paul Fonoroff conceded was "palatable and frequently enjoyable" (See his "At the Hong Kong Movies", 1998:621).
My rating for this film: 8.5

---