Glass Tears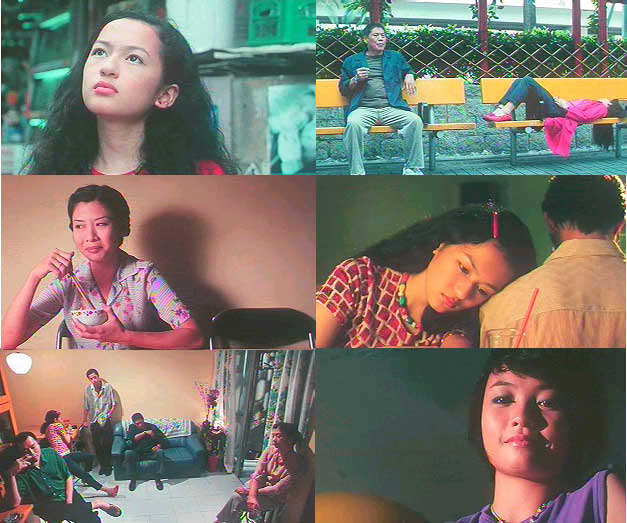 ---
Reviewed by YTSL
A common criticism that gets leveled at many a Hong Kong movie is that they feel too slapdash. Another is that they have low production values (especially in comparison to Hollywood works but also quite a few contemporary South Korean ones). A third complaint that overseas fans often have about even some otherwise highly regarded offerings from this East Asian territory pertains to their having English language subtitles that are irritatingly hex error filled. It thus would seem like there's ample cause for celebration as a result of co-director, scriptwriter cum co-editor Carol Lai's first feature-length film -- one that's partially funded by the Hong Kong Arts Development Council -- not conforming to any of the above negative stereotypes.

The Danny "Bangkok Dangerous" Pang co-edited and Lai Ho co-scripted GLASS TEARS also benefits greatly from being able to boast of having admirable performances by veteran star Lo Lieh (as Wu, the grandfather of a girl -- named Chu -- who has gone missing from her home who takes it upon himself to track her down) and promising newcomer Zeny Kwok (as the girl's best friend, a fellow troubled teenaged female known as P, whose initially reluctant help Wu enlists). Although their roles are smaller and much less understandable as well as sympathetic, the versatile Carrie Ng (as Chu's unhappy housewife of a mother) and composer and musician cum character actor Tats Lau (as her withdrawn Hello Kitty handkerchief-buying, accordion-playing husband) have a presence in this possibly too deliberately-paced drama that's disturbingly difficult to quickly forget, plus silently provide reasons why any sentient human being would feel compelled to get away from such a misery-exuding married pair for at least a while.

Even more subordinate to the movie's main duo of P and the late middle-aged man she cheekily calls "Little" Wu still are such as the characters of Tofu (P's laid-back boyfriend is played by the debut-making Chui Tien Yu) and a social worker who P affectionately nicknames "Little Mommy" (and may well have been the first adult that the not easily trusting P felt some positive feelings for -- something that would definitely account for her adverse reaction to an arguably selfish action that gets carried out by the woman who's more formally known as Miss Cheng). All in all, I reckon that it says something good about GLASS TEARS that even these minor players in just one of the offering's three related story lines or arches appear to be vividly and quite complexly drawn plus have been included in the proceedings for a reason.

With regards to GLASS TEAR's plots and subplots: Its primary one focuses on the unlikely comradely relationship that's established between the largely Mandarin-speaking, native Mainlander Wu and the decades-younger entirely Cantonese-speaking product of contemporary Hong Kong that's P; another is concerned with the often questionable social milieu inhabited by the "night drifters" -- i.e., "kids who never want to go home at night" (See the "Carol Lai's First Stride" section of the 2000-2001 Hong Kong Panorama), and of which P is a prime example; and the third involves Chu's emotionally distanced parents. So, lest it not yet be clear, the reported as missing -- but only to her ex-Mainland Chinese cop grandfather rather than the HKSAR constabulary -- Chu turns out to be more of a MacGuffin -- this movie's equivalent of "Crouching Tiger, Hidden Dragon"'s Green Destiny sword -- than anything else.

Now if only these often intriguing characters and their able actors had been part of a different, alternately less oblique communicating or too obvious symbolism wielding, and less consciously art-house style type work! In any case, with regards to one of the examples of this movie's laid-on-too-thick allegorical imagery: John Donne may have stated that "No man is an island" but Carol Lai sure seems to have been majorly intent on showing that the weather-beaten looking Wu -- whose regular occupation of late is that of a guard of a disused amusement park on a generally deserted island -- is not the only individual in GLASS TEARS who has at least effectively semi-buried himself on his own private island. Also, once it gets noticed that P likes to carry and pore over a book-map of Hong Kong, you just know that that material item is going to get woven into some character's supposedly deeply meaningful as well as metaphor-laced speech.

Something else that I will point out is that: Even while the Joe Ma produced GLASS TEARS does not go to the experimental extremes that the Gordon Chan and Jan Lamb co-produced "Heroes in Love" did, it's really got too much of the kind of not very necessary -- and, actually, confusion contributing -- technical trickery (e.g., non-chronological ordering of images as well as the inclusion of what its helmer has referred to as "fairy-tale touches") that this (re)viewer has come to associate with new(er) directors who seem to care more about leaving a distinctive auteristic mark on their output than actually entertaining or just plain connecting with their effort's audience. All in all, that which may have been a rich character study -- but whose too thin plots didn't allow the featured personalities to be developed as much as I would have liked -- is one effort that I have to admit to thinking didn't really merit the screenings at the 2001 Cannes Film Festival as well as the Hong Kong Film Festival that same year that it was honored with having.
My rating for this film: 5.

---
I just wanted to register a short dissent with YTSL's opinion on this one. An admittedly opaque film that almost in a sense has no beginning and no end is stunningly filmed and acted with delicate understated poignancy. The juxtaposition of vibrant primary colors against sad lonely lives gives this slowly paced film a beautiful pathos that is visually always intriguing. The loneliness and isolation of the characters permeates this film - these feelings largely left unspoken are part of the Hong Kong landscape – nearly everyone seems to be in search of an escape - whether Wu at his deserted island, Chu from her home, Little Mommy from this life or P with mind altering drugs. With the graphic image of a large fish eating a small goldfish in a scene, one has to wonder if this film has certain political undertones.
Some of the characters reach out tentatively to others – though sadly the married couple seem unable to do so and appear to be sentenced to an almost prison like experience of living together with so little passion. The viewer feels as if they have entered this story in the middle of it and little effort is made to explain motives or give background – and the plot and storyline are soon exposed as unimportant – it is really the mood of melancholy, distance but eventually hope that gives it substance. The acting all around is excellent – Carrie Ng and Tats Lau look to be almost weighted down with repressed pain, Lo Lieh gives an authoritative and solid characterization – but it is in particular newcomer Zeny Kwok who is showcased here in a nuanced and photogenic performance as a confused teenager looking for some answers in a none too friendly world.
My rating for this film: 7.5

---