Lan Yu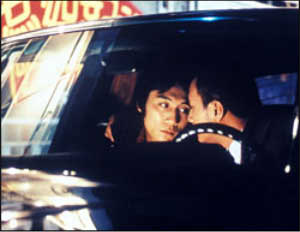 ---
Reviewed by YTSL
There is a large number of Hong Kong movies about which I have been unable to unearth little useful information. This is far from the case with regards to this 2001 Stanley Kwan directorial offering which garnered a Golden Horse Best Actor award for Liu Ye (who portrayed this dramatic work's titular character), and a nomination for its other main actor (Hu Jun, whose essaying of Chen Handong I personally found more impressive). Considering how illuminating are the materials I have managed to come by about that which looks to provide ample plus concrete proof of auteur Kwan (and scriptwriter Jimmy Ngai's) return to form after the multi-lingual transnational disaster that was "The Island Tales", it seems a pity to not play a part in making them (more) accessible to interested parties. Accordingly, I have decided that my review of this Yi Feng and Zhou Bin co-production should largely comprise certain cobbled together quotes from a couple of especially helpful sources: Namely, the official website; along with the relevant sections of the 26th Hong Kong International Film Festival's "Hong Kong Panorama" 2001-2002.

For example, I think that (potential) viewers of this compelling romantic effort -- that I found to be aesthetically spare, appealingly tender and appropriately bitter-sweet -- will find it helpful to learn that: "The novel upon which LAN YU is based was published on the internet. The first of three installments appeared in 1996. Each installment was given a different title; the final, unifying title for the ten-chapter work was Beijing Gushi (Beijing Story). The author adopted the pseudonym 'Beijing Tongzhi' - literally 'Beijing Comrade', but the word Tongzhi, the traditional form of greeting between communists, has latterly picked up the slang meaning of 'gay'."

Ditto re Stanley Kwan having opined that: "The original author may not be too satisfied with what I've done in the film; the author uses the central relationship to reflect ten years of changes in society and social attitudes. If a mainland [Chinese] director had made the film, probably that social dimension would have survived quite strongly. Unfortunately, though, I'm a Hong Kong director, and the social observation isn't what I responded to in the material. I responded to the elements, which meant something to me personally, and so I made the film as a relatively straightforward gay love story" (From an 18 April 2001 interview by Tony Rayns -- who, besides being an international film festival programmer and film critic, also was LAN YU's English subtitler).

The art house darling -- who publicly disclosed his homosexuality in the highly recommended 1996 documentary that he made for the British Film Institute, whose title is "Yang +/- Yin: Gender in Chinese Cinema" -- is also on the record as stating that: "When I first read the original novel, I didn't have much feeling about it and had no intentions to adapt it for the screen. However, my boyfriend found something interesting in it and said, "Don't you think it is our story?" The way that Chen Handong treats Lan Yu, or vice versa, is just like the twelve-year relationship between my boyfriend and myself. I can see our relationship from the story -- it's that simple, nothing else" (In HKIFF, 2002:64).

While we're on the subject of "simplicity" (as well as personal feelings), one of the most revealing of Stanley Kwan's statements -- as far as I was concerned -- is it being so that: "While "The Island Tales" complicated simple matters, this time I just let my feelings go" (In HKIFF, 2002:64). Elaborating on his decision to go for a streamlined approach, Stanley Kwan further vouchsafed that: "In my last film "The Island Tales", I made simple things too complicated. And so this time I've tried to make complicated things less complicated, or simple things even simpler." To this end, the decision was made to substantially pare down the part of Su Jin, the actress whose supporting role in this work was that of the woman who was -- for a short while -- the wife of one of LAN YU's two main characters, "as well as some buildup to the scene on the evening of June 4 (1989)" (A date that many Chinese people -- whether they be denizens of the People's Republic or not -- feel like they will never be able to forget, and probably would catch even the most subtle of references to).

Another set of Stanley Kwan's comments that I feel are worth highlighting are those which have this respected helmer -- whose critically acclaimed works include "Rouge", "Centre-Stage" (AKA "Actress") and "Hold You Tight" -- emphasizing that: "Although I'm gay, I'm not particularly eager to deal with 'gay issues' in the films I make." Also, that: "My next two projects have nothing to do with homosexuality" (In HKIFF, 2002:64); and for it to be so that "Maybe I have done something for the gay movement, but that's not my priority. I do what I want to do first" (Ibid). Taken outside of their home socio-cultural context, these not entirely uncontroversial statements may come across as a case of "he doth protest too much". Hence my thinking that it'd be best for them to be accompanied by the following pronouncements by a HKSAR film critic: To wit, "There's an openness about Hong Kong directors handling gay topics: tell a "love story," and not a "gay love story," A gay relationship is just like a straight relationship. No need to afford it any special status . . . In the final analysis [then], this is a story about finding the one true love in your life. [In conclusion,] LAN YU tells a universal truth about love. It is not a gay love story. It is a love story" (Bono Lee, in HKIFF, 2002:67).
My rating for this film: 8.

---