The Other 1/2 & The Other 1/2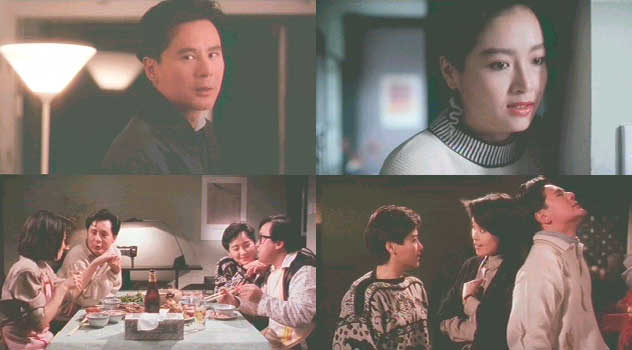 ---
Reviewed by YTSL
In the U.S.A., there's such as Kathleen Kennedy and Frank Marshall as well as Regina Prince and Reginald Bythewood. In Iran, Mohsen Makhmalbaf and Marziah Meshkini (whose daughter, to boot, is Samira Makhmalbaf). In Hong Kong, there's Tsui Hark and Nansun Shi and, until they permanently migrated to Australia, Clara Law and Eddie Fong. Film-makers who, in the words of the last named -- an individual who has worked with his wife, Clara Law, on all of her directorial efforts as well as been the director in his own right of such as "An Amorous Woman of the Tang Dynasty" and "Private Eye Blues" -- appear to have decided that "it's better to have two people struggling together, rather than one" (As quoted in Fredric Dannen and Barry Long's "Hong Kong Babylon", 1997:110).

And "struggle" is what Clara Law appears to believe that she has had to do for much of her career -- in large part because of her having the kind of serious plus artistic sensibilities that can seem anathema to the government subsidy free cinema of the territory that this Macau-born, London-trained helmer of films has been associated with for much of her professional life. For example, it took her a total of two years to get her first Hong Kong movie project off the ground. And even then, this involved her scriptwriter -- Eddie Fong -- having to work for free, at least until their envisioned product became a cinematic reality, as well as agree to serve as its associate producer (and, in the process, promise to ensure that this rather modest seeming effort would be one that was done "in a commercial way" (See Miles Wood's "Cine East: Hong Kong Cinema Through The Looking Glass", 1998:72-73)).
Considering that THE OTHER ½ & THE OTHER ½ only played for 9 days in Hong Kong cinemas, raked in a total of HK$4,404,392 during its short run and came in 88th in the 1988 local box office rankings, it's not a movie that can be accurately described as having been a smash hit. In all probability, matters were not helped by this small-scale Teddy Robin Kwan production -- that centers on the personal relationship between a man and a women who are both one (other) half of a married pair of "flying immigrants" (i.e., people seeking to secure residential privileges elsewhere besides Hong Kong, preferably before the 1997 Handover came along) -- being unable to boast of possessing star names along the lines of Joan Chen and Joey Wong among its actually satisfactorily competent cast.

At the same time, however, I -- who have also viewed later Clara Law efforts like "Temptation of a Monk" and "The Goddess of 1967" -- strongly suspect that this uneven, comedy infused drama is one of the more consciously monetary profit oriented plus generally accessible of this auteur's efforts, and -- if truth be told -- suffers somewhat from being so. Put another way: On the basis of this Jingle Ma lensed work, it would seem that Ms. Law is weakest at handling that which might be described as Hong Kong cinema's more characteristic -- and often positive -- elements, including sudden plus quick changes in emotion and farcical comedy that borders on being utterly slapstick in nature. Alternatively, she does excel at investing a whole lot of realistic feeling along with sincerity into THE OTHER ½ & THE OTHER ½'s more ardent plus serious sections. Towards this end, she undoubtedly benefited from having the principal performers to work with that she did.

More specifically, the romantic chemistry and tension exhibited in many of their scenes together by THE OTHER ½ & THE OTHER ½'s leading man, Kam Kok Leung (who may be best known as the director of such as the luminescent "Wonder Women" and as the terrorist in Purple Storm but here portrays a not very happy married man named Sam Cheung), and the alluring Tien Niu (whose role is that of a free spirit, named June Lee, who guiltily discovers that she is happier when not in the company of her husband of three years than she probably should be) could be said to rival that of Maggie Cheung and Leon Lai's in "Comrades, Almost a Love Story". In addition, such as their kissing scenes look vastly more comfortable and "natural" than those enacted by the likes of Brigitte Lin and Chow Yun-Fat's more inhibited as well as tortured "Dream Lovers", and consequently seemed much less of an intrusion of two people's private interactions than a celebratory declaration of the joy they can derive from the company of each other.

Although their parts in the production are far smaller than those of those who essayed their spouses, Cora Miao and Eric Tsang also contributed quite a bit to making this offering and its problem posing story as interesting as it turned out to be. If nothing else, this supporting actress -- who in real life is Mrs. Wayne Wang -- gave a sufficiently convincing performance as the type of female character who this (re)viewer could see being both a good but also annoying wife. Similarly, Eric Tsang was effective in the short time that he appeared on screen in this work as the kind of husband who could be loving yet also prove to be insufficiently exciting as well as empathetic in the eyes of someone like June Lee (and consequently come across as less attractive to her than -- even while being just as "good" a human being as -- the lodger who she came to know as a friend and, then additionally, lover). In so doing, her Connie and his Tak made it more understandable why their spouses might go astray but also provided reasons as to why they should try to make efforts to not abandon their marriages, and -- in the process -- helped to ensure that the major life decisions that THE OTHER ½ & THE OTHER ½ came to be confronted with were not ones that were necessarily easy to reach and effect.
My rating for this film: 6.5

---