Till the End of Time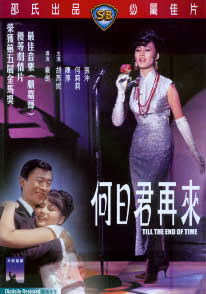 ---
Before kung fu films became king of the screen in the 1970s, the Shaw Brothers tended to specialize in dramas, comedies, historical epics and musicals. With the advent of Celestial bringing these types of films to light after so long, many of us are finally getting a chance to see these buried treasures – it is like seeing an undiscovered world. Till the End of Time is my first foray into the vaults of Shaw and it turned out to be an excellent enchanting choice. This loving mix of romance, melodrama and music hit all the right notes for me and was an absolute visual delight for these weary eyes. It was made back in 1966 when we still had style – and this film's décor, designs and fashions have a dashing retro elegance about them that is a complete treat. The story certainly has an old fashioned air about it now – and perhaps even did when it was made – but it is a lovely little time capsule to open and cherish.

Nothing about it is really inventive – it soaks in clichés like a hot bath – but that doesn't really matter – it's the mood, it's the ambience, it's the style, it's the lack of cynicism – that make it so enjoyable. It is also Jenny Hu that makes it feel like a real discovery. This was her debut film – absolutely stunning and beguilingly charming, she owns the screen like a young vivacious Audrey Hepburn. With a mere smile, she makes mincemeat of her veteran co-stars – and when she turns on the tears all hands are lost at sea. From the moment you witness her dancing the twist, the frug and the mashed potato, you are taken prisoner by her radiance. She is simply splendid. Half Chinese and half German, she spent much of her early life in Taiwan and then moved to Germany for high school. Afterwards, she came to Hong Kong and was spotted and asked to try out for this film. It was a big success and she was an overnight star. As a note of interest, she is the mother of the current HK actor, Terrence Yin (Gen-X Cops, Bishonen).

In this film she plays a nightclub singer – and parades before the viewer in a number of lovely songs from trendy twist numbers to aching ballads. Jenny is not the actual voice of the songs – this belongs to Xi Jingting who was one of the more popular Mandarin singers at the time and was the voice in many musicals/film theme songs in the 60s - Le Belles, Kiss for Sale, Love Parade, Love Eterne, The Dancing Millionairess, Beyond the Great Wall, Hong Kong Nocturne, Hong Kong Rhapsody and many more. The son (Peter Chen) of a wealthy family sees her perform and soon falls in love with her. This is no Blue Angel though – Jenny is as sweet as newly picked cherries and Chen is also a good fellow. The issue is the parents – Chen's father throws him out of the house when he tells of his love for a mere songstress, while Jenny's grandmother (played by the legendary Ouyang Shafei - only 40 years old behind the makeup) doesn't want her to become involved with a rich man who will only discard her when he tires of her.

Almost penniless, they still marry (but somehow still manage to live in a fabulous chic apartment with a grand piano and Jenny has a huge assortment of fashionable clothes and has a different hairstyle in nearly every scene!) and live very happily together until melodrama reaches up its ugly head and intercedes. The strain of working long hours causes Peter to lose his sight and he begins to feel he is an unbearable burden to his wife who has had to return to her singing career. It all leads to a wonderfully emotionally purple ending that is pure tear jerking melodrama and pure magic.

Here is a bit of information on Peter Chen. During this period – before Chang Cheh restored a sense of overt masculinity to the male actors, most of them were fairly soft spoken romantic types – and often took a backseat to the much more popular female actors. Peter Chen fell into this mould – but he was certainly one of the more popular male actors of his time. Born in Shanghai in 1929, he came to Hong Kong with his family in 1950 and made his acting debut in 1953 and had his first starring role in 1957. He soon gained a reputation as a fine light romantic comedian with a talent for dancing and singing. He joined Cathay and was in the huge hit, Mambo Girl and Calendar Girl. He then began working for the Shaw Brothers in the same type of films – Love Parade, Les Belles, Hong Kong Nocturne and Hong Kong Rhapsody. He was married to fellow actress Betty Loh Ti, but this ended in divorce in 1967. He sadly died of colon cancer in 1970 at the age of 40. Betty Loh Ti had committed suicide in 1968.

Another tragic story involves the director of this film – Qin Jian/Chin Chien. He was one of Hong Kong's most prolific directors – directing all types of films from the late 1940s on but best known for melodramas such as Sweet Seventeen, Four Sisters and Unfinished Melody. At the time of this film he also was married to a famous actress, Jeanette Lin Cui – but she had become involved with Jimmy Wang Yu – they were divorced the following year and he hung himself in 1969 at the age of 43.

Some of the other actors are: Lily Ho as the pouty faced girl the parents want Chen to marry. This was a very early role for her and she was to gain a fair measure of stardom in the near future. The stern father is Li Ying, the mother is Ma Hsiao-nung, the music producer is Peter Chang Chung and Chen's reporter friend is Li Kun.

Paul Fonoroff and Stefan Hammond do the commentary on the DVD and for the half that I listened to I thought it was excellent – Fonoroff is a wealth of information on the films and actors from this period and he never stops yakking. But it is very casual and enjoyable to listen to. Hammond works more as the straight man to make things click in Fonoroff's mind. The DVD also has the original trailer which really pushes Jenny Ho as "Who is this mystery woman? Shaw's new discovery!".
My rating for this film: 8.0

---