Market's Romance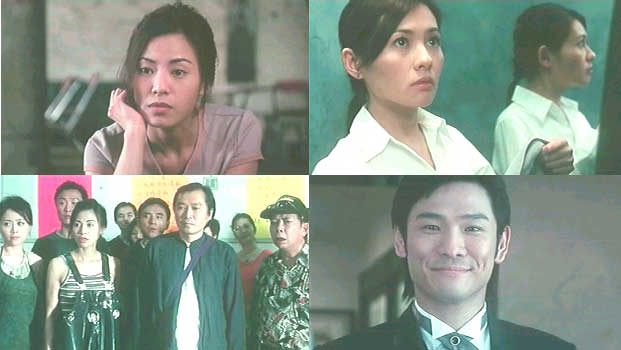 ---
You have to wonder exactly why a film like this is even made or who the potential audience was expected to be. I would bet that even the actors were unaware when it ran for a whole week (and made an astounding HK$ 5,910 at the box office!). There in no real story here – just a number of interwoven middling storylines that never come to much – and opening a crackerjack box has more dramatic tension than is contained within. Yet, I actually sort of enjoyed the film just for those reasons – the film has no particular ambitions and doesn't even attempt to be cutting edge or clever – and succeeds very well at not doing so. It is simply the story of a family and a community and their interactions with one another. It made me think of what perhaps the old low budget Cantonese dramas of the 1960's must have been like – the ones that were termed "weekly's" for the expected time of their run in the theaters and for how long they took to make.

Rare for Hong Kong films of today, the characters are lower class working stiffs who have a sense of community – not exactly a "House of 72 Tenants" – but along those lines. Instead of a housing complex, the characters work in an open-air market plying their trades of butcher, fishmonger, bra seller and so on and they all feel connected to one another. The film has some of those tell-tale Cantonese melodramatic flourishes as well – the poor girl with a limp in love with a wealthy man, the older sister who sacrifices her happiness to provide for her two younger sisters, the community standing up to the government that wants to tear down their market. It should have been filmed in black and white. None of these plot lines has any tension whatsoever and you have no doubt that at the end of the film all will end happily for everyone involved – but that was just fine for the mood I was in.

For such a low-key and low-budget film, it has a solid cast of leading ladies, character actors and pop stars. The three sisters – named Kudzu, Mud-carp and Bean – are played by Ellen Chan (credited on the Tai Seng DVD as Allen Chan!), Loletta Lee and Elle Choi (a pop singer). It is wonderful having Ellen Chan back on the film scene again after a long absence – and though one has to stretch credulity a long ways to accept her as a fish seller – she looks great and does a nice job here and leaves her sexuality at the door. In fact it is lovely seeing both her and Loletta getting center stage in a period when it seems most female film roles are going to actresses who still look to have curfew times on dates.

Of course Loletta and Ellen were in the same boat back in the 1980's – the original cutie pies – and they still are. Their careers have paralleled each other to some degree – both had success in the mainstream 80's films before turning to Cat. III films in the early 90's before a return to the mainstream. They are two of my favorites and always will be. Appearing also are Ronald Cheng (another pop singer/actor), Alex To (who plays himself), Sherming Yiu, Lui Fong (another familiar face from the 80's who seems to have returned to film making), Wong Yat Fei, Edmund Leung and Tats Lau. There are also a number of pop songs on the sound track from I assume Alex, Elle and Ronald. It is not much of a film really, but I enjoyed it for what it was and for what it wasn't.

My rating for this film: 6.0

---