Mambo Girl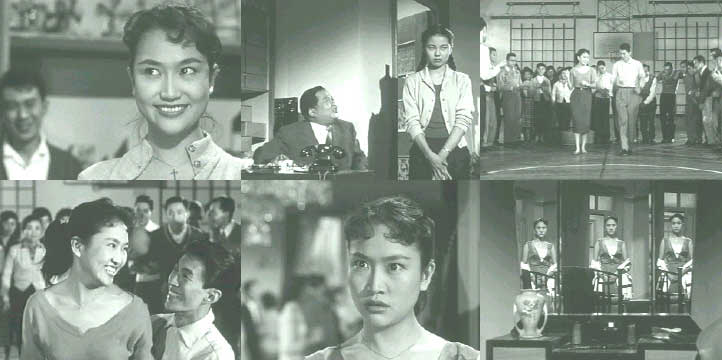 ---
So this is why Grace Chang is so loved by the older generation of Hong Kong film fans. Hong Kong critic Paul Fonoroff mentions in a short write-up on this actress that it was by way of coming across a late night television viewing of Mambo Girl that he became a fan of the films from this period. I know the feeling. Stephen Teo in his book "Hong Kong The Extra Dimensions" says of Mambo Girl "Hong Kong cinema found its most representative musical star-cum-actress and with Mambo Girl, Hong Kong cinema produced its first musical masterpiece". These are good (if expensive) times for Hong Kong film fans. Not only have we suddenly been treated to the release of the Shaw Brothers films after years of being hidden away – but now the first films of many from the Cathay/MP & GI film studio have been released on DVD. Between these two studios we are finally being introduced to a generation of legendary actors that had only been names in a book or faces on a poster and it is very exciting for me. From the few films I have seen so far it certainly seems as if these actors – especially the women – had enormous charisma, charm and talent and were easily the equal of the female stars in Hollywood at the time. In fact, I would more compare them to the Golden Age of female actresses in Hollywood in the 1940's and 1950's where talent and glamour merged so perfectly.

Mambo Girl was released in 1957 – in black and white – and it was an enormous hit for the MP & GI film studio (later renamed Cathay). During the 1950s and the 60's this studio was the main rival to the Shaw Brothers and had a similar studio system as well as a similar background. Like Shaw it too had its roots in Southeast Asia – the founder was Loke Wan Tho who inherited the family businesses and began expanding them into film in the late 1930's when his family began establishing theaters in Singapore. After WWII Loke began distributing the British Rank films throughout Southeast Asia and continued building state of the art theaters until he owned 40 of them by 1951. By the mid 1950's Loke had moved the film business into Hong Kong, purchased a studio lot and formed MP & GI to make primarily Mandarin films. They also began signing talent – beginning with writers like Eileen Chang, Chang Cheh and Stephen Soong – and then began looking for acting talent and signing them to contracts.

They specialized in recruiting actresses and built their success around a core of women who became huge stars – Grace, Linda Lin Dai, Jeanette Lin, Julie Yeh, Lucilla You, Betty Loh Ti, Li Mei, Christine Pai and Kitty Ting Hao. Their films were very women oriented – the male actors tended to be pale shadows of their co-stars – and they were for the most part comedies, romances, dramas and musicals with contemporary settings. Over the next ten years they released around ten to fifteen films a year of generally high quality and had a number of films that are considered classics today such as Wild Wild Rose, Air Hostess, It's Always Spring, The Greatest Civil War on Earth, June Bride, The Battle of Love, Sun, Moon and Star, Our Sister Hedy, Sister Long Legs and of course Mambo Girl. By the mid-60's though the studio was on the decline – the studio head Robert Chung had resigned in 1962, Loke died in a plane crash in 1964 and the studio lost direction as the Shaws began to overwhelm it with their big budget films. By the end of the decade the studio was closed (sold to Golden Harvest).

There are two versions about how Mambo Girl came to be. One is that Grace Chang went to Taiwan to perform for the troops and her mambo dance so enthralled them that they began calling her Mambo Girl and this inspired scriptwriter (Yi Wen) to write the story. Grace herself says the idea was the result of an evening at a nightclub with Loke and others and she danced the mambo so well that Loke said a film should be made around her skill. At any point, it was decided to make a simple little film around Grace Chang and the mambo. And it made her a huge star and forever the Mambo Girl.

Born in 1934 in Nanjing, Grace (Ge Lan) grew up in Shanghai – trained in Peking Opera – and moved to Hong Kong with her family in 1949. Her film debut was Seven Sisters in 1953 and after a few more films she joined MP & GI in 1955. After she married in 1961 her career slowed down and she retired after The Story of Three Loves in 1964. She was also a very popular singer and released a number of albums and actually appeared on the Diana Shore show. In total she only made about 30 films, but a number of them are classics and she is well loved to this day. I guarantee that Mambo Girl will win her (she is still alive) a brand new set of fans.

I had previously seen pictures of Grace Chang – interesting face – sort of flat with a flared nose and a mouthful of teeth and a wide smile – but I would not have called her beautiful by any means. That's because a still photo can't begin to capture her immense charm, her myriad of lively expressions and her remarkably playful eyes that can enchant you one minute and devastate you the next. This is her film - she owns nearly every minute of it - and she creates a heartwarming portrait of youthful innocence that is astonishingly simple and yet completely captivating.
The film itself doesn't have a story that you could hang your hat on. It is old fashioned in a Mickey Rooney/Judy Garland sort of way where it is peopled by good friends, kind caring parents and a lovable younger sister. Much of the running time is taken up by song and dance numbers – the entry shot being a great close up of Grace's checkered pant leg and white shoes set on a checkered floor from which the camera rises up as she dances the mambo surrounded by her classmates and breaks into song. The dance numbers in the film are very basic – nothing really flashy – but instead graceful and realistic. It is her singing and the joyful expression when doing so that is the real selling point – wonderful catchy Mandarin pop songs (termed shi dai qu) from Ji Xiangtang and Yao Min with titles like I Love Cha Cha, Mambo Girl, Have Fun Tonight and My Heaven - nine songs in total (along with an instrumental of the Pork Bun song!). The final ten minutes is a joyful blast of song and dance that ends as it began with the camera once again panning down on her dancing happy feet.

Grace is living a cloistered middle class life – going to music school where she is adored by Peter Chen and the rest of the school body – to the point where they sing a song to her – "You're a lucky girl. We call you the Mambo Girl. You are the sweetheart in your family. You are the queen in the school". Her parents own a toyshop and love their two daughters deeply. Dark clouds set in when Grace learns that she was adopted and she goes to search for her birth mother (Tong Yeuk Jing) leaving her worried family behind. In the search she discovers what family really means. And that's about it, but it is surprisingly effective at grabbing your heartstrings and this is primarily due to the wonderful sweet appeal of Grace and the characters that play her father (Liu Enjia) and her sister (Kitty Ting Hao).

Kitty Ting Hao is quite adorable as the younger sister - a bubbly-bouncing ball of high spirits – watch her in the last dance number as she radiates with a smile as large as a schoolyard. It was rather sad reading afterwards about her all too short life. Born in 1939 in Macau, she moved around quite a bit with her soldier father and picked up a number of languages (she actually intended to get into the Cantonese film arm of MP & GI but arrived late and so tried out for the Mandarin films). She came to Hong Kong in 1950 and made her first film (Green Hills and Jade Valleys) in 1956 for MP & GI. She became a teenage sweetheart star with roles in Mambo Girl, Little Darling (which became her nickname), The Greatest Civil War on Earth and You Were Meant for Me. A reputed romantic scandal with the studio head led to her leaving MP & GI by 1963 and she soon married. This did not last long though and in 1966 she left for Los Angeles where she committed suicide at the age of 27.

Another little note to watch for in the film is when Grace is looking for her mother in various nightclubs and she stops and watches a performer sing "Have Fun Tonight". This is one of the few moments when the spotlight is not on Grace – instead it shines on this beautiful sleek singer Fang Yihua. She was a very popular singer at the time, but is now best known as Mona Fong – the wife of Run Run Shaw and the overseer of many of the Shaw films. One other musical number that takes place in the clubs is a great Latin flavored dance gyrating number from a Spanish or Brazilian dancer called Margo the Z Bomb! – who I assume was quite popular at the time.
I had a great time watching this throwback in time – film has changed so much since then as have the times – but when you are watching a Grace Chang on the screen none of this matters a whit – there are certain things that time can only enhance and Grace Chang with her head tilted back, her mouth wide open in smile and song would be one of those.
The DVD transfer is amazingly clean for such an old film and the sound is excellent. The ratio is 4:3 but I am informed that this was the same ratio that was presented at the HKIFF – but it looks odd to me. There are really no extras to speak of that are of any interest – wish Fonoroff had done a commentary on this one. It also would have been great if they had the songs separate in the menu so that you could just play them when you wanted.
My rating for this film: 8.5
Note – much of the information regarding Cathay and the actors came from the book "The Cathay Story" published by the Hong Kong Film Archives.

---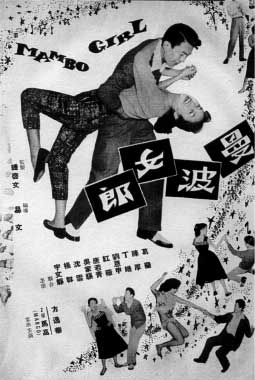 Still from Fonoroff's book Silver Light