The Kingdom and the Beauty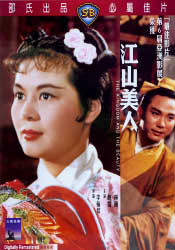 ---
Reviewed by YTSL
Among the close to 800 Shaw Brothers productions that Celestial Pictures are in the process of re-introducing to the world are quite a few whose (legal re-)release many filmophiles have been looking forward to for a number of years. If Western Hong Kong movie fans were asked re which titles they most want to feast their eyes upon, chances are high that kung fu classics like Chang Cheh's "Crippled Avengers" and the Lau Kar Leung helmed "Legendary Weapons of China" would top the list (along with King Hu's "Come Drink With Me"). Alternatively, that which many ethnic Chinese folks appear to have had their hearts most set on viewing are the Huangmei Opera/Operetta likes of Li Han-Hsiang's "The Love Eterne" (which stars Ivy Ling Po and Betty Loh Ti) and the 6th Asian Film Festival Best Picture winner that was one of the first ten works that Celestial chose to make available on home video.

According to such as the blurb on its DVD cover, THE KINGDOM AND THE BEAUTY was a "huge box office success" when it was released back in 1959. On the commentary track of that which was a lengthy two years in the making, Paul Fonoroff states that the 2000 extras filled, then still rare color -- but, interestingly, not so rare synch sound -- work was the "super production of 1958". Another interesting bit of trivia that the Hong Kong based critic can be heard informing his co-commentator (the often painfully clueless Josie Ho) and the still very watchable effort's audience was that: For all of its music actually being a blend of that which belong to a then popular contemporary singing style along with more traditional Huangmei (i.e., Yellow Plum) Opera pieces), this particular offering can be credited with having created a major thirst for Huangmei Opera and/or Operetta films that the Shaw Brothers and their production company would have to work hard to satisfy in succeeding years.

The set-in-the-1600s THE KINGDOM AND THE BEAUTY's dramatic tale centers on a "young and restless" -- plus rather callow -- Ming Dynasty ruler and the even more youthful wine shop maid he found to be "more intoxicating than wine". Although Zhao Lei was actually 30 years old at the time, the fun cum pleasure loving Emperor (Chu Te Cheng) that this actor -- who Paul Fonoroff described as having specialized in playing imperial personages -- was entrusted with portraying in this often absolutely visually splendid work was supposed to just be 20 years of age for much of the film. Similarly, while the womanly looking Linda Lin Dai had already reached her 24th year, her coquettish Li (AKA Ta) Feng character was supposed to have "just turned 18" as well as be "still unwed" at the time that the hooky playing -- a la Chang Chen's character in "A Chinese Odyssey 2002" (a rare 2002 Hong Kong movie that contains Huangmei Opera music and is supposed to be partly inspired by this decades older work) -- head of state first cast his eyes upon her person.

Prior to this fateful event's taking place, the audience of THE KINGDOM AND THE BEAUTY get treated to resplendent looking scenes that supposedly take place inside of the Forbidden City and are designed to get us to understand why a pampered ruler would want to take at least temporary leave of his gilded cage-like surroundings; and particularly upon hearing of how wondrous are certain sections of his hitherto unseen realm. Soon after being informed of the near mythical delights that were to be had in Kiang-Nan and finding out that one of the Imperial Guards was about to head there for a home visit, the Emperor decided to slip out of his palace and join the afore-mentioned individual (the understandably not very happy about this Chou Yung was played by Ma Lam) on his journey.

Following the discovery of the Emperor's disappearance, the Dowager Empress (essayed by the appropriately imperious Tong Yeuk Ching) ordered a party led by his aged tutor (Liang Chu was portrayed by the older than 50 year old Wang Yuan Long) a single month to bring her truant son back to the royal fold. In the short time leading up to their doing so though, the incognito cum itinerant Emperor had reached the Southern town of Mei Lung. While there, he hadn't only managed to take in its impressive "parade to welcome spring" but also fall for the alluring Spring Festival participant who scattered flower petals at him -- and (many) others -- as she passed by, successfully get to know her in less formal circumstances, and declare to this undeniably lovely local lass -- who, almost needless to say, was none other than THE KINGDOM AND THE BEAUTY's main female character -- that he wished to marry her.

Unlike her buddy, Ta Niu (a generally comic looking plus acting character who turned out to have been played by none other than director extraordinaire, King Hu), Li Feng did not harbor any modicum of suspicion or hostility against the new stranger in town. Despite not knowing who he really was, she chose to return the Emperor's affection. Even more shockingly, on what was just their third real meeting, this admittedly frisky young pair actually ended up in the physical space that was her bedroom...and "quickly mat[ing]"! Rather than reveal -- like a couple of other internet reviews of the movie have done -- the consequences of that passionate action plus how this love story concludes, I'll just state here that, upon his return to Peking, the hereditary ruler of China was told by his mother that he couldn't have both THE KINGDOM AND THE BEAUTY but, instead, only one of those two prized possessions. Consequently, those who wish to know whether this impetuous Emperor was to feel that "absence makes the heart grow fonder" or show that it's more likely to be a case of "out of sight, out of mind" will have to check out this sumptuous cinematic feast for the senses for themselves (or track down those more spoiler-filled reviews to read!).
My rating for this film: 7.

---