Crossings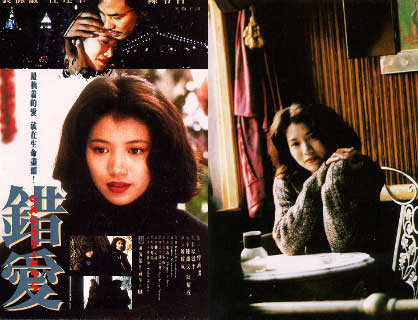 ---
Reviewed by YTSL
In 1992, Evans Chan offered up what Paul Fonoroff described as "possibly the boldest local feature film of the year" in the form of the politics-infused, yet still rather personal feeling, "To Liv(e)". Although the director-scriptwriter's debut work's topical focus could be said to have been on a series of letters written by a thoughtful plus articulate Hong Kong resident -- named Rubie (and portrayed by Golden Horse Best Actress winner, Lindzay Chan) -- to the Norwegian actress cum activist, Liv Ullman, regarding the then British crown colony's treatment of Vietnamese refugees, another major theme running through it concerned the (pre-)Handover fears of Hong Kongers; many of whom were contemplating leaving their home territory rather than live under Communist rule after 1st July, 1997.

In his second film (one which, rather curiously, has Lindzay Chan once more playing an empathy-exuding character named Rubie), Evans Chan appeared intent on pointing out the high probability that his fellow Hong Kongers would hardly be leaving all of their troubles behind, should they decide to venture out of the "Fragrant Harbour" for pastures new (including far away North American destinations like Toronto and New York). Perhaps it was a message that was rather daring to communicate to a(n already) skittish community three years before the Handover. At the same time, however, this 1994 effort's associated cautionary tale of ethnic Chinese people experiencing woes when venturing beyond the East Asian space collectively known as "the Three Chinas" that underlies CROSSINGS looks to be part of an all too familiar as well as largely down-beat Hong Kong cinematic trope (whose most well known contemporary example might be Clara Law's infamously depressing "Farewell, China" but could be said to also encompass Stanley Kwan's "Full Moon in New York" and Sylvia Chang's "Siao Yu").

Consequently, this (re)viewer didn't find this Joyce Chan co-scripted drama -- that is set in New York as well as, in flashbacks, Hong Kong -- to be half as innovative, impressive or interesting as the first Evans Chan film that she had checked out. And while the choice of Anita Yuen (as a woman named Mo-Yung Yuen who had journeyed half way across the world in a bid to be together once more with a man she had met and fallen in love with in Hong Kong) and Simon Yam (whose Benny character had told Yuen that he was a professional photographer but really was a drug smuggler) to head its cast may have helped CROSSINGS at the local box office, it seemed to have been at the expense of negatively mainstreaming the offering. Furthermore, even though the character of Joey (who was played by Ted Brunetti) actually was mentally disturbed -- as well as resentfully racist -- and Monica Ha's Mabel character was Asian-American rather than an out and out "gweilo", it surely was not an especially novel, never mind laudable, move on the part of this multiply troubling movie's maker(s) to have the production's two least admirable personalities be non-Hong Kongers.

At one point in CROSSINGS, one of the few individuals with a significant amount of screen-time and dialogue in this offering snapped at a couple of others to "Don't be so melodramatic". For the record: At the quite late stage in the Jamie Silverstein lensed effort that she uttered this rather telling as well as dismissive sounding, line, its main character had been revealed to have been made pregnant by a man who was involved in criminal activities plus another woman, and another of the film's female characters already had to contend with being stalked for some time by a rather suspicious as well as too intense looking stranger. As such, my sense was that, whether or not the two people at whom Mabel directed those words acted upon them, the movie itself had long gone past the point of being able to avoid plunging deep into the emotional depths in which it ended up being thoroughly immersed.

Some further idea of CROSSINGS's angle and tone can be gained from another of the work's characters being told that "New York is full of vanished women". I don't think it too much of a spoiler to disclose that among this unfortunate group was the friend of Mo-Yung from whom Benny had learnt of the trusting Hong Kong woman's existence, and who had been the previous occupant of the apartment in which Rubie -- who was no less a Hong Konger for her having resided in New York longer, being a fluent English (with a strong British accent) speaker and Eurasian looking -- now dwelled. By the same token, and especially since it does get announced in the first few minutes of this sadly disappointing work, here's reporting too that one of its key disquieting incidents has "a man...push[ing] a woman in front of a train."

My rating for the film: 5.5
Note: The film was cut from 103 minutes to 92 minutes when it was released in theaters. At one time a video of the original cut could be purchased from the director, but I am not sure if this is still the case.

---