Chinese Chocolate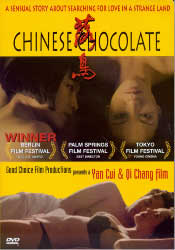 ---
Much to my embarrassment this film somehow managed to fly under my Diana Pang Dan radar for a long time. Part of the reason is that she is credited as Diana Peng and the film appears to be a Mainland China/Canadian collaboration. When I came across it on an Internet on-line DVD store I assumed that it was a recent film with Pang Dan as she has somewhat dropped into the bowels of low budget film hell, but much to my surprise the film was made back in 1995. I am not sure if this was in fact her first film or not, but her earliest Hong Kong credits are for the same year. Since she studied in New York for ballet and then won the Miss China USA contest, it's entirely possible that she went from there to make this film in Canada.

Even more interesting to a Pang Dan devotee, is that this film received a fair amount of critical acclaim when it was released and played at some prestigious film festivals (Berlin, Palm Springs, Tokyo, Toronto). Writing about the Toronto Film Festival one critic calls it a "standout" and Variety (09/95) refers to it as "insightful and acidic" – I am not used to a Pang Dan film getting this sort of acclaim! But it is nice to see. The film itself is an odd hybrid – it is a fairly serious drama that explores social issues and has that mainstream/festival feel to it – but at the same time it certainly takes the opportunity to make the most of Pang Dan's physical assets and often the camera hovers over her mystical breasts like a drunken frat boy.

This is especially odd when one considers that the film seems to aim its barbs against the exploitation of women – and yet almost drools over her curves. I would have attributed this to a healthy obsession from a male director, but for the fact that the director is a female, Yan Cui , who also stars in it and appears topless on a few occasions. Pang Dan as was to become her trademark in Hong Kong films plays it sexy but never goes beyond showing untilled acres of cleavage and some titillating poke your eye out nipples in a shirt shots. She does a nice job here – I can't say her acting skills are particularly stretched but in her role as a newly arrived non-English speaking immigrant her character takes on an increasingly vulnerable poignancy as the film proceeds. Yan Cui's character is much more fleshed out – somewhat gray and she plays it very well.

There have been other films that detail the plight of Chinese immigrants coming to the West for a better life – Farewell China, Crossings, Full Moon in New York – that generally have tragic overtones as they find themselves exploited and lonely. This film continues this trend as two women arrive in Canada from China on the same plane. Yan Cui has come to meet her husband who came three years before her and Pang Dan has come to study with $200 in her underwear in the hopes of making a better life for her family. The husband it turns out has fallen in love with another woman and dies in an accident on the way to the airport and Yan Cui finds herself all alone and unable to tell her family back in China that this has happened. Pang Dan realizes that she is in a helpless situation with little money and becomes dependent on various men to survive.
As these women are forced to turn to men who are to say the least somewhat odious to continue their life in Canada the film becomes a series of broken affairs and broken promises. At the same time I felt some of the blame had to be laid on the women who though not happy about it still use their sexual charms to get what they need. Though Pang Dan is initially portrayed as an innocent abroad she all too readily turns to sex to ease her economic and green card plight. Not that I minded at all of course from a viewer perspective but it made me less sympathetic towards her character than perhaps the director wanted. It's still a fairly solid if predictable film except for its enigmatic ending and brings you into a world that surrounds many of us and yet is invisible to us at the same time.

My rating for this film: 6.5

---