GeGe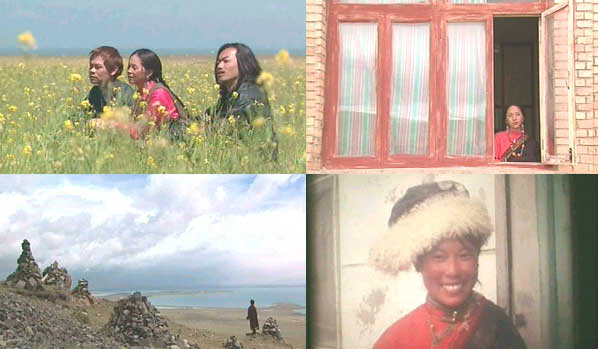 ---
Reviewed by YTSL
This dramatic offering takes its title from the Mandarin word for older brother, and sends a youthful Hong Kong man journeying to a remote Mainland Chinese province in search of his itinerant elder male sibling. At Ma-Duo, a dusty "stopover place" that reminded me of a few places I've been to in East Africa (as opposed to any I've seen in an East Asian film -- but has a school named after Sir Run Run Shaw), the apparently by now seasoned traveler shows strangers a photograph, one of whose three figures is his elder brother. By way of actions more than words, it gets revealed that this older member of his family "disappeared when [he] was young" but regularly informed those at home of his whereabouts by way of postcards mailed from all over China. However, three years ago and for reasons (yet) unknown, after sending a postcard from that Northern Chinese town, no more was heard from him...

GEGE looks to have been given a premiere screening at the 2001 Hong Kong International Film Festival. Although this joint production of the Hong Kong Arts Development Council, X'ian Film Studio and RTHK was a FIPRESCI award winner at that well attended event along with "My Life as McDull", its very existence continues to remain far from well known. Some additional acclaim (including at the Venice, Bratislava and Fribourg international film festivals) may have helped the 85 minute length effort get a Fall 2002 theatrical run at the Broadway Cinematheque plus a DVD release. However, even with Andy Lau -- the Cantopop singer-actor who also had a hand in producing Fruit Chan's "Made in Hong Kong" -- being listed as its "film consultant/advisor", it does not appear to have found much of a "regular" audience.

The most cursory of glances at GEGE should yield several reasons why this is so. For one thing, this reflective plus "indie" feeling work -- whose debutante director plus scriptwriter, Mak Yan-Yan, was a screenplay assistant on "In the Mood for Love" and appears to share Wong Kar Wai's eye for detail -- is truly light on dialogue. Indeed, it's really only at an advanced stage in this apparent semi-documentary that a relatively lengthy speech is heard being made. Furthermore, so unused remained this (re)viewer to the voices of the predominantly Mandarin language film's cast members that she's actually uncertain re who it was who proclaimed that "I know each and everyone of us will travel on life's journey, and there's no turning back", then "I see and can only say, I wish you well, a good journey, take care" (even while recognizing that those sentiments are key to (understanding) this offering together with more than one of its main characters).

GEGE probably also lost out at the box office as a consequence of it appearing to be a star-less vehicle. Still, while it's true enough that its rather average looking lead actor doesn't seem all that charismatic, this actually ended up being to the film's benefit (since Stanley Tam Kwok Ming comes across as an individual who, like his traveler character, wouldn't require deluxe level hotel accommodation or transportation when visiting a foreign territory). Similarly, one cannot put it past Jin Cai-Hsia being a real life equivalent of the fetchingly traditional costumed native of Qing Hai province plus ethnic minority in her own country that she essayed in the shot entirely on location -- and mainly outdoors -- (by Siuki Yip and Eric Lau) work. Ditto with regards to there being some of Cai Tao in the generally scruffy looking plus leather jacketed photographer -- who turned out to have Beijing roots -- he portrayed.

In point of fact, one of GEGE's strong suits is the feeling of authenticity that courses through much of it. Despite its having been shot using the much maligned medium known as digital video, this admirably unjudgmental feeling -- and, consequently, perspective enlarging -- work also can boast of having some striking images along with photogenic and uncommon scenery (notably a beautiful lake into which three men, including this film's protagonist, skinny-dipped) plus interesting human subjects (including tent-dwellers, Muslim skull capped elders and immensely rosy cheeked children who, nevertheless, are recognizably East Asian). And even while its main musician makes major use of an incorrectly tuned guitar, the work's deceptively amateurish as well as arguably tuneless sounding soundtrack turns out to not only be distinctive but helpful at scene setting plus mood establishing too.

Lest it seem like I can see no wrong with GEGE, however, here's pointing out that I wish that it was more dynamically paced. No doubt, its surprisingly sure handed first time director had her reasons for having it be the way it is. As things stand, however, my mind was apt to wander for a bit while viewing certain portions of this at times perhaps too understated work. Additionally, although I don't mind the even toned offering having as simple and thin a general plot as it does, I really would have preferred for its story to have come to a clearer and more decisive close than it ended up doing.

My rating for this film: 7.

---