Our Sister Hedy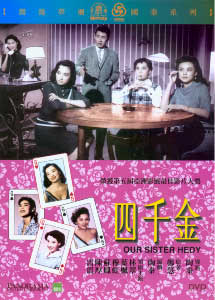 ---
Reviewed by YTSL
Until recently, the chances of filmophiles getting to view many an older Hong Kong cinematic offering -- including those produced by the legendary Shaw Brothers and Cathay Organization (or the Motion Picture & General Investment Co. Ltd. (MP & GI) as it was known for a time) -- were slim indeed. Beginning in December 2002 however, this situation began to radically change. As a substantial number of Hong Kong movie fans already know, Celestial Pictures and Intercontinental Video Limited have been releasing on video some ten Shaw Brothers (library) titles a month. Albeit in a more low key manner plus at a way slower rate, Cathay and Panorama Entertainment look similarly intent on introducing some other classics of Hong Kong cinema to a new generation as well as allowing veteran fans to get reacquainted with their favorites from yesteryear.

To date, the golden oldies that have been made available -- in many cases -- for the first time on home video have included such as the Shaw Brothers' "The Kingdom and the Beauty" (1959), "The Love Eterne" (1963), "Come Drink with Me" (1965) and "The 36th Chamber of Shaolin" (1978). Although few in the West outside of HKIFF catalogue perusers may have previously known of such Cathay gems as "The Mambo Girl" (1957) and "The Wild, Wild Rose" (1960), I -- who have seen and loved the former, and heard so much (good) about the latter -- wouldn't bet against their being among those vintage offerings that (still) can give Hong Kong film fans huge amounts of viewing pleasure. And so too with this Best Picture award winner at the 5th Asian Film Festival which, as Paul Fonoroff has pointed out, clearly served as the inspiration for the thirty-two years older "Four Loves" (that also had had one of OUR SISTER HEDY's stars in its cast along with the lead quartet of Pauline Wong, Carina Lau, Nina Li Chi and Crystal Kwok).

Among the factoids about OUR SISTER HEDY that can be found in the Hong Kong Film Archive's informative "The Cathay Story" are those that disclose that it: "was adapted from a short story by female novelist Zheng Hui" (2002:98); and possesses a "script [that] was written by Tao Qin, the director" (Ibid). The same publication also characterized the 1957 movie as "a comedy-drama about sex, love and marriage" (2002:92). While this is true to some extent, such a description seems in danger of making this lively effort sound unlike the family fare that it is. And in point of fact, I actually think that this immensely entertaining work focuses as well -- or even more, in fact -- on the "blood is thicker than water" bonds that exist among sisters (irregardless of how divergent their personalities may be), and between (motherless) daughters and the (widower) father who raised them.

At this juncture, I'd also like to emphasize for clarificatory purposes that: Although OUR SISTER HEDY's quartet of main characters look -- as a group -- to share certain commonalities with the four sisters in Louisa May Alcott's "Little Women", they differ from those in the popular American book in having had just one parent for the greater part of their lives (and residing -- for much of the movie -- with him (who is portrayed by Wang Yuanlong) along with a female housekeeper). Similarly, while this charming offering's wealthy young male character (named Heyan and essayed by Kelly Lai Chen) might superficially resemble Theodore "Laurie" Lawrence (e.g., in his being a sensitive type who knew how to play the piano), this suitor of one of the Miss Kongs who are the Mandarin language presentation's primary personalities is at variance in key ways from "the Lawrence boy" who was a next door neighbor of the March family plus features far less prominently in the production as a whole.

OUR SISTER HEDY further differentiates and distinguishes itself from both "Little Women" and "Four Loves" by virtue of its "female lead roles...seem[ing] to have been specially written according to the temperaments of the actresses" who were charged to bringing them to life on screen (See "The Cathay Story", 2002:94). Although this (re)viewer is not all that familiar with the public personae of these enchanting stars of yore, the comfortable plus capable way that the foursome in question handled the parts of responsible eldest sister Hilda, sultry second sister Helen, sprite-like third sister Hedy and sweet youngest sister Hazel does make it appear to be so that they really were respectively tailor-made for "[t]he gentle and virtuous Mu Hong, the sexy and seductive [Julie] Yeh Feng, the boyish and outgoing [Jeanette] Lin Cui, and the affectionate and fragile [Dolly] Soo Fung" (Ibid).

Perhaps it was only inevitably, then, that the men of OUR SISTER HEDY are outshone by its main women. At the minimum, it can feel as though the likes of office worker Hilda's colleague, Fu Lifu (who the irreverent Hedy was wont to amusingly mis-dub as Fu Fufu), or the engineer Sun Ruhao (who Peter Chen Ho showed to be quite the dapper dancer as well as easy-going tennis player) exist only to be coveted by, fought over and cast aside or end up as prizes "won" by the Kong sisters. Such is the allure of Hilda, Helen, Hedy and Hazel (and the actresses who portrayed them) though that few of this immensely good natured offering's viewers -- be they male or female -- will mind this gender imbalanced, actress favoring state of affairs that appeared to have been the norm for Cathay productions (and many another happily increasingly accessible Hong Kong movie from this not so long ago glorious era of Chinese cinema).

My rating for this film: 8.5

---
Reviewed by Brian
I just want to throw in my recommendation for this old fashioned sentimental film that simply gobbled me up. It's hard for me to pinpoint exactly why I enjoyed it so much - maybe because it was simply a wonderful nostalgic trip to a simpler black and white time when cynicism took a back seat to sentiment but I found it very touching and loved every moment of it. A father is raising four modern daughters on his own - and they are all quickly approaching the marriage age - and it's about the father coming to terms with that - with the four sisters fighting and jabbering but in the end always being there for one another - and it's about the men who come to court them. There is comedy and there is drama but in the end it is simply this little family that matters.

All the women do a great job - just watching Julie Yeh Feng standing there like a slender curvy reed ready to burst with sexuality made me want to take up smoking and smoking jackets - but it was especially Jeanette Lin Cui who won me over completely. She is sort of a tom boy getting her nose in everyone's business and full of life - at times she reminded me very much of Faye Wong in Chungking Express - the same big eyes, short hair, look of surprise on her face - totally charming and enchanting - as is the film.
My rating for this film: 8.5

---