Her Tender Heart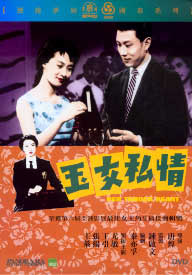 ---
When this film was released in 1959 it ate into the hearts of Hong Kong filmgoers with its many melodramatic twists and turns. It also won Lucilla You Min the Best Actress award at the Asian Film Festival (a fairly prestigious event at the time) in her first film for Cathay. Though she plays a high school girl in this film, Lucilla was twenty-four at the time and had already established a solid career with the Shaw Brothers. Born in Hong Kong, her father was a famous Cantonese opera singer (Pak Yuk-tong) and she was noticed by Runme Shaw while still attending school and signed to a contract in 1952 at the age of seventeen. Over the next seven years she made over 20 films, but ended her relationship with the Shaw Brothers and signed up with Cathay (then MP & GI) in 1958. With Cathay she was to have her biggest successes – Sun, Moon and Star (Best Actress at the first Golden Horse ceremony), All in the Family and A Night in Hong Kong. She married and retired in 1966 at the age of 29.

In this old fashioned sentimental film, she goes through a myriad of emotions – from first love, to a wrenching discovery about her past, to dealing with tragedy, to having to come to terms with what "family" really means. She captures each emotional phase with genuine feeling and authenticity and always seems true to her high school girl sensibilities. For whatever reason, the film didn't really grab me other than during an occasional heart felt moment though it certainly has all the ingredients in place. Part of the issue may be that the bond between two of the characters feels so strong that any other outcome than the one that occurs seems impossible – and thus much of the potential drama leaks away. At the same time this is a touching and somewhat unusual story about a tender love between a father and his daughter.

Li Peiying (Lucilla) comes home one day after school to find her Auntie, Gu Yunmei, waiting for her. Gu has been living in Italy for many years and Peiying has never met her – as far as she knows. It soon becomes apparent to the audience that in fact Gu is the mother that Peiying had been told had died many years ago. She had left her husband (Wang Yin) and small child to run off with another man (Lan Tianhong) and settled in Italy where they became quite wealthy. Now after these many years she has returned to see her child but in an agreement with her ex-husband she has to pretend to be Peiying's aunt. In some ways it is fairly complex – she clearly loves her child and in a flashback we see how much it hurt her to leave her behind, she also loves her current husband and abandoned her family because she was stuck in a loveless marriage. Yet the bond and feelings between the daughter and father are very clear as they dote on each other – so one is torn as how they want this to play out.

During all of this Peiying falls in love with a handsome doctor (Zhang Yang) and life seems very bright – until she overhears a conversation that jolts her with the truth – and not only that but also that her mother wants her to come to Italy with her for a better life and to study music. More tragedy is to come and more discoveries about her past emerge. Unfortunately, the edgy dynamic slowly disappears as one begins to lose a great deal of sympathy for the mother once her not very nice husband shows up. From this point on the film feels like by the numbers melodrama and creates little tension.

As a note of interest, the actress who plays Gu Yunmei might be familiar to "Girls with Guns" fans as she was to play the avenging matriarch 31 years later in Widow Warriors. Wang Lai was one of the more skilled character actresses of her time and was nicknamed the "actress with a thousand faces". Born in Beijing, she moved to Hong Kong in 1952 and was to act in over 200 films in her long career. She won the Golden Horse Best Supporting Actress award four times and may be familiar to some also for her work in Ang Lee's Pushing Hands or Ann Hui's My American Grandson.
The DVD from Panorama is suppose to be region 3, but I was able to play it on my region 1 player. For such an old film, the print is in reasonable condition - some scratching at times and some scenes look over exposed.
My rating for this film: 6.0
The information on Lucilla and Wang Lai comes from "The Cathay Story" published by the Hong Kong Film Archive.
---