Miss Du Shi Niang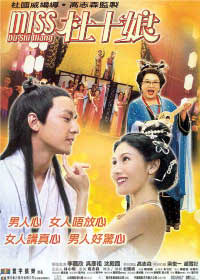 ---
Reviewed by YTSL
As a scriptwriter as well as playwright, Raymond To has few peers in Hong Kong. To be sure, there are some individuals with a larger number of movie scriptwriting credits than him (including Wong Jing and the late Barry Wong). However, few others are in possession of as illustrious a scriptwriting record as he whose 30 film scriptwriting credits include ones for "Shanghai Blues", "Peking Opera Blues", "I Have a Date with Spring", "Hu-Du-Men" and "The Mad Phoenix"), and whose directorial career began in 2001 with "Forever and Forever" (an AIDs melodrama starring HKFA Best Actress, Sylvia Chang, whose script also was written by Raymond To).

For his third directorial effort, Raymond To has chosen to bring to the silver screen a period prostitute drama cum cautionary tale about the seeking of true love that he had originally written as a play. MISS DU SHI NIANG's titular character (who is played by a former Miss Hong Kong, Michelle Reis) is a Ming Dynasty courtesan whose beauty is famed far and wide, and someone who, consequently, can afford to pick her clients as well as charge a premium for her services. Yet while other "chicken" in her Mamasan's "coop" aspire to her high earning position, she -- who is rich enough to afford her own maidservant but still is unable to purchase her independence without the help of at least one other -- dares to dangerously dream, instead, of finding a Mr. Right who will fall for her and take her away from this morally dubious and spiritually empty life. However, when this search leads her to a callow youth (played by Daniel Wu), one cannot help but question her judgment plus taste in men, even while admiring her resolve to realize her ambitions to be a good man's legitimate wife and real life partner.

The subject-to-sudden-mood-swings MISS DU SHI NIANG makes little attempt to hide its theatrical provenance. For one thing, and as with "I Have a Date with Spring" (though actually less so than another period prostitute drama in which its female star appeared -- i.e., Hou Hsiao-Hsien's "Flowers of Shanghai"), the majority of its scenes take place indoors. For another, certain of its key characters are wont to break "the fourth wall" and turn to address the audience as well as face the camera head on. Additionally, there's a very "stagy" feeling about such as the dance performances ostensibly performed by the prostitutes for the benefit of potential clients but also the pep talks-turned-rallies that take place before they head off to get as much money as they can out of the hedonistic men who have entered the brothel in search of sexual gratification.

Although MISS DU SHI NIANG takes it name from a legendary 17th century personality, the film's overall sense of artifice conspires to make its events come across as taking place in an alternate universe rather than past historical reality. IMHO, this sense cannot help but be exacerbated by the 2003 effort's possessing a very contemporary looking trio of main performers. For starters, Lydia Shum's glasses are out of place and their presence on her prominent round face unexplained even when hardly unnoticeable. As for Daniel Wu and Michelle Reis: Not only have the Asian-American fellow and the Portuguese-Chinese damsel's noses looked bigger -- and un-Chinese --as when they are in the same (period) picture as each other but, try as hard to as they both may have done, this movie's lead actor and actress have a very modern air about them that their historical costumes and hair-pieces seem only to have highlighted rather than managed to disguise.

While it may not seem ideal in theory, the feeling that it's all a "put on" show sometimes can work in MISS DU SHI NIANG's favor. With her alternately twinkly and steely eyed Dame character sometimes appearing to take this twist-filled work's audience into her confidence to a degree that's rather novel for a fictional film character to do, the larger than life Lydia Shum, in particular, looks adept at taking advantage of this situation. At the same time though, this studied state of affairs appears to make it harder for any of the offering's characters to appear 100% believable and truly sincere at any given time. Accordingly, Michelle Reis and Daniel Wu -- who already display a disappointingly distinct lack of chemistry in their interactions with each other -- may have had more obstacles than usual to their bids to make their characters come across as worthy of others' trust as well as sympathy.
As regular visitors to this site may know (even if a rabid Daniel Wu fan who once sent me hate mail evidently did not), this (re)viewer might well have a greater tolerance for this offering's lead actress and actor than most. Some past efforts in which Ms. Reis demonstrated to me that she was more than just a pretty face are "Swordsman II" and "Fallen Angels" as well as "Flowers of Shanghai". Similarly, I felt that Master Wu displayed a quiet but charismatic presence in his debut-making "Bishonen..." that seemed to promise much. If truth be told though, there were times during my viewing of MISS DU SHI NIANG when I was moved to think that this Clifton Ko production -- some of whose scenes contain lengthy, speech-type pieces of dialogue -- would have immeasurably benefited from having had a more convincing main actress and actor, never mind ones blessed with the dramatic caliber and depth of a Josephine Siao Fong Fong, Sally Yeh, Sylvia Chang or Brigitte Lin.
My rating for the film: 6.
Pictures spotted and made off with at http://www.mov3.com/trailer/miss_du_shi_niang/photo.html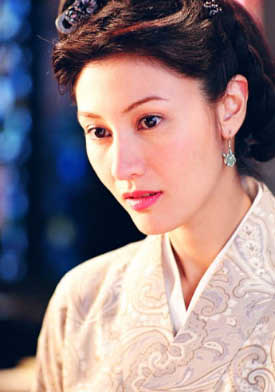 ---