Sound of Colors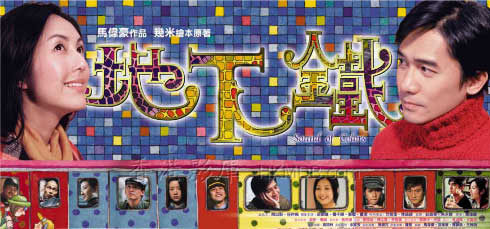 ---
Reviewed by YTSL
One of the reasons that I started turning against English language movies and back towards Hong Kong cinema a few years back was that too many favorite novels of mine, be they by E. M. Forster, Louisa May Alcott, Kazuo Ishiguro or John Grisham, were being adapted into Hollyweird or middle brow British works. Little did I know then how many offerings from the "Eastern Hollywood" got their inspiration from literature too. However, as I've since realized, Gu Long, Jin Yong (AKA Louis Cha) and Eileen Chang -- the last of whom also wrote scripts for Cathay (when it was still known as MP&GI) -- are among the popular plus famous authors who have been favored by Hong Kong film-makers over the years.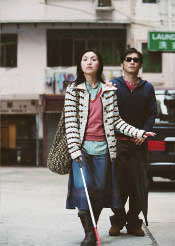 In 2003, the literary flavor of the year looks to have been Jimmy Liao, whose pictorial books appear to be ideally primed to get turned into saccharine sweet date movies and/or chick flicks. Earlier in the year, one of the Taiwanese author and illustrator's tomes was transferred onto celluloid for Warner Brothers by the Milkyway Image pair of Johnnie To and Wai Ka Fai. As one might expect of an effort that stars Takeshi Kaneshiro and Gigi Leung as well as contains picture-perfect scenes of Taipei, "Turn Left, Turn Right" was a box office success. Equally unsurprisingly, other Hong Kong film-makers have opted for a similar formula comprising beguiling big name performers and beautiful imagery when adapting a second Jimmy Liao work -- this one entitled, partly in allusion to a poem that talks about the colors of the heart (according to Shek Kei), "MTR: The SOUND OF COLORS" -- into a cinematic production.
As can be seen by its having not one -- or even two -- but four credited scriptwriters (in director Joe Ma, Cheung Pui Wah, Chan Wing Sun and Wong Nga Man) though, the celluloid offering whose English title is SOUND OF COLORS (but has a Chinese title that places an emphasis on the subway portion of its original title) looks to have been more difficult to adapt as well as generally be a more complicated affair. Granted that that which has a pair of art directors (in Bruce Yu and Raymond Chan) has the same number of primary characters and main supporting ones -- i.e., two each -- as "Turn Left, Turn Right". However, this seemingly more ambitious movie is one that's not content to take place in just one territory and, instead, had location shoots in Hong Kong, Taipei and Shanghai.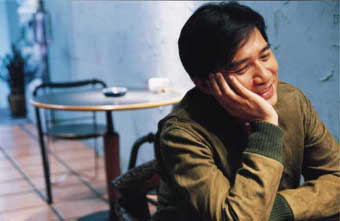 Due to its having the greater amount of star power, the HKSAR portion of SOUND OF COLORS couldn't help but overwhelm the other sections of the film. I have a nagging feeling that this wasn't planned. However, what did the movie makers expect when they cast Tony Leung Chiu Wai and Miriam Yeung in it as, respectively, a troubled owner of a dating agency and the blind woman who helps him in times of need as well as asks him to help find her a man? And this especially when the likes of Eric Kot (as a white collar friend of Little Tony's Ho Yuk Ming character; incidentally, he is someone who I'm liking more and more with each post "You Shoot, I Shoot!" screen appearance that I've seen him make) and Lam Suet (as Ms. Yeung's Chang Hoi Yue character's guitar-playing father) also are there to add to the picture.

The SOUND OF COLORS narrative that started off in Taipei is not helped either by being riddled with conceits and punctuated by supernatural figures (Not that this is something that's confined to this segment of the work...). For instance, it's due to a mystery cupid figure that a Christmas card cum love letter that the introverted Chung Ching (Chang Chen ensures that this romantic offering's non-Hong Kong segments are not entirely bereft of star quality) had meant for a colleague he had been secretly pining after got (mis-)sent to a forlorn lass in Shanghai (Dong is played by a Mainland Chinese actress, Dong Jie). Then, not only do we see the Taiwanese man opting to fly off to Shanghai after receiving a revelatory return letter from this similarly lonesome soul but, also, his arriving in time to offer Dong a tissue as she tears up while sitting on a subway station bench, and teaching her that chocolate -- the best samples of which have, like love, a bitter-sweet quality -- is best enjoyed with one's eyes closed.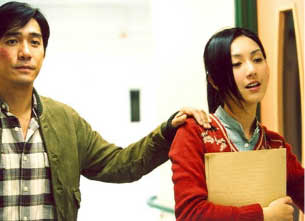 To my mind, SOUND OF COLORS is additionally not well served by its possessing the problematically edited structure that it does. All in all, rather than have scenes from one of its pair of main romantic tales regularly interrupt those from the other, why not split the ultimately rather insipid film into two a la an offering in which Tony Leung Chiu Wai also starred and co-producer Jacky Pang had a bigger hand -- i.e., the just as whimsical in parts, but oh so much more magical, "Chungking Express"? Alternatively, a better work or two might have been made by concentrating on just one of this Jet Tone co-production's stories; and this particularly in view of director Joe Ma and co. looking to have already (over-)fleshed out that in which Miriam Yeung actually turned in a more convincing display of acting blind than Little Tony at the expanse of the less flashy other.
My rating for this film: 6.

---