Between Tears and Laughter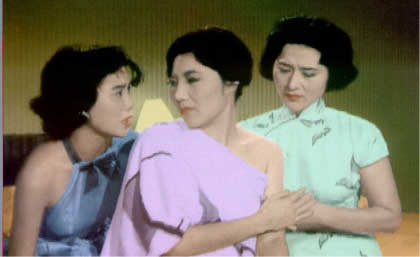 ---
The title of this 1960 Cathay vehicle is a reasonable description of the mood of the film as it gently navigates the territory between sentiment and smiles. Like so many of the Cathay films it is very much female driven with the male actors generally being pushed to the back of the bus. Nearly all of the Cathay films I have seen so far focus on the female actresses – the company had signed up a fabulous pool of talent in the fifties with such now legendary stars as Grace Chang, Linda Lin Dai, Julie Yeh Feng, Lucilla You Min, Betty Loh Ti, Kitty Ting Hao and Jeanette Lin Cui – and in film after film they capture your heart with their immense charm. On the other hand, Cathay apparently made much less of an effort to find charismatic male leads – seemingly satisfied with amiable male actors who were willing to play second fiddle to their female counterparts.

This formula certainly worked for a number of years and this was almost a Golden Age of the female actress. Unfortunately, when the audience began to shift their allegiances by the mid-60's to a more masculine action type of film, Cathay was unable to adapt and did not have the talent to compete with the Shaw Brothers who were making a huge effort to groom male stars, action choreographers and directors to capitalize on the martial arts popularity. Perhaps the most renown of the Shaw action directors, Chang Cheh, actually was a scriptwriter for Cathay before moving to Shaw to direct and one of the actresses of this film was responsible for bringing Chang from Taiwan to start working in Hong Kong. Cathay attempted eventually to jump on the martial arts bandwagon with films like "Escort Over Tiger Hills" and "From the Highway", but they did not have the talent or the infrastructure to compete with the Shaw's and were for all intents and purposes out of business by the end of the decade.

This film delves into the lives of three single women who live together and it is in many ways reminiscent of the Hollywood female oriented films of the 1930's and 40's with it's emphasis on the friendship of the women being as important as their quest for romance. The trio represents something of a generational section of Hong Kong with each woman being at a different place in her life – Kitty Ting Hao as the young spirited romantic falling in love for the first time, Helen Li Mei as a more experienced woman recovering from the death of her lover and Wang Lai as a forty-something year old with a child (Peter Dunn) and separated from her husband. Due to their financial situation they have had to rent a small apartment to live together and also to support one another emotionally.

Love comes knocking on their door in the forms of Roy Chiao, Tien Ching and Yeung Chi Hing. Kitty has been corresponding with a gentleman (Roy Chiao) from Singapore for the past year and he is finally coming to visit her in Hong Kong. She is all a quiver and won't pay heed to the love pleadings of her cousin, Tien Ching, who feels he has a flag of discovery rightfully planted in her heart. When Chiao shows up though, rather than Kitty, Chiao finds himself much more attracted to the mature appeal of Helen and this causes all sorts of problems for Helen who finds herself drawn to him but doesn't want to betray her friend. Wang Lai has her own issues with a son in the hospital with polio and a husband (Yeung) trying to come back into her life after leaving her for a fling with another woman. It all resolves itself as one might expect in a sweet and sentimental drama such as this. This is again as so many of the Cathay films are a slice of life story with very little depending on the outcome of the story except the lives of the people involved. This slice of life feel is aided by a number of location scenes around Hong Kong.

Helen Li Mei is an intriguing actress and this is my first encounter with her. She didn't rise to the same level of fame as a number of the other Cathay actresses did, but she certainly shows a slow burning understated sexual appeal in this film. Born in the Mainland in 1929, she spent her childhood in Hebei but moved to Shanghai with her family at the outbreak of the war. She then came to Hong Kong in 1949 and found work as a scriptwriter and then in 1952 entered the Miss Hong Kong pageant. In 1954 she had her lead acting debut in a film called "Strayed Beauty" and then gained much attention with her role in "Notorious Woman". In 1955 she joined up with Cathay (MP & GI) and became a solid addition to their ranks as both a dramatic actress and a musical star in many films. She even recorded songs with Pathe. She was in over fifty films in her career with her last film being "International Secret Agent" in 1967. Amusingly, she married an ex-CIA officer the same year and soon moved to the United States. At one point in 1958 she had opened her own production house and invited Chang Cheh from Taiwan to write and direct a film called "Wild Fire". She died of cancer in 1994.

My rating for this film: 7.0
Note – the information on Helen Li Mei was derived from the book, The Cathay Story.

---
Helen Li Mei from The Cathay Story