Hong Kong Nocturne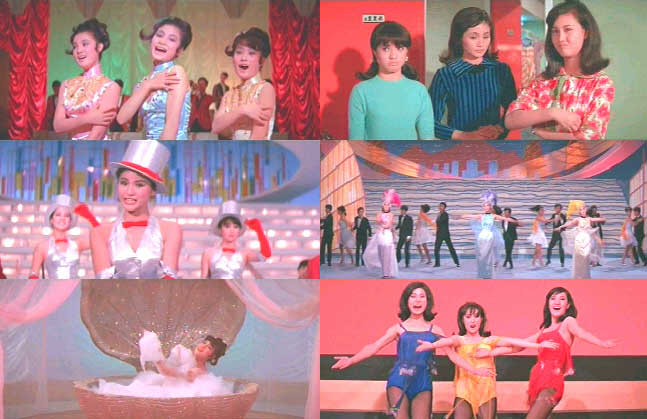 ---
By the middle of the 1960's the movie musical was close to fatal asphyxiation in Hollywood, but in Hong Kong it was still going strong – for a few more years anyway. In fact, prior to the 1970's musicals had been one of the more successful genres in Hong Kong for decades. The roots of this popularity reach back to two prime influences – the mass appeal of Chinese Opera and the music magically spun by the female nightclub singers in Shanghai - i.e. sing-song girls – during the 1920's and 30's. Even before the introduction of sound in film, many of the Chinese films being produced were simply Chinese operas being played out on camera. The first Chinese film with sound was "Sing-Song Girl Red Peony" in 1930 starring Hu Die who became well known for her singing and dancing skills.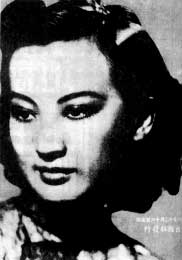 Zhou Xuan
From the late 30's to the early 50's two actresses in particular were to exemplify the Shanghai sing-song influence – Zhou Xuan and Bai Guang. In 1937, Zhou exploded on the film scene with "Street Angel" in which she sang a few songs and instantly became a star. Nicknamed "The Golden Voice" she was originally from Shanghai but moved to Hong Kong where she starred in films such as "All Consuming Love", "Song of a Songstress" and "Orioles Banished from the Flowers". Unfortunately, her life off screen was not a happy one and a broken marriage and various mangled love affairs led her to a series of breakdowns and she died in a mental hospital at the age of 39 in 1957.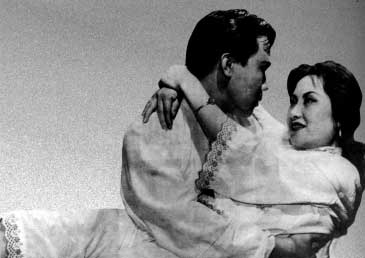 Bai Guang in "Blood-Stained Begonia"
Bai Guang also began her career in Shanghai and later moved to Hong Kong after the war. She claimed that seeing the light emanating from a film projector when she was a child inspired her stage name, which means "White Light". Known for her sensual image and bad girl femme fatale type of roles in such films as "Blood-Stained Begonia" (1949) and "An Unfaithful Woman", she picked up the nicknames of "The Magnetic Low Voice" for her singing and "The Bewitching Beauty of all Ages" for her looks. She retired in 1959 and died recently in Kuala Lumpur. Generally, the "musicals" during this period tended to be straight dramas or comedies with songs inserted at various points along the way even if they had little to do with the narrative of the film.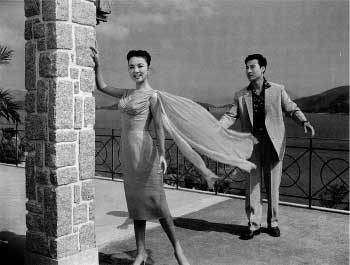 Zhong Qing (Silver Light)
Nearing the end of the 1950's two other actresses/singers were to bring an entirely new fresh look and feel to musicals. This new wave of musicals was much more upbeat then previously as they shed much of the tragic Shanghai sing-song image and injected the films with a youthful vitality. The songs and narrative also became more integrated and were often used to drive characterization and plot. The film that is credited with beginning this trend was the 1956 Wong Tinlam directed film 'Songs of Peach Blossom River" starring newcomer Zhong Qing (Little Wild Cat) who brought enormous energy and spunk to her roles in which she often played a village girl or a farmer's daughter. She was to star in a number of musicals over the next few years and was very popular even though famed vocalist Yao Li dubbed her singing in most of her films. Zhong was to retire in 1967 after marrying.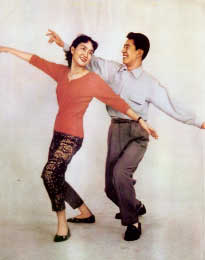 Grace Chang and Peter Chen in "Mambo Girl" (Silver Light)
A year after "Peach Blossom", Hong Kong musicals struck a new high with the irrepressible and dazzling Grace Chang in "Mambo Girl". From the very opening scene of Grace joyously singing and dancing to the Cha-cha, the film seemed to be announcing that musicals were different now – they were modern and had pizzazz and Grace had more of it than anyone. No matter what the genre of the film, Grace was expected by audiences to sing at some point during the proceedings and the one film in which she didn't – "Forever Yours" – bombed at the theaters. Grace also retired after marrying in the early 60's.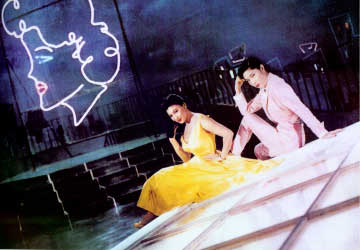 Calendar Girl (Silver Light)
In the 1960's the musical format continued to evolve – glossy color became common, Hollywood influences were more apparent (though Hollywood from the 40's and 50s), Western styles of music such as the twist and Go-Go music proliferated and ravishing spectacle was the flavor of the day with fabulous eye popping musical numbers. In lavish, lush films such as Calendar Girl, Love Parade, Les Belles and The Dancing Millionairess, Hong Kong audiences were treated to complete fantasy worlds in which everything exploded in color and romance. Soon another influence was to make itself felt in the musical genre as the Shaw Brothers invited Japanese director, Inoue Umetsugu, to make Hong Kong musicals and he brought a deliciously slick pop culture eye to the designs and music. It was the Mandarin studios that primarily drove the contemporary musical, while the Cantonese film industry focused more on Chinese Opera in the 50's. Later with the popularity of actresses such as Josephine Siao, Connie Chan and the other "Seven Princesses" the Cantonese studios turned to more modern musicals, but they tended to be overshadowed by the much better financed Mandarin ones.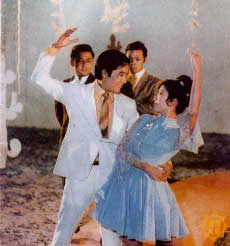 Lui Kei and Connie Chan in Her Tender Love (Silver Light)
When compared to Hollywood musicals there are a few things that stick out regarding Hong Kong musicals. Like other Hong Kong films of the time, musicals were completely dominated by the female actresses and other than Peter Chen, no men ever really became identified with the genre. This lack of male stars in musicals perhaps impacts another observation – musical numbers tended to focus primarily on the song and the design with most choreography being fairly routine and staid. There just were no dancers with the talent of a Fred Astaire, Gene Kelly, Ann Miller or Cyd Charisse. Most male actors had no desire or ability to dance on screen while most of the actresses did not have a lot of formal training other than perhaps in ballet. This allowed for few opportunities to really let go with creative and exciting dance performances and forced the choreographers to keep the dancing formal, simple and often balletic in style.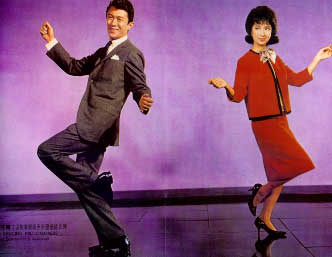 Peter Chen and Betty Loh Tih in Dancing Millionairess (Silver Light)
Hong Kong obviously had no vaudeville/Broadway traditions and so there was not the in depth training ground for modern dancing that Hollywood was able to feed off of. Thus Hong Kong's attempt to go Hollywood in the 60's in respect to musicals never really seemed totally realistic and though the musical numbers often look visually stunning they were at the same time often somewhat lifeless and non-dynamic. They do of course make up for this deficiency with some great tunes, strong vocals (usually dubbed by others), slight but effective dramas and charming comedies – and most importantly – some of the most charismatic actresses ever who will warm every bone of your body.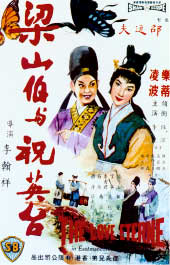 The Love Eterne
By the early 1970's the musical began to fade away – both the contemporary ones as well as Chinese Opera films. In the 1950's and 60's over 700 Cantonese opera films were made and in the 60's the Mandarin Huangmei (yellow plum) opera became extremely popular for a few years, but the huge success of the martial art film and changing taste in music made the musical format seem out of date. There have been a few musicals attempted since then, but none have done particularly well at the box office – though there have been many films with songs being an important part of the structure such as Rouge (about a sing-song girl), Miracles and Hu-Du-Men. One might think that with the odd phenomenon in Hong Kong of combining acting and music careers that musicals would be a natural, but it has yet to happen.

Hong Kong Nocturne is generally considered to be one of the best musicals from the 1960's for good reasons. It is an inspired pop splash of music and melodrama that hits most of the right notes. It was Umetsugu's first Hong Kong film (though he had directed many films in Japan) and he saturates each inch of the screen with glistening eye-pleasing style and more color than seems possible. The film joyfully immerses itself in constant downpours of music and lush musical settings that combine both the sing-song girl musical aspect as well as many Hollywood fantasy dreamlike sequences. Surprisingly though, underneath the gorgeous veneer, lies a fairly dark melancholy mood that refuses to buy into the "happy ending" one expects from films that look like this.

Filled with melodramatic twists and more than a few clichés, the film still manages to be a smaltzy pleasure as it delves beneath the glitzy trappings of show business. Mr. Chia (Cheung Kwong-chiu) has a nightclub act that has become largely dependent on the talents of his three entrancing daughters. While he performs stale magic tricks that are as old as he is, the daughters sing and dance around him to the admiration of the audience. He also takes their share of the hard earned money and feeds it into the floozy hands of the luscious Tina Chin Fei who is gleefully taking him for a long bumpy ride. Finally, the girls reach the breaking point and decide to leave their father to his own devices and strike out on their own.

Tsui Tsui (Lily Ho) has her head filled with the promises of stardom and riches in Japan by a lounge lizard Romeo and heads over there with him to become a film actress – but it turns out that the only acting desired is taking off her clothes for the cameras. Refusing to do this, but also too proud to rejoin her family, she turns to drink, hangovers and bawdy entertainment in a cheap cabaret act in Singapore. Meanwhile, sister Ting Ting (Chin Ping) decides that ballet is her true calling and joins a dance school to learn a "pas' from a "penche". Training is tough but her crippled dance instructor (Tien Feng) is even tougher and keeps smacking her with his cane and telling her she is a failure – but it's just tough love – and she refuses to give up.

The final daughter Chuan Chuan (Cheng Pei Pei) is secretly in love with songwriter Chen (Peter Chen), but initially he only has googly eyes for Tsui Tsui. When a crisis occurs though the gallant Chen is there to hold her and to realize how much he loves her. These three sisterly threads largely play out separately as the girls struggle through life and begin to lose touch with each other and with their father. The ending is bitter sweet and in many ways feels sadly unresolved, but contains a message that seems to say that it is family that really matters.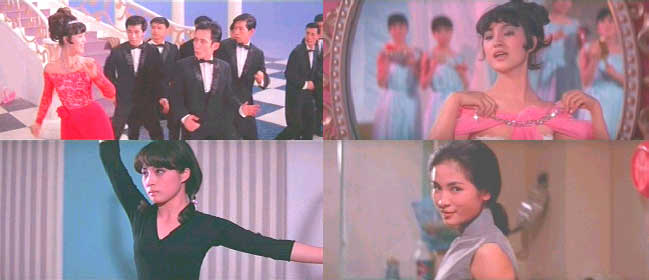 The magic of this film certainly lies partly with the smooth musical numbers that are sprung on you like a chocolate surprise, but it is really the appealing performances of the three female leads that make you want to stay. All three have very different personalities from the pugnacious and petite Chin Ping to the sultry and vulnerable Lily Ho to the serene and classy Cheng Pei-pei, but they all glow on the screen with charm and beauty. Still very early in their careers, they exude freshness like a newly made bed. Within a short period of time all three of them would be huge stars.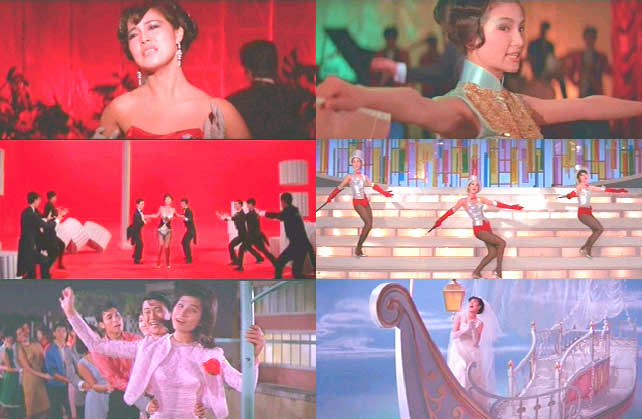 Musical numbers abound in this film from the first frame to the very last. Though the songs themselves are only serviceable, they are thrown into such lush surroundings that they take on more appeal than they perhaps deserve. Numbers vary from glitzy nightclub acts to a Go-Go number to spontaneous night time rooftop outbursts of song and dance to big splashy dream numbers – a few of the transitions from reality to music are like biting into a frothy cupcake. Both Cheng Pei-pei and Chin Ping had received a fair amount of dance training – Cheng in ballet for many years and Chin had gone to Japan on the orders of the Shaws to train in dance – and this gives the dance numbers a nice bit of gracefulness.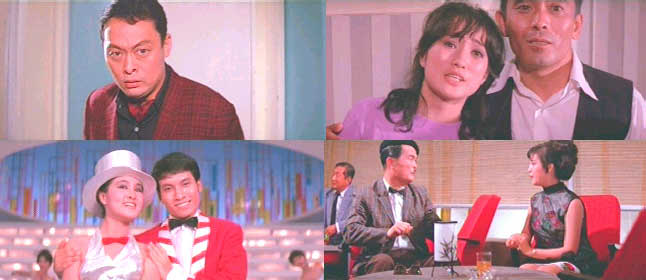 It is interesting to see many of the actors in this musical who were to go on to careers associated with kung fu films – Tien Feng and Cheng Pei-pei of course – but the cast also includes Yueh Hua in a small role, Ku Feng as a worker at the ballet school and Lee Wan Chung (Smiling Tiger in Come Drink with Me) as the Japanese director. I am not entirely sure but I believe this film was made right before "Come Drink with Me" though it seems to have been released afterwards. In her interview on the DVD Cheng Pei-pei mentions that the dance training she received here was very helpful when she made the classic martial art film and of course after its huge success she was pushed into martial arts films for the rest of her career at Shaws.
My rating for this film: 8.0
Information/pictures gathered from various resources:
"Silver Light" by Paul Fonoroff
"Hong Kong: The Extra Dimension" by Stephen Teo
"Mandarin Films and Popular Songs – 40's – 60's" from the HKIFF
"Once Upon a Time in China" by Jeff Yang

---