The Call Girls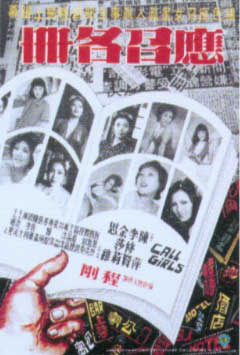 ---
Every now and then a rumor floats into the Hong Kong gossip papers that hints at certain Hong Kong actresses who are willing to sell their time and bodies to very wealthy men for large sums of money, but these spicy items never seem to have any legs and they soon disappear after having thrown mud in someone's direction. The film "Call Girl 1988" portrayed Maggie Cheung as an actress who flew to locations around Asia to make a little extra spending money on the sly. The same rumors fly around in Bollywood as well – and recently a south Indian actress was arrested for such an act. According to the DVD this film is based on a true incident in which a number of minor actresses were involved in a sex for money scandal that "rocked" the city. As an episode of Dragnet might say, "this is their story".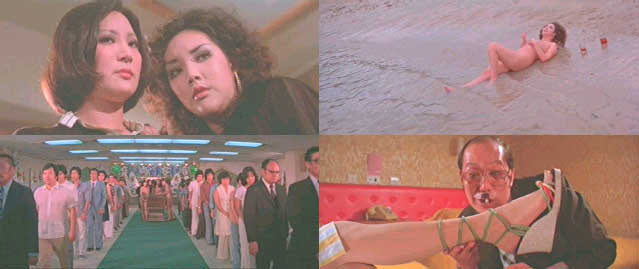 Not that this film is much of an expose as much as it may pretend to be one – though exposure it certainly has plenty of. In fact, the film is really little more than an excuse to show large amounts of naked flesh of very attractive women. And that's not necessarily a bad thing – it is just that some may come to this film in hopes of finding an involving gritty well honed look into the lives of call girls – but they will find little of that here. The narrative is a bit of a scattershot affair as it jumps from one girl's story to another and never really gives much time to develop their characters or backgrounds – just enough to pique your curiosity and show their bodies before moving on to the next victim. Yet there is a certain mild fascination in these mini-stories due perhaps to the fact that you know there is somewhere buried within a kernel of truth to it all and let's face it – there is a bit of the voyeur in all of us when it comes to seamy scandals involving show business people.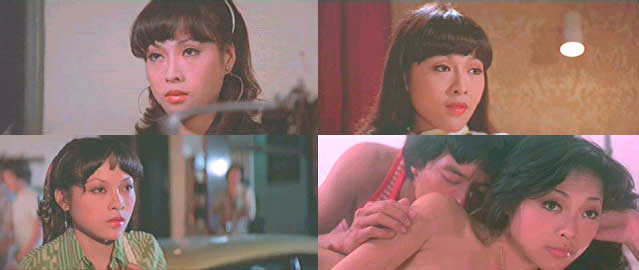 In an odd choice to begin the film and no doubt to try and give it a faint touch of documentary verisimilitude, a woman news reporter interviews various directors and actors from the Shaw Brothers and asks them their opinion of this scandal – finally turning to the director of this movie, Cheng Kang, who just says "watch my movie and find out" and so we do. Police Inspector, Danny Lee in a bad 1970's haircut, arrests a group of call girls and questions them about their lives. First up is the lovely Lau Wai (Lau Ar-ling) who tells him that she was initially a street hooker who was propositioned by a photographer to become an actress – with a sideline. The deal was they would get her in films and make her an actress – in return that would push up her price for customers who got their kick from having sex with an actress they could see on the big screen. Wai has no issue with this and gladly accepts her percentage of the fee.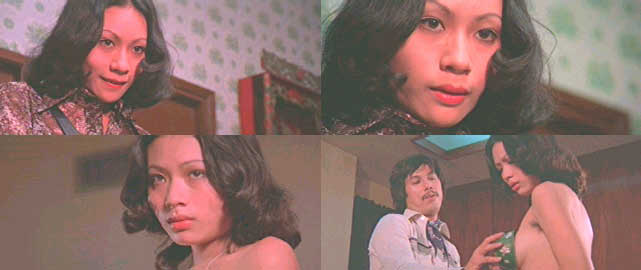 The next girl (Cheng Suk-ying) was not so compliant. With stars in her eyes she was on cloud nine when she thought she was getting in show business – and sure she had to show her breasts on film but she was a star – and still a virgin – so her "employer" (Sze Wei) and her god mom (Lau Wai-ling) arranged for an older foreigner to take this away from her much to her shame. She wants to break away but that isn't an easy thing to do.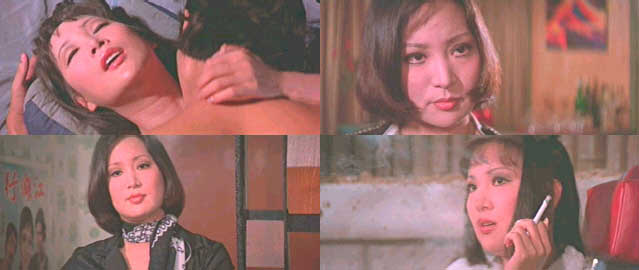 Ming (Chen Ping) is a veteran at this business – during shoots at the studio she conveniently gets tooth aches and has to take an hour break to go to the dentist – just enough time for him (Ching Miao) to do some private drilling of his own while his wife/receptionist (Ha Ping) waits patiently out in the waiting room and the other people wonder why there is so much moaning going on inside – she must really be in pain one person comments – no – just faking it like the great actress she is.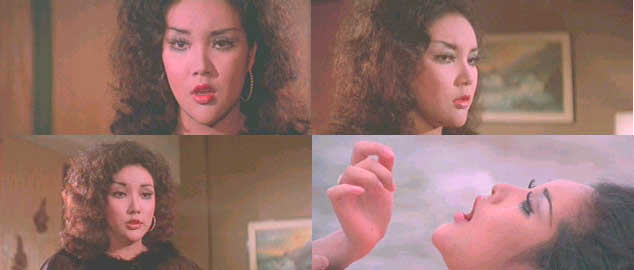 Finally there is the story a young prostitute (played by the fleshy and saucy Shirley Yu) who combs the casinos in search of business and one night lucks into a film producer who thinks she will be perfect for his next picture and signs her up. The film becomes a big hit and she becomes a star – but her background comes back to haunt her as she is blackmailed into sleeping with men or her secrets will be leaked to the press.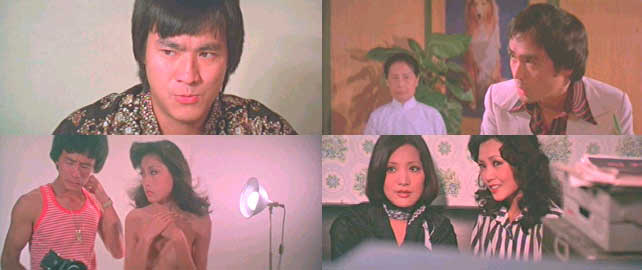 It is not exactly sleazy fun but intriguing all the same and it introduced me to a number of new actresses I hadn't come across before. One great scene that epitomizes the silliness of this 1977 Shaw Brothers film as it tries to put on airs of drama is when one of the girl's dies and the others in a show of rebellious support decide to carry her casket in the nude! Shirley Yu is the biggest name of these new actresses to me – she had rather a fascinating life for a short period before it all crashed down around her. She became a big star for the Shaws in these adult films and over a few years made over twenty films, lots of money and even more money on the side from admiring "fans". At one point she estimates that she had a million dollars in the bank. Then though she had an accident – fell out of favor – and was soon out of the business. She is still alive today, but completely broke – to read more on her check out this article in my biography section.
My rating for this film: 6.0
Thanks to Tim Youngs of Another Hong Kong Movie Page for identifying the actresses:
Top left: Lau Ar-ling
Top right: Cheng Suk-ying
Middle left: Ching Si
Middle right: Lam Yeung-yeung
Lower left: Wong Jing-jing
Lower right: Lau Wai-ling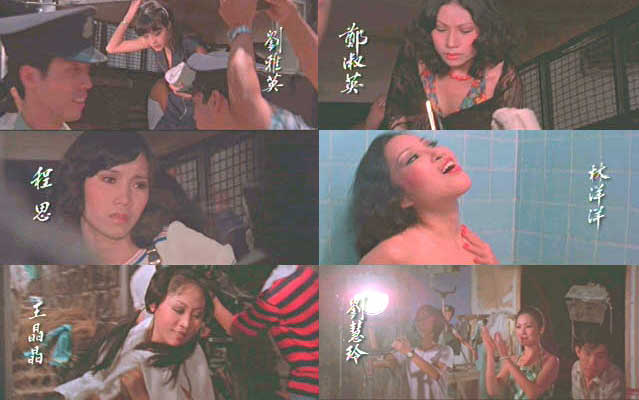 ---