A Place to Call Home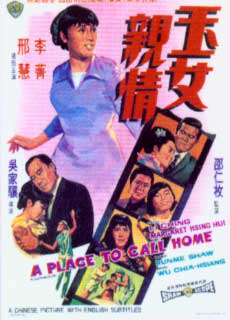 ---
By the time of this film in 1969, the Shaw Brothers ruled the cinema screens throughout Hong Kong, Taiwan and Southeast Asia and their main Mandarin competitor Cathay films was only a faint echo of its former glory. The two production houses had battled it out for years, but in the end the Shaw's larger budgets and scope of variety allowed them to eventually marginalize Cathay. In particular, the immense popularity of the martial arts films propelled Shaw forward while Cathay stayed with their dramas, musicals and comedies until it was too late to compete with Shaw. The one genre though that Shaw never was able to emulate as well as Cathay was the simple family drama. This was Cathay's bread and butter and they perfected these small emotional hearth and home dramas in such fare as Mambo Girl, Our Sister Hedy and The Greatest Civil War on Earth. Interestingly, in this film Shaw seems to take a step back in time and attempts to make this type of film with a plot very reminiscent of the Cathay classic Mambo Girl with Grace Chang.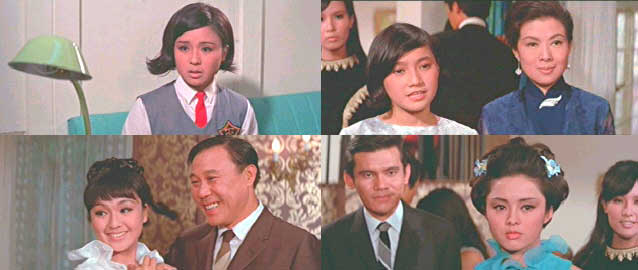 In fact for close to two thirds of the film, it follows in the footsteps of Mambo Girl like a shadow to good effect and it is only when it decides to add some lurid melodrama of its own that it goes off track and loses the emotional build up. Like Grace in Mambo Girl, Li Ching is the most popular girl in school – the star of her field hockey team and able to knock out a song whenever her friend (Irene Chan) requests. Her family is a close one with her loving father (Yan Jun), her protective mother (Ouyang Shafei) and her two younger sisters. All seems bliss, until her middle sister (Margaret Hsing Hui) becomes jealous of Li's boyfriend and has her feelings hurt in a misunderstanding and then overhears that Li was adopted when she was a baby. In a moment of pique Margaret spills this out to Li and Li's whole world comes crashing down on her.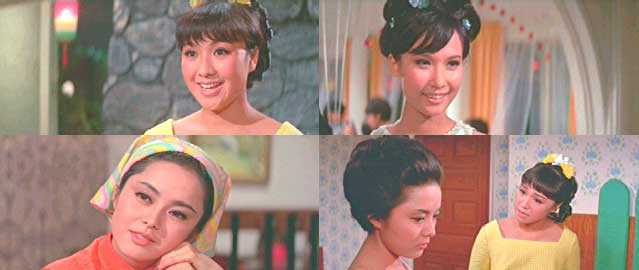 Feeling like a charity case, she is determined to track down her birth mother and with her father's help she is able to. Her birth mother (Go Bo Shu/Kao Pao-shu) it turns out lives in rather squalid surroundings and is now married to Yeung Chi-hung, an unemployed fellow of uncertain morals. Even so Li decides to move in with her mother and leave her other family behind with promises to visit on occasion. One look at that apartment and I would have scooted back to my nice middle class existence so fast I would have left my shoes behind. Soon though her "uncle" is looking at her in a lecherous way and has plans to use her to help pay his debts and mom is making money by having foreign sailors buy her drinks in a bar. The film completely misses out at this point by making Li somewhat unsympathetic and by a lackluster and lame conclusion unlike Mambo Girl that ends on a note of absolute emotional and musical perfection.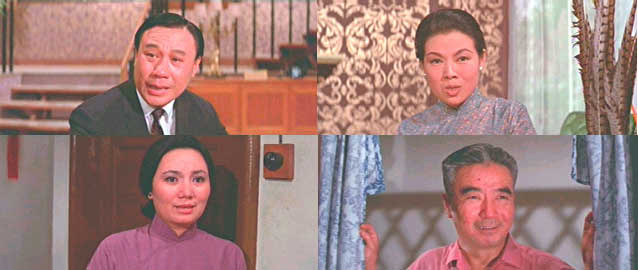 One of the enjoyable aspects of the film are the four older "character" actors who play the adults. Between them there is a lot of film history and hundreds of movies. Ouyang began acting in the late 1930s in Shanghai and by the age of 19 she was being feted as one of the great actresses and beauties of her time. By the early 1950s she had moved to Hong Kong where she again took up acting and starred in many films. By the next decade she had moved into character roles – often playing older mothers though she was only in her early forties herself!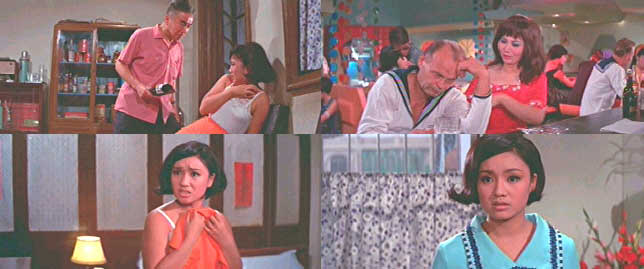 Go Bo Shu is another interesting case. Born in 1932 she had worked as a reporter and acted in a theatrical troupe that toured around Asia before she was twenty. In 1951 she married Chiang Nan (who later acted for the Shaw Brothers) and moved to Hong Kong where she acted in both film and radio. In 1958 she joined the Shaw Brothers and was an often-used character actor for the next decade. Though only in her thirties she often portrayed women who were middle aged such as in The Love Parade and The Dancing Millionairess. She also became interested in working behind the camera and helped out in the dubbing department and as an assistant director. In 1971 she finally had her opportunity to direct and her debut film was Lady with a Sword starring Lily Ho. Not too long afterwards she left Shaw and formed her own production company in which she produced, directed and acted. These are difficult to locate now but have interesting titles such as The Cannibals and Female Fugitive.
The father in this film also has quite the long resume. Yan Jun (Yien Chuen/Yen Chun) was born in 1917 in Beijing and after moving to Shanghai in 1938 he entered into the acting profession. He soon gained a reputation as being adept at playing both good and bad guys. Like so many others, he moved to Hong Kong after the Civil War in 1949 and worked for a number of different companies and was in a few classic films such as A Strange Woman with Bai Guang, Modern Red Chamber Dream with Li Lihua and Ouyang Shafei, The Flower Street with Zhou Xuan, The Little Phoenix with Li Lihua and The Blood-Stained Begonia with Bai Guang. He also began directing in 1951 and has films like Singing Under the Moon, The Orphan Girl, The Grand Substitution, Moonlight Serenade, That Fiery Girl and The Bride Napping to his credit. During the fifties he formed his own production company and entered into a partnership with Cathay films. In 1959 he married the legendary actress, Li Lihua but after he was diagnosed with a heart ailment in 1972 he retired from the business and they both emigrated to the United States in 1973. He died in 1980.
My rating for this film: 6.0
Information on actors gathered from various sources: Monographs of Hong Kong Film Veterans, The Cathay Story, Hong Kong - The Extra Dimension, the DVD biographies and this site dedicated to Li Lihua.

---