Love without End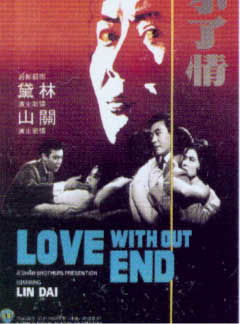 ---
Linda Lin Dai was a huge star right from the beginning of her career. She was born in China in 1934 into an upper class family in the Guangxi province. Her birth name was Cheng Yue-ru and her father was a political honcho in the Kuomintang party. With the imminent victory of the Communist Party, she and her family moved to Hong Kong in 1948 where she began studying at the New Asia College. One of those "only in the movies" moments occurred to her in 1951 that in fact propelled her into the film industry. She had had some pictures of her taken at a studio and one of them was placed in the front window. A member of the Great Wall Film Production Company walked by, saw the picture, tracked her down and invited her to join up. She agreed and they came up with her stage name of "Lin Dai" based on her English name of Linda (or another source says from two lines of poetry in which one ended in "Lin" and the other in "Dai".) Thus the melodic sound of Linda Lin Dai came to be.

Great Wall was a leftist film company - at the time the Mandarin film industry in Hong Kong was often formed along political lines based on the ideology of the Mainland refugees that had formed the companies – and because of Lin Dai's father's rightist background they never made a film with her. So in 1952 she left them and joined up with Yung Hwa films and her debut film was the musical romance "Singing Under the Moon" in which Lin Dai did her own singing (it appears that through her career Lin Dai's singing in musicals alternated between her and other singers though by the 1960's most often she was being dubbed in her singing). The movie was a huge success and Lin Dai immediately was a big star - one that was never to lose its luster.

Even with the box office success of this film, Yung Hwa soon ran into financial difficulties and was basically bought out by MP & GI (later renamed Cathay) and Lin Dai was soon making some enormously popular films for this company – some of the biggest being Merry-Go Round (1956), The Battle of Love (1957), Cinderella and Her Little Angels (1959), Bachelors Beware (1960), Golden Lotus (1957) and Scarlet Doll (1958). For Golden Lotus Lin Dai won her first Best Actress Award at the Asian Film Festival – the first major award a Hong Kong film ever won at such an event - and Scarlet Doll, an expensive production filmed below Mt. Fuji, broke all box office records for attendance in Hong Kong. She was simply huge and beloved when female actresses still ruled the screen.

By 1958 Lin Dai was apparently not signed to either of the two main competing Mandarin film companies and she began going back and forth between MP & GI and the newly established in Hong Kong Shaw Brothers. For MP & GI she generally was in romantic comedies – often paired up with Peter Chen – while for the Shaws she had a much wider range of roles and genres – from epic period costume dramas to the Huangmei operas to light comedies to tragic melodramas. She had successes with all of them. In 1958 she again received the Best Actress award – this time for the Shaw production "Diau Charn". She soon followed this with a few other big budget Shaw productions – "The Kingdom and the Beauty", "Beyond the Great Wall" and "Les Belles" – for which she won her third Best Actress award.

Around this time she took some time off to go study drama at Columbia University and while there she met a wealthy Chinese businessman and they soon married back in Hong Kong in 1961. She also formally signed up with the Shaw Brothers thus ending her long relationship with Cathay. In that same year she won her fourth Best Actress Award for "Love without End" and in the following year she once again broke box office records with "Madame White Snake". Her film output slowed down when she had her son in 1963, but picked up a year later when she began production on "The Lotus Lamp" and "Blue and Black". She sadly finished neither as on July 17th 1964 she took her own life, not yet thirty years old. The worldwide Chinese population was shocked and saddened – how could someone so loved by the public be so unhappy. There has never been a real explanation – only speculation that she was suffering from post-partum depression and over her husband's infidelities. There was no bigger star in Chinese film at the time.

Yet I have never been a tremendous fan of Lin Dai's. I had seen her in five films and had found her pleasant enough and fairly attractive but the reason for her huge popularity eluded me. To me she didn't have the tremendous charm of Grace Chang or the smoldering sexual appeal of Julie Yeh Feng or the cute coquettishness of Kitty Tung Hao or the playfulness of Jeanette Lin Cui. Her characters just never burrowed beyond that superficial level of my consciousness into something more meaningful or more staying. That is until Love without End. Perhaps it was the opportunity to see her on the big screen, but here Lin Dai is luminescent and tragic – her large emboldened eyes riveting you with their vulnerability - her archingly dramatic nearly furious eyebrows framing her every expression with clarity – her shyness, her sacrifice melting and molten by turns. It is a terrific performance, the essence of pure melodrama.

This film has all the essential ingredients of weepie melodrama – young virginal love, sacrifice, love reborn and finally a slow tragic death – but the film never overplays its hand as it treats all this with near gentility – heroic biting your lip type of thing that makes it all the more effective. Sure there are tears a plenty but the characters are always fighting them back and trying to hide their heartbreak. It is an adult film with adult themes (particularly for the time) and the intended audience at the time was probably adults and that makes all the difference I think in the film's approach to its subject. The story is really a very simple one.
After her mother dies the innocent country girl Li Qingqing (Lin Dai) comes to Hong Kong to live with her uncle who is a pianist in a nightclub band. While waiting for him she runs into an inebriated Pengang (Kwan Shan) who is the somewhat wastrel son of a wealthy businessman. After finding out that she can sing, he forces her to do so in front of a crowd of friends – perhaps to amuse them – but instead she knocks them dead with her rendition of "Mountain Song". Feeling embarrassed the next day, Pengang uses his influence to get her a job singing in a nightclub and her performances become more polished and she becomes a quick success. They begin to go out, they fall in love but this is of course just the build up to the inevitable weepie material.

His father (Yeung Chi Hing) dies and they discover that his business is near bankruptcy. The only way to save it is to come up with a huge amount of money to pay off a loan – but there is no way for Pengang to get the money. But there is for a beautiful woman who is lusted after by wealthy men. One man (Chiang Kwong-chao with a long scar on his face just to make sure you know he is a scoundrel!) offers her the money if she is willing to become his "secretary" for a ten-month trip around the world and she accepts and has the money secretly given to Pengang through a third party. That night she invites Pengang over and she ensures that she "becomes a woman" with the man she loves – but when he finds out that she is going off with another man he of course breaks off their relationship immediately. By the time she comes back from the trip, Pengang has become a womanizing drunk and wants nothing to do with her – until he finds out she is dying and then his love for her comes rushing out.

There are a few great poignant moments in this film – but one especially burnt itself into my memory banks as one of the great heartbreaking scenes in cinema. Li has returned – now a wonton woman in the eyes of the man she sacrificed her virtue for – and she gets her job back as a nightclub singer. One evening he shows up intoxicated with two dames in his company and sits right in front and loudly pays no attention to her as she begins to sing the haunting melancholic "Love Without End" or literally "The Love I Cannot Forget" (actually sung by Gu Mei). She tries to go on, but falters in her misery – the black and white photography capturing her pain like a slap across the face – until she collapses. The song – now considered a classic – is used two more times in the film – each time to suggest a different phase in Lin Dai's life – from heartbreak to denial to acceptance of her fate. Though no doubt this has the feel of an old fashioned movie in which the noble female silently sacrifices for the man she loves, it still has an impact to it. Doe Chin who also directed Lin Dai in "Les Belles" and "Love Parade" can easily be criticised in those two films for his rather turgid musical numbers, but the simple nightclub chanteuse style of this film is well done and nicely shot in black and white.
"Forget Not
Forget not your tears
Forget not your laughter"
My rating for this film: 7.5
Check out this site devoted to Lin Dai from which I got much of my biographical information or this one in Chinese that plays the song "Love without End".

---