Happily Ever After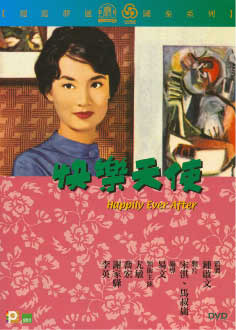 ---
With a title like this film has, there isn't too much doubt where the story is headed, but in those innocent days of the early 60's most films were expected to have happy endings and if they didn't there would be riots in the streets. There were of course the occasional melodramas that left you feeling blue, but not in the field of romantic dramedies like this 1960 effort. Unless it was an enormous co-incidence, the film appears to be based on a 1941 American film called "It Started with Eve" that starred Deanna Durbin and Robert Cummings and is a lot of fun. In fact, if anyone out there has a soft spot for old fashioned films with songs as I do, I heartily recommend the "Deanna Durbin Sweetheart Pack" that contains six of her films for around $25. I breezed through all of them a few months ago.

As directed by Evan Yang (Mambo Girl, Air Hostess), this Cathay version loses much of the frantic screwball pace that the original had and settles down into a family drama with doses of comedy and romance thrown in. The other main change – and this speaks to the Hong Kong treatment of male characters at the time – is that the Robert Cumming's character is made into a fairly passive dope who allows the women in his life to control him. In "It Started with Eve", there was a much more equal give and take between Cummings and Durbin and they seemed very suited to one another. At the end of this one, you really have to wonder if the two main characters belong together and you rather envision a married life in which he is very much under the thumb of his very adorable wife.

Wenou (played by a disheveled mop top Roy Chiao) has just started up an advertising agency along with his friend Zhang (Chiang Kwong-chao) and their first major client is complaining that the model Wenou chose to represent his product was not in good taste. What he wanted for his Happy Angel Sweater line was a woman who displayed "purity, tenderness, beauty and happiness", but the two men are at a bit of a loss as all their female friends don't come close to either purity or tenderness – and in fact it was Wenou's fiancée (Hsieh Chia-hua – a former Miss Shanghai in the 1940's) who was the model "in bad taste". Suddenly the daughter of the local shopkeeper shows up with a bill for Wenou that he can't pay and the client tells him that this is exactly what he has in mind and that if they can convince this girl to model the contract is theirs.

The client has a good eye. No one in the Cathay stable of female stars represented purity, tenderness and beauty like Lucilla You Min did. She was the girl next door and was a very different type than some of Cathay's other famed actresses – while Grace Chang was extremely spirited and playful, Jeanette Lin Cui was impish and delightful and Julie Yeh Feng was moody and sensuous, Lucilla's characters tended to be very quiet, sweet, passive and respectful of tradition and family and perhaps it was because of this that she was so popular at the time. She was also quite lovely in a demure manner with her large expressive encompassing eyes and a hint of a smile that occasionally plays across her face. She was very petite and nearly everyone in the film towers over her.

Wenou convinces Wanping (Lucilla) to pose for him and it's clear that she is attracted to this young man. After working all night, Wenou receives a phone call from his aunt (Wang Lai) that his wealthy father is dying and his last wish is to see Wenou's fiancée before he dies. He tries frantically to reach her but can't – unknown to him she has spent the night with another man – and so he convinces Wanping to pretend to be his fiancée so that his father can die peacefully. Of course one look at this beauty and the old man begins to recover and the doctor tells them that they have to continue the impersonation or the father will have a set back. Doctor's orders so what can you do! Meanwhile, the real fiancée shows up – still in the same evening gown that Wenou saw her in the night before but being a man he doesn't notice – and she begins to cause trouble. She and her conniving mother are obviously golddiggers while Wanping and her mother are clearly the salt of the earth and everyone knows this except the poor sap Wenou who mopes through the film like a high school boy with a bad case of acne. This sort of set up doesn't need a rocket scientist to know where it is headed and it sort of bumps and grinds itself to the happy ever after.

It isn't a particularly compelling film and the romance generally fizzles, but Lucilla completely saves it and gives it some emotional impact by simply being herself – she is impossible to resist. Also in the cast is the wonderful Liu Enjia as the head servant and it drives me crazy that I can't put a name to Wanping's mother as she shows up in so many of these films in small parts and I also should know the father but can't put a name to him as well. If anyone knows, I will be eternally grateful if you send me the information. Not sure if it was early product placement or just set design, but it's rather fun seeing posters for Coco-Cola and 7-Up all over the little store owned by Wanping's mother – also enjoyable seeing all the sampans in the background in the outdoor scenes at Wenou's father's house.
My rating for the film: 6.0
---