The Eternal Evil of Asia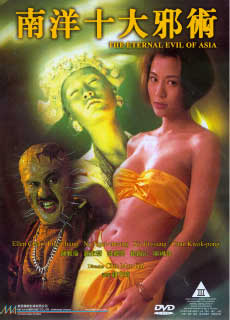 ---
There can be something quite satisfying about a film that aims no higher than to entertain with a schlocky high speed tongue in cheek mix of horror, violence, comedy and sex. This one spews out its contents like a five-day drug induced multi-colored binge in which reality and fantasy have converged in a narcoleptic nightmare that leaves you gasping and laughing at the same time. This is a morality tale, a warning – don't leave home – don't go to South East Asia – don't mess with the local girls and in the end - true love conquers all sorts of evil. Of course having a witch on your side helps.

Four Hongies go to Thailand and soon find themselves caught in the middle of a feud between one wizard (Ben Ng) and another wizard and his witch wife (Julie Lee). During this Elvis Tsui Kam Kong finds that he has literally been turned into a "dickhead" and things are looking bad when the wizard/wife team utilize the "mating hex" – riding her husband naked across the skies while bombarding Ben Ng with explosive bursts – until another of the foursome, Chan Kwok-bong, intervenes and saves Ng. Initially this gets them into his good graces, but a mistakenly used "love hex" later and he is intent on killing all four of them.

Back in the supposed safety of Hong Kong, all sorts of terrible things begin to happen to the foursome from going insane and killing your family to eating all the patrons in a restaurant including yourself to looking like a masochistic pin cushion. Though Ng only initially sets out for some good old fashioned revenge, he slowly begins to turn completely mad – urged on to more evil by the spirit boy he keeps in a jar – and by his lust for Ellen Chan. Ellen realizes that something is wrong when her boyfriend, Chan, has problems becoming aroused during a little strip and tease on her part (I mean you would have to be hexed for this to happen!). One of her friends, Lily Chung, turns out to be a Thai witch and the two of them try to contrive a plan to bring down Ng. This entails one of the more absurd and yet erotic solo scenes put to screen in which Ellen distracts Ng and the rest of the viewing audience.

This is a ludicrously enjoyable film that lives up to its trashy reputation. There are some slow bits strewn about – but even those are filled with scenes such as Yuen King Tan using a brown paper bag to give some girls an oral sex lesson. Full of imagery, edited in rapid fashion, without a semblance of good taste – and yet really meant to be more fun than frightening – this is good entertainment for the whole family – as long as your family is over eighteen and have received electroshock therapy in the last six months. There are also a few valuable tips given out here – don't leave your cut hair on the barber shop floor – and if a young boy is sitting next to you at the movie theater and asks to be escorted to the men's room – don't expect to ever be seen again.

My rating for this film: 7.5

---

---
DVD Information:
Distributed by Mei Ah
The transfer is fairly poor - soft and muddled and a bit dark.
Letterboxed
Cantonese and Mandarin language tracks.
9 Chapters
The subtitles are burnt on Chinese and English.
There is also a Ritek version of this film but it only has the Mandarin track and seems to be from the same source. It may be co-incidence but on both versions I had a lot of pixilation and stops and gos in the last 20 minutes.

---