Sting of the Scorpion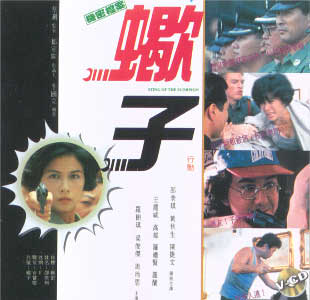 ---
A few months back I picked up this film in the bargain basement bin at the back of a Chinatown store in which the dust was nearly as high as the VCD. Since they were practically paying me to take it, I did and filed it away under the "likely never to be watched" category. Even though it does have a picture of Anthony Wong on the cover, the fact that I couldn't even find it in the HKMDB made me think it must be a real clunker. Then a friend who is writing up an essay on HK female action films made mention of this little obscurity a few times and made it sound pretty good. So I watched it and am glad I did.

It's a solid action/drama that reminded me mood wise a bit of She Shoots Straight with a much smaller budget. In many ways it plays out like an average low budget cop yarn, but it has enough twists along the way to keep you interested and an outstanding performance from Maggie Siu. Maggie Siu is primarily a very popular TV star in Hong Kong and I have not seen her in much, but as the film slowly shifts to her character in the second half it takes on some real dramatic tension and intensity. She also has a few action scenes in which she looks just fine and I am looking forward to seeing the sequel to this one – Murders Made to Order – in which she plays an undercover assassin.

The story is driven by corruption, betrayals, guilt, murder and revenge – and all in the name of love. Three friends – Anthony Wong, Cheng and Maggie Siu – go through police training together and initially work under Johnny Wang. Cheng and Maggie are orphans that grew up together and Cheng always expected they would marry. When he realizes that she loves Anthony, he goes off the straight and narrow and begins secretly working with a major triad figure, Eddie Ko. Cheng is one of the fastest rising cops in Hong Kong and is soon a top inspector. Meanwhile, Anthony has joined the Internal Corruption Bureau and Maggie is still working under Wang. The three of them are seemingly still the best friends, but this is soon to explode under a barrage of accusations and suspicions.

Anthony is given evidence that Wang may be accepting bribes, but as he digs deeper he keeps unknowingly getting closer to his friend Cheng. Maggie is being kept in the dark by Anthony and his actions make her begin to suspect that he is corrupt as well – she turns to Cheng who still loves her and wants to protect her – but he can't allow Anthony to get any closer to the truth. Eddie Ko then gives Cheng orders to silence Maggie permanently because she is damaging his businesses. The first hour of the film sets it all up – with some action scenes interspersed – and this leads to a terrific last thirty minutes that have a few surprising and nasty turns.

My rating for this film: 7.0

---