In the Line of Duty VI: Forbidden Arsenal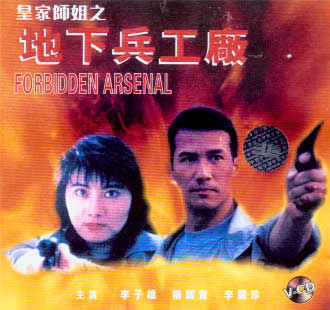 ---
Inspector Yeung gets smooched and likes it! One of the intriguing elements of the In the Line of Duty series whether starring Michelle Yeoh or Cynthia Khan is the absolute lack of sexual or romantic needs on the part of the female protagonist. Both Michelle and Cynthia seem to have no time or interest for the male species and one can't help but wonder what – if any – sexual preferences they might have. In Yes Madam the only sparks in the room are between Michelle and Cynthia Rothrock – and we know what happens to Michelle's male suitor, Michael Wong, in Royal Warriors. It almost says – get close to this lady and you will die.

When Cynthia Khan took over the role in the third film of the series, she brought even less sexuality to her character. The next in the series, In the Line of Duty III, has the villainess, Michiko Nishiwaki, practically dripping with sexuality while Cynthia is only devoted to her duty. One senses that the hatred the two begin to have for one another has a subtext that goes beyond simple revenge – that this yin and yang pair are actually perversely attracted to one another – and this taboo realization drives them to attack one another with a ferocity that only sublimated desire can cause. In IV and V, Cynthia continues in her chaste behavior – though spending much of the film with Donnie Yen there is never a moment of idle contact or flirtatiousness between them and in V Cynthia is strictly all business and spends all of her time with her cousin – a harmless and non-sexual threat. Here the pattern continues for nearly the entire film – as she contemptuously fends off the sexual overtures of a male cop – until the very end. She is suddenly kissed – and kissed hard – and for a long time - and looks to be very surprised that she enjoyed it. Of course, she recovers almost immediately and gives the fellow a mighty wallop that ends the film. In the follow up film – Sea Wolves – Cynthia is back to her normal sexless character.
Cynthia Khan comes in for a fair amount of criticism in comparison to most of the other femme fatales in the "Girls with Guns" genre – and I think much of it is unfair. Admittedly, she is not as graceful or as charismatic as Michelle Yeoh or as cute and personable as Moon Lee or as physical as Yukari Oshima – but she still brings a lot to the table. She is extremely athletic and does a fair share of her own stunts and difficult action scenes. She is also incredibly gutsy and willing to take risks as shown in many of her films. Her fight on top of the ambulance in the fourth film of the series is a testament to this – and she has a similar scene in this film when she fights on top of a speeding truck. Perhaps what she is lacking most is the personal intensity that the others bring to their roles – she is almost too genial with no sense of edge or danger around her. Still, I have very much enjoyed many of her performances in both contemporary as well as period action films.

Now having finally caught up with this film, I think I have seen all seven films that are generally credited to be part of the In the Line of Duty series – and I would have to say that this is the weakest in the bunch. It still contains some excellent action scenes, but much of the non-action content is very slow going filled with loads of coincidences and a dithering plot. And continuing the trend in the series, the time devoted to Cynthia has decreased and been handed over to her male co-stars – to the detriment of the films in my opinion. It does though have a stellar cast – Cynthia, Waise Lee, Loletta Lee, Robin Shou, Hui Siu-hung and Phillip Kwok – but they don't have much to work with.

Three cops – Cynthia, Waise and To Siu-chun are brought together to crack a gun smuggling/gun factory case. They are from – respectively Hong Kong, Taiwan and the Mainland - and as expected there is the usual type of conflicts that arise from this - and the film takes a number of potshots at the Mainland and a few at Taiwan – i.e. "we have to have evidence here – we just can't roll over someone with a tank" or showing the Taiwanese politicians having fights on the floor of their legislature. But as most of these types of films are resolved – they realize that by working together they can of course defeat the enemy.

The villain in the piece is Robin Shou – and partnering with him is a charming Phillip Kwok (who also had a hand in the choreography) – but unfortunately Kwok only has two fairly brief fights. Into the mix comes Loletta who is the sister of Robin, but who bumps into and is wooed by the Mainland cop. She has to decide which side to be on. This film though is about action and though chunks of it are only so-so, it has three large set pieces – one at the beginning, one in the middle and one at the end - that are quite good. One of them is a running gun battle through the streets of Hong Kong that was fun to watch.
My rating for this film: 6.0

---