Naughty Boys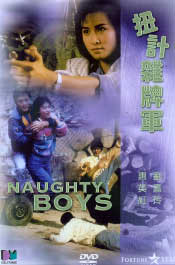 ---
Reviewed by YTSL
As unlikely as it may seem to some people, when I first heard the news a couple of months back re this not particularly well known 1986 movie having received a (budget) DVD release, I actually was gripped with a fairly high degree of excitement. This was primarily due to it being so that, for all of this Jackie Chan production being a minor entry in her filmography, that which is unlike such as "Shanghai, Shanghai" and "Stagedoor Johnny" in not being a period piece -- but similar to them in terms of it boasting kinetic action sequences and stunt work galore (by members of Jackie Chan's stunt team and others who have been professionally associated with the "Big Brother" of Hong Kong cinema) -- has been touted as being former TVB actress Carina Lau's maiden entry into the world of Hong Kong films (even while she also may have previously appeared, albeit in a much minor capacity, as one of the back up singers for "The Losers", in "Armor of God").

Other casting choices that made NAUGHTY BOYS a "must check out" in this prepared-to-be-indulgent fan girl's admittedly quirky book included those that resulted in the awarding of prominent roles to: An easily recognizable stunt veteran of many of Jackie Chan's star vehicles (including "Project A" I and II, "Police Story" I and III) but also decades older works like "Come Drink With Me" (The uniquely monikered Mars was a member of the Drunken Beggar's youthful troupe); a former Shaw Brothers movie personality who was a HKFA Best Actress winner back in 1981 for her portrayal of the titular "My Young Auntie" (in the seemingly criminally under-rated -- by fans of post 1980 Hong Kong cinema -- Kara Hui Ying Hung); and a fellow whose most major claim to fame surely is for being the director of "Naked Killer" (i.e., the attractively boyish looking Clarence Fok). If nothing else, there also was the -- pretty fully fulfilled, as it turned out -- promise of its featuring a number of celebrity cameos (including by the film's producer as well as Ricky Hui) along with appearances by many with familiar faces but less well known names (e.g., character actors Stanley Fung, Dennis Chan and Charlie Cho, and Jackie Chan's former bodyguard, Ken Lo).

Considering the number of main plus minor characters that there are in NAUGHTY BOYS, it's a wonder that its story -- which has a whole bunch of people seeking, for various reasons, to get their hands on a cache of diamonds (which Mars' Sheng character and three of his buddies -- who are played by Tai Bo, Lo Meng and Phillip Ko Fei -- were sent to prison for stealing, and whose whereabouts they had never revealed to the authorities) -- was as intelligible as it was. Similarly, upon bearing in mind that the bulk of filming time, energy and budget probably was spent on the copious amounts of often very imaginatively choreographed fight and related scenes that are the visual highlights of this action plus comedy oriented movie, this (re)viewer is wont to look upon this offering's script as having been serviceable enough, even if obviously being not all that well crafted or polished.

After all, it did fairly logically establish connections between NAUGHTY BOYS' main male protagonist Sheng and Kara Hui's Chuan character (a loyal childhood friend of his whose fighting abilities men underestimate at their peril), two private investigators (The capable, including in gymnastics, Bonnie is portrayed by Carina Lau (and an obvious stunt double!) while her more bumbling partner -- whose personal name is Kuang and surname is Fu -- is played by Billy Lau) plus the manager of what turned out to be a fraud-incurring travel agency (named Liang and essayed by Clarence Fok). And while this Wellson Chin directed effort's characters' courses of action often aren't too clever plus advisedly orthodox (E.g., Bonnie's engineered first encounter with Sheng involved her running her car into the less than fortunate man!), they do provide the reason for the occurrence of those encounters on places as varied as someone's apartment, a rooftop, a junkyard and a godown that involve the kind of expertly enacted as well as designed action that distinguished many a 1980s Hong Kong action film (and are missing from those contemporary plus bigger budget actioneers that are over-reliant on CGI, wires and fancy camera -- as opposed to honest stunt -- work).

As one might expect, Kara Hui, Mars and his Jackie Chan's Stuntmen Association cohorts are the individuals who provide the bulk of NAUGHTY BOYS' action highlights while Carina Lau, Clarence Fok and Billy Lau have greater comic responsibilities. Something that came as a bit of surprise though was the far from ugly, to my eyes, Kara Hui having the role of a plain Jane who the fellow her character appears to have carried a flame for for some years -- the hardly handsome Sheng -- overlooks in favor of a newer plus admittedly more buxomly female friend. With regards to this offering's other leading lady: For all of Carina Lau being cast as the physically attractive woman of more than one man's fantasy in the film, this early work of hers -- that involves her being lasciviously ogled, groped and having cockroaches thrown onto her person as well as taking her share of knocks -- is one more entry in the evidence list for this Suzhou-born beauty really having had to pay her dues in order to become as established and respected as she now is as a Hong Kong film personality.

My rating for this film: 6.5

---