The Inspector Wears Skirts IV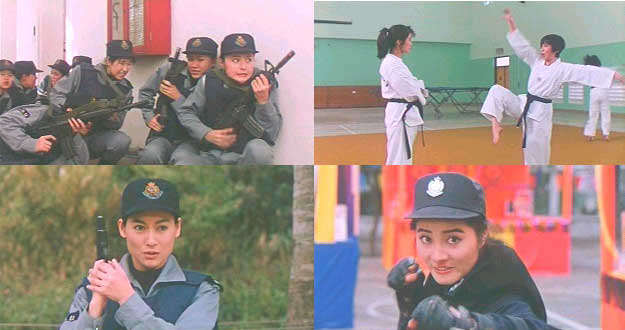 ---
By the time this final film in the series was made in 1992 Jackie Chan had dropped his involvement and the footsteps of the decline of the Girls with Guns genre could be heard approaching. Most fans tend to dismiss this one as rather a silly low budget gasp to hold on to its declining audience, but I actually thought in some ways that it was more entertaining than either the second or third films in the series. Though it has lower production values than those earlier films and feels like it has a light layer of dust on its proceedings, what it has going for it is a ramp up in the action and three of the biggest female action stars by the names of Moon Lee, Cynthia Khan and Kara Hui Ying Hung.

Times are tough for the current squad – Sibelle married Stanley Fung in the third episode and has retired, Sandra Ng left the force and ended up becoming a single mom and Kara had an accident and has been placed in a mental institution. Running the group now is the diminutive Moon Lee who does her best to stay out of harms way and prefers training her squad in Chinese Opera as opposed to police tactics. After they botch capturing some bad guys who are trying to rescue their head from the cops, their supervisors (Woo Fung and Paul Fonoroff – in one of his biggest roles in a HK film) decide a revamping is due and bring in super cop Cynthia Khan to shape them up.

Cynthia is as tough as Martha Stewart with a subpoena and a roomful of lawyers - and she has a spiffy pair of boots that allows her to fly short distances. Not much later, they again mess up an assignment and the entire squad hands in their resignations to Moon – telling her that it is best that she stays because there is nothing else she is capable of doing and may starve on the outside. Moon pouts but realizes this all too true and so stays put.

The resignations force Moon to go looking to fill the ranks and she tracks down some of the ex-members to bring the glory back to the group. Sandra is now an over protective mom and a security guard – but they are able to frame her into re-enlisting and they help get Kara released from the loony bin. Billy Lau pops up in this one as well – he is now a Phys Ed teacher and Sheila Chan is his extremely jealous accident-prone traffic cop wife. Things don't get much better and the group looks to be on the verge of dissolving when the same bad guys take over a school and hold a number of small children hostage – and implant a bomb in each one of them – the women decide to go against orders and save them.

The action begins during the opening credits and is fairly constant throughout – as opposed to the earlier films that usually led up to a big finale at the end. There are five action set pieces in total – with of course the big bruising one climaxing the movie. Some of it is surprisingly brutal – a nurse gets shot point blank for being annoying, a guy is blown up by a bomb he was forced to swallow and the girls often get the hell whacked out of them. The always-adorable Moon goes into scardy cat mode for much of the film, but guts it out in the end as she and Cynthia take on the main bad guy in a wang bang fight. Kara has some lovely moments as well and has a few opportunities to show her classic martial arts form – as she uses arrows, pike and kung fu at times. This is not to imply that this is a great Girls with Guns film – it is not – but it had an enjoyable slice of action, some tasteless comedy and few cute parodies - such as one of Police Story in which Sheila Chan runs down a hill in an attempt to stop a bus but with a very different result than Jackie had!

My rating for this film: 6.5

---