The Lady Professional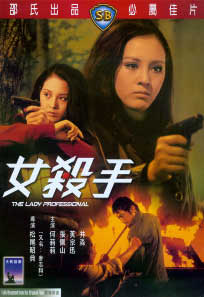 ---
This was a lovely little surprise for an irredeemable "Girls with Guns" fan such as myself. Though the term was originated in the 80's with the explosive action films of Michelle Yeoh, Moon Lee, Yukari Oshima and others, there were certainly some predecessors that came before it – but for me this 1971 film has to be the earliest Hong Kong film I have come across that could fall into this category. In fact it has many of the elements that were to become common in the "Girls with Guns" films – revenge, empowerment and a female killing machine.

The slim and pouty Lily Ho might not seem to be the most likely candidate for a female killer bent on revenge with her limited action skills She was much better known for her enticing and sexy roles and a year after this was to have one of her more scandalous roles in Intimate Confessions of a Chinese Courtesan. Born in 1946 in Anhui China, her family left for Taiwan after the Communist takeover. She was discovered while still going to school at the young age of sixteen and signed to a contract at Shaws. Between her first film in 1965 and her retirement in 1974 at the age of 28 after being married to a wealthy tycoon she was to appear in forty films and was an extremely popular actress in racy films, musicals and dramas. Here she doesn't display great physical skills, but she is very elegant and looks damn good holding a gun and that counts for something in my book.

The very clear influence of the wonderful Lee Marvin film, Point Blank (1967), is very evident here. Lily basically gets betrayed and begins working her way up the food chain, the old fashioned way - one death at a time. The film opens with her killing a man on a roller coaster – making ingenious use of her cosmetic case to both powder her nose and shoot deadly pins. She isn't a killer though, just a girl getting revenge for the murder of her father like any good daughter would do. She is spotted though by Xiaojing (Chang Pei-shan) who then begins blackmailing her for money over the next few years. When he is later offered a job to kill a witness played by Chan Shen (the traitor in Cleopatra Jones and the Casino of Gold) - who though knowing everyone is trying to kill him has no issue dining out and going bowling and neither do the not too bright cops - Xiaojing forces Lily to take up the assignment or he goes to the cops.

After she takes out the witness with a sharp needle to his throat, her employers do the old soft shoe double-cross and try to silence her. This turns out to be as good a decision as leaving your children with Michael Jackson – and even if she wasn't much in the way of being a killer earlier - a mere two notches on her belt - she learns fast and the notches multiply! She begins trying to work her way up through an industrialist (Huang Tsung-hsun) to his boss, Ching Miao. They don't plan on making it easy for her though and send a bunch of hired killers after her – at one time she has to take on a killer threesome of a knife expert and two strongmen (Bolo Yeung being one). She looks cool throughout and shows no mercy.

The film was directed by one of Shaw's imported Japanese directors, Matsuo Akinori (credited with the Chinese name of Mai Chi-ho) and he applies some nice touches and style to the film. His only other Shaw film (in co-operation with Nikkatsu) was Asia-Pol (1967) starring Jimmy Wang Yu and was a James Bond type movie, but he has Japanese film credits going back to 1959. The sets have a clean bright interesting look to them and a number of the scenes are shot on location – up on the Peak, the winding road from Aberdeen, the bowling alley, the fair – that give the film a somewhat authentic feel. Akinori also does some interesting camera work – in the first kill the camera is hand held and shaky and the POV is from the killer – and he often shoots from unexpected and intriguing perspectives. The film is a fair amount of fun – a bit slow at times – but with a nice flair that kept me entertained if not on the edge of my chair.

My rating for this film: 7.0

---