That Fiery Girl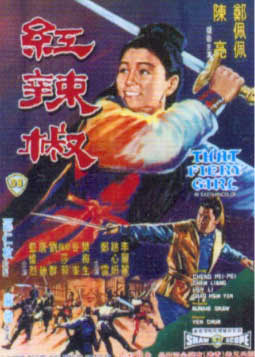 ---
This title may sound more like a spin off from the 1960's TV sitcom "That Girl" with the ever so bubbly Marlo Thomas ("That Fiery Girl, when she fights she is all a whirl – oh, our Fiery Girl") – than a martial arts film of deadly mayhem and blood. Instead though this stars the very non-bubbly Cheng Pei-pei who would as soon cut someone in half than throw them a perky smile. Cheng Pei-pei was rarely one for pleasant amenities in her films – almost always very serious and with a deadly agenda on her mind. In some ways she is like Michelle Yeoh, always looking much more comfortable with a sword in her arms than a man and her romances rarely had much sizzle to them – but no one was better at projecting sheer determination in getting what was hers – whether it was justice or revenge.

Looking back at Cheng Pei-pei's career one can't help but note that after "Come Drink With Me" turned her into an unexpected martial arts star, none of her many similar type of films that followed ever even came close to being as good. She had been trained as a dancer and her role in "Hong Kong Nocturne" seemed to be the first step that would lead her into a career of musicals and romances, but King Hu changed all that by picking her to be his heroine in the seminal work that moved martial arts film onto a higher plain. Sadly though, Hu soon left the services of the Shaw Brothers for Taiwan and he never was able to work with Cheng Pei-pei again though he had very much wanted her for "Dragon Inn". Instead she often had to work with competent but far from inspired directors such as Lo Wei (on five films), Chui Chang-wang and Yen Chun. The one film in which she starred for Chang Cheh was "Golden Swallow" in which he took her character from "Come Drink with Me" and made her secondary to that of Jimmy Wang-yu (always a major sore point with me!). "That Fiery Girl" from director Yen Chun is fairly laborious for most of its running time until the final twenty minutes in which he finally turns Cheng Pei-pei loose and allows her to do what she does best – massive bloodletting.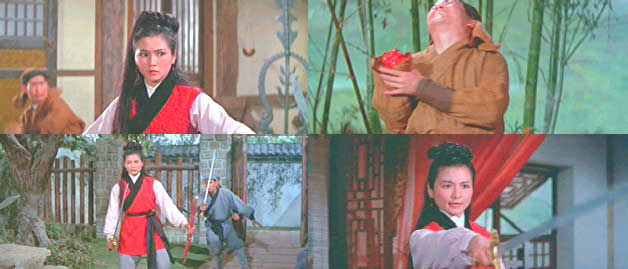 Her nickname is "Red Chili" and she is the daughter of a bandit king (Tang Ti) who has a small army of men working for him and is well protected from the law by a series of deadly booby traps that surrounds his land. He is after a treasure map and sends his two top men (Fan Mei Sheng and Cheng Lei) along with Cheng Pei-pei to find it among the Mei clan. They have no success but still take great pleasure in cutting off a man's arm and setting his house on fire and then laughing uproariously at how amusing it all is. Cheng Pei-pei is a little more sensitive and is mildly miffed that they acted so cruelly and laughed so loudly. A member of the Mei clan (Korean actor Chen Liang) pretends to sell out his clan by going to the bandit hideout and giving them the treasure map, which has come into his possession. This pleases the bad guys to no end because now they say gleefully that they won't have to work – but cutting of arms and killing people seemed more like fun than work.

Pei-pei takes a fancy to the newcomer and gets all giggly with her "sister" Lily Li (in a non-action role), but the number three chief has his own eyes set on marrying into the family business and attempts to kill Chen on a number of occasions. Seeing this romance beginning to bloom, the sister (Chao Hsin Yen) of Number 3 tries to get Chen married to Lily instead – but this forces Pei-pei's old wet nurse (Ouyang Shafei) to tell her some painful truths about her past. Up to this point really very little of interest has happened – lots of meandering skullduggery but very little action – but that is about to change as the truth sets Cheng Pei-pei down a path of mass death and destruction – and all of a sudden this film gets very entertaining. The action choreography tends to be a bit soggy and slow, but watching Pei-pei cut through men like warm orange marmalade is one of life's little pleasures.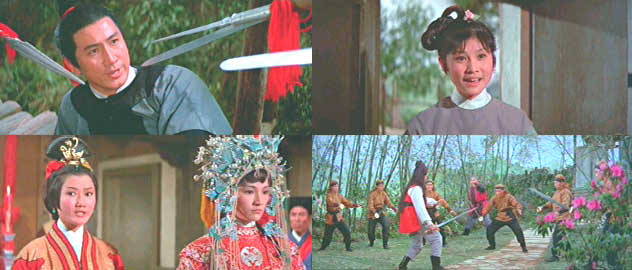 My rating for this film: 6.0
Thanks to angelfire.com for helping me identify many of the actors in the film!

---