A Girl Fighter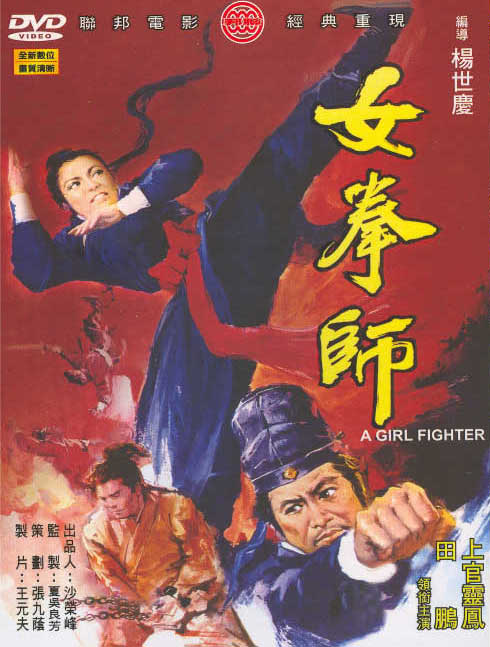 ---
A Girl Fighter
Director: Yeung Sai-hing
Year: 1972
Country: Taiwan
Duration: 86 minutes
This is the fourth of these Union Film productions that I have watched starring Polly Shang-kwan but while she is at best a co-star in the others, in A Girl Fighter she is clearly the main focus and her often lead co-star Tien Peng is only around to support her. Like the others, the film has loads of action (choreographed by Poon Yiu-kwan, co-credited for action in A Touch of Zen) but it also has a clear dramatic narrative that may have been mildly influenced by a classic Western (Rio Bravo).
It looks like a relaxing night for the Lio family of needlework and reading when a local bully breaks in with the intention of raping the wife. When the husband and family elders try to intervene they are killed and so is the wife. So much for a quiet evening at home. The killer is Kim Teng-jiao (Law Bun), a nasty brute whose father Zhang-peng is the big shot in the county with vast hoards of men at his bidding. And no one messes with his boy if he wants to stay healthy. When the authorities advertise for someone to help them capture Teng-jiao they get no takers until a diminutive figure shows up to offer assistance. The authorities look askance at one another because Sima Mu-rong is not only small but also of the female gender. But she soon shows them her fighting skills by taking on four guards and embarrassing them. She gets the job. No resume required.
Like most spoiled bullies, Teng-jiao is taking up space at the local brothel, The Spring Whorehouse. After killing a few of his drinking buddies and smacking him up more than a little, Sima takes her man to the local jail to await transportation for trial. This is the real meat of the story as Sima and six guards attempt to take Teng-jiao across hostile territory with dangers everywhere as the father has every intention of getting his son back. Sima gets some surprising assistance from Geng (Tien Peng) who is related to the Lio's and also from Captain Dong (played by Miao Tien with his usual stern authoritative presence). Numerous fights occur and the small band of brave men and one woman who refuse to give in slowly dwindle one by one.
It is always enjoyable coming upon actors like Miao Tien (a.k.a. Miu Tin) in these old films. He had quite the lengthy career and filmography stretching from King Hu's Dragon Gate Inn and A Touch of Zen until he became a favorite of Taiwanese new wave director Tsai Ming-liang who used him in a bunch of his films - Rebels of the Neon God, The River, The Hole, What Time is it There and Goodbye, Dragon Inn (in which he watched himself on screen as a much younger man). He died in 2005 at the age of 80.
My rating for this film: 7.5
---