2006 Hong Kong International Film Festival (HKIFF) Report
Report from YTSL
Introduction
Every once in a while, the visitor to brns.com will encounter the initials "HKIFF". Although fledgling fans of the Fragrant Harbor's celluloid delights may be unaware of what this connotes, those who have delved deep enough into the world of Hong Kong movies should readily recognize these initials as being those of the premier annual showcase of world – but especially Asian -- cinema cum platform for past and present Hong Kong cinema past that is the Hong Kong International Film Festival.
The Hong Kong International Film Festival (or HKIFF, as it is popularly and much more succinctly known) was started by Hong Kong's Urban Council in 1977. A 16-day non-competitive festival which takes place around Easter, that which now is operated by the independent, non-profit-making Hong Kong International Film Festival Society was conceived and came into being in an era in which – as Roger Garcia, one time HKIFF program director, writes in this year's HKIFF catalogue – "there were no international film festivals in Asia, and few Asian films were shown in festivals" anywhere in the world (2006:19).
These days, though, festivals such as Pusan's, Bangkok's and Tokyo's are challenging the HKIFF for the title of premier film festival in Asia. There now also exist film festivals specifically devoted to showcasing Asian cinema outside of the Asian continent like the Far East Film Festival in Udine, Italy, and Subway Cinema's New York Asian Film Festival. Additionally, while it is true that Asian films still don't have the presence in prestigious prize-awarding festivals such as those at Cannes, Berlin and Venice that the likes of myself think that they deserve, it is worth noting that this year, 2006, does see Hong Kong's Wong Kar Wai in the position of President of the Cannes Film Festival Jury.
Yet the fact of the matter is that HKIFF remains special and particularly close to heart for many Hong Kong film fans. One reason for this lies in the authoritative publications which the HKIFF comes up with and makes available to us. For decades now, the HKIFF has produced well-researched works – often, full of oral interview transcripts along with scholarly analyses – on such as the cinematic works of King Hu and Eileen Chang (in the 22nd HKIFF's "Transcending the Times: King Hu and Eileen Chang", 1998), the Hong Kong New Wave (in the 23rd HKIFF's "Hong Kong New Wave: Twenty Years After", 1999) and Hong Kong action choreographers like Lau Kar Leung, Yuen Woo Ping, Sammo Hung and Ching Siu-Tung (in this year's HKIFF's "A Tribute to Action Choreographers", 2006); not to mention a series of "Hong Kong Panoramas" – unfortunately no longer available on their own as of the 28th HKIFF (but, instead, incorporated into the main HKIFF program catalogue) -- highlighting contemporary selections (E.g., at the 30th HKIFF, this included "Initial D", the first "Election", "Fearless", "Seven Swords" and "McDull: The Alumni").
Secondly, as those who have had the privilege to attend the HKIFFs will undoubtedly attest, it is that rare example of a major film festival which was "conceived and nurtured by cinephiles" and continues to be "more about cinephilia than celebrity, and more about cinema rather than just film screenings" (Roger Garcia in the 30th HKIFF program catalogue, 2006:19). Put another way: The HKIFF is a cinematic festival whose attendees get to view popular populist movies as well as cerebral "art house"-type films, and sometimes in the nonchalantly low-key company of the likes of Michelle Yeoh (dressed in t-shirt, jeans and comfortable-looking shoes, and seated in the same row of seats as yours truly at the screening of "Nomad") as well as Matt Chow (seated, again, in the same row of seats as myself at the screening of "Invisible Waves")!
HKIFF 2006
For the record, my first ever "in the flesh" experience of the HKIFF came last year. After this successful maiden visit (whose more memorable moments included viewing "Fist of Fury" and "Rouge" outdoors -- in the rain! -- on the Tamar Site's huge outdoor screen, viewing Chinese silent movies from the 1930s (including the legendary "Little Toys") with live music accompaniment at the Hong Kong Film Archive and catching a rare screening of Cecille Tang's "China Behind", also at the Hong Kong Film Archive), wild horses couldn't keep me away from this year's HKIFF; and this especially as, seeing that it would be the HKIFF's 30th edition, I had a feeling that some truly special programming would be in the offing.
And true enough, when the 30th HKIFF's line-up of over 200 films was announced, I just about flipped! Such was the wealth of offerings that in my first round of picks of what HKIFF screenings I wanted to attend, I found myself with 8 selections for a single day alone (and, in the end, had to leave the likes of "My Neighbor Totoro", "Martial Club", "Always – Sunset on Third Street" and "The Silent Holy Stones" out of my personal viewing selection)!! Even more astonishingly (and to illustrate how eagerly some people were awaiting the HKIFF, etc.): On-line bookings for Johnnie To's "Election 2" had to stop a mere two hours after people were first allowed to book their tickets for this work which had its world premiere at the HKIFF!!!
Unable to secure tickets for any of the opening day selections I wanted to view, I ended up deciding on the 5th of April being my personal first day at the HKIFF. By the time I departed Hong Kong on April 17th, I had taken in a grand total of 23 HKIFF screenings together with 1 "out of festival" Hong Kong movie screening and a few choice associated events and activities. Re the latter: These included a Q&A session on "The Life & Work of Emi Wada" -- with the distinguished costume designer in attendance -- at the Hong Kong Academy of Performing Arts, a Milkyway Image book launch cum cocktail party whose attendees included filmmakers Johnnie To, Wai Ka Fai and Shu Kei as well as chapter authors like David Bordwell and Peter Rist, fangirl visits to movie locations like the tea-house in "P.T.U." and get-togethers with fellow film fans from various parts of the world! J
Partly for fear that some of you will die of envy post reading my report, I will content myself from here onwards with just writing about the films I viewed at the 2006 HKIFF. While the following is – as you might expect – but a limited and expectedly personalized selection of what was available to view at this absolutely choice (especially for the Asian movie fan) film festival, I hope that it will provide readers with a good idea of what viewings were to be had and, also, the enjoyment, thrills and food for thought which I managed to get out of partaking of this year's HKIFF experience. So, without further ado…
The Films
Hong Kong movies viewed for the first time ever at the 30th HKIFF (in chronological order):-
MOON OVER MALAYA (1957)
- Part of "The Glorious Modernity of Kong Ngee" programme
- Chun Kim and Chor Yuen, directors.
- Starring Patrick Tse, Nam Hung, Patsy Kar Ling and Keung Chung-ping
Every time I go to the Hong Kong Film Archive (HKFA, for short) to view a film, I realize how much I still have to learn with regards to Hong Kong cinema and its history. A case in point: Until the 2006 HKIFF, I had never heard of Kong Ngee. Heck, I hadn't even realized that Kong Ngee was not the name of a person but, instead, a once important film company; and one, at that, which could be described as "one of the brightest spots of the Cantonese cinema during its final glory" as well as the Cantonese film company with "the most recognizable house style". But now, after having seen a mere quintet of its productions (of which this was a solid plus interesting representative), I know…
Shot on location in Malaya in the year that that land's people (albeit minus Singapore's) attained the independence from the British, "Moon Over Malaya" can be viewed as a valuable visual historical document. From a more specifically cinema history perspective though, this dramatic offering's primary selling points could be said to stem from its: being the final chapter in Kong Ngee's "Nanyang Trilogy" ("Nanyang" being the term for the part of the Chinese diaspora which includes those and their descendents who settled in the South-East Asian territories of Malaya/Malaysia, Singapore, Thailand and Indonesia); and offering viewers the not too common opportunity to see the then young and very "stud"-ly Patrick Tse Yin romancing an attractive young female while clad in nothing but a very wet pair of swimming briefs! ;)
My rating for this film: 7.5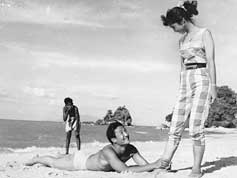 ---
LET'S BE HAPPY (1959)
- Part of "The Glorious Modernity of Kong Ngee" programme
- Chun Kim, director
- Starring Woo Fung, Patrick Tse, Nam Hung, Patsy Kar Ling and Keung Chung-ping
Kong Ngee's top male star, Patrick Tse, also puts in an appearance in this wonderfully entertaining comedy classic which revolves around a pair of good buddies, one rich monetarily and the other rich in experience, and the women they couldn't help but lose their hearts to -- as do charismatic female luminaries Nam Hung and Patsy Kar Ling. This time, this delightful trio are joined by the affable Woo Fung and together, they show how much "Kong Ngee had perfected the formula of the odd couple" plus those for "situational drama, not to mention battle-of-the-sexes humor" (30th HKIFF Catalogue, 2006:79).
My rating for this film: 9.0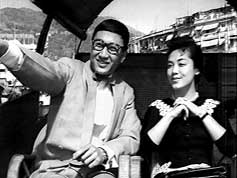 ---
CHASE (1961)
- Part of "The Glorious Modernity of Kong Ngee" programme
- Chun Kim, director
- Starring Patrick Tse, Patsy Kar Ling, Keung Chung-ping, Sheung-kwun Kwan-wai and Ng Tung
During Kong Ngee's heyday, its stars – particularly suave Patrick Tse and the chic Patsy Kar Ling – were household names and the stuff of marital dreams. With the company not at all shy to highlight and take advantage of this fact, this heavily Kong Ngee brand name referencing plus coincidence-reliant Kong Ngee dramedy has Patrick Tse playing a white collar worker who not only claims to look like Patrick Tse and adores Patsy Kar Ling but also proceeds to encounter a doppelganger for the girl of his dreams who, to his dismay, turns out to be his boss' mistress!
My rating for the film: 7.0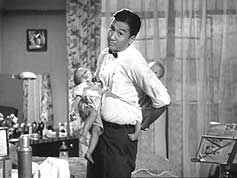 ---
THE DREADNAUGHT (also known as A-GO-GO TEENAGER) (1966)
- Part of "The Glorious Modernity of Kong Ngee" programme
- Chan Man, director
- Starring Patrick Tse, Kong Suet, Chow Chung, Luk Chu and Mak Kay
A Patrick Tse who clearly is in his pomp in the a-go-go era takes center-stage again: this time, as a sophisticated mobster who finds himself on the opposite side of the law from a fellow war orphan and the police inspector-headed family into which the latter was adopted. Complications ensue after the lady-killer of a gangster falls for the police inspector's biological daughter, a sweet lass who, as it turns out, the war orphan who she hitherto had only looked upon as her elder brother also has fallen for.
My rating for this film: 7.5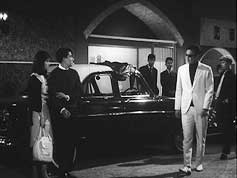 ---
STORY OF A DISCHARGED PRISONER (1967)
- Part of "The Glorious Modernity of Kong Ngee" programme
- Patrick Lung Kong, director
- Starring Patrick Tse, Sek Kin, Patsy Kar Ling, Wong Wai, Monica Lopez, Mak Kay and Patrick Lung Kong
Such is the renown of this legendary Hong Kong cinematic offering that the 30th HKIFF catalogue blurb for it merely reads as follows: "One word: classic… Two more: greatly influential. Enough said" (2006:263)! Widely credited as having been the inspiration for John Woo's "A Better Tomorrow", this dramatic tale is still very compelling some 39 years after the film was first released in local cinemas. And yes, Patrick Tse -- whose youthful screen appearances I have come to greatly appreciate; and not just because in many of them, his physical resemblance to his son, contemporary singer-actor Nicholas Tse, is quite startling! – puts in yet another great performance in this movie.
My rating for the film: 8.5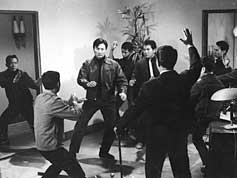 ---
A TOUCH OF ZEN (1971)
- Part of the "A Tribute to Action Choreographers" programme
- Hong Yingjie and Pan Yaokun, action choreographers
- King Hu, director
- Starring Shih Jun, Tin Peng, Hsu Feng, Roy Chiao, Pai Ying, Sit Hon and Han Ying Chieh
By now, seemingly everyone and their uncle knows that this cinematic gem from King Hu has a remarkable action scene which takes place in a bamboo forest, and that that scene was a direct influence on "Crouching Tiger, Hidden Dragon"'s bamboo forest fight scene. However, few people realize that "A Touch of Zen" has a total running time of 170 minutes, and that the film was originally shown in two parts (and with part two starting with a recap of events which occurred in part one). Thus, those who view both parts together as a spliced-up whole (like was the case at the HKIFF this year) get to see the 1971 work's famous fight scene not once but twice within a few short minutes…and believe me when I say that to do is a real treat rather an unnecessary bore! J
My rating for this film: 8.0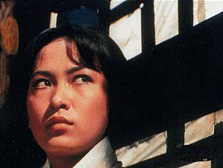 ---
THE MIRACLE FIGHTERS (1982)
- Part of the "A Tribute to Action Choreographers" programme
- Yuen Woo Ping's Group, action choreographers
- Yuen Woo Ping, director
- Starring Yuen Yat Choh, Leung Kar Yan, Yuen Chueng Yan, Yuen Shuh Yi and Eddie Ko
According to the 30th HKIFF catalogue, "[this] film was considered a breakthrough in stunning physical special effects" (2006:94). However, the overall sense I took away from a viewing of this movie was how dated so much of it feels and is. Alternatively put: Although many of the action sequences and devices still seem innovative as well as amusing, the general impression one gets is of this work being of the kind that not only no longer is made but which also – as borne by the fact of its screening having the smallest audience of all the HKIFF screenings I attended this year -- would not find much of an audience, notably in Hong Kong, any more.
My rating for the film: 7.0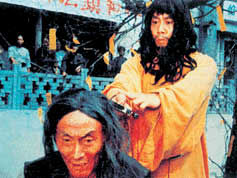 ---
NOMAD (1982)
- Part of the "Special Presentation" programme
- Patrick Tam, director
Starring Leslie Cheung, Pat Ha, Ken Tong and Cecilia Yip
Especially when compared to such as "The Miracle Fighters", which had a theatrical release in the same year as it, this now 24-year-old Patrick Tam-helmed work has an amazingly "cutting edge" feel about it. Apart from the bubble perms and others distinctly 1980s fashion styles affected by its cast (who include the late Leslie Cheung along with the debut-making Patricia Ha), this is one "Hong Kong New Wave" offering which looks to have most definitely stood the test of time and even appear very daring, controversial plus still able to shock more than two decades on.
My rating for this film: 8.5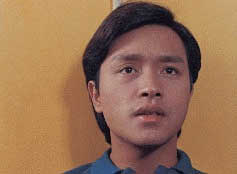 ---
MCDULL: THE ALUMNI (2006)
- Part of the "Hong Kong Panorama 2005-2006" programme
- Samson Chiu, director
- Starring Zhou Bichang, Chen Po Lin, Ronald Cheng, Kelly Chen, Josie Ho, Gigi Leung, Eric Tsang, Christopher Doyle, Anthony Wong Chau-Sang, Isabella Leong, Hui Shiu Hung, etc.
The third entry in the "McDull" movie series is one which turns out to have more 'live' action than animation. It also often feels more like a series of skits than a really smooth whole or bona fide feature film. No matter! For if truth be told, I greatly enjoyed viewing this effective combo of whimsy and reality cum idealism and pragmatism which also came across as the early 21st century "spot the stars" successor to, if not equivalent of, 1991's star-studded plus cameo-filled "The Banquet"! J
My rating for the film: 8.5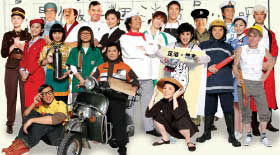 ---
THE THIRD EYE (2006 *World Premiere at the HKIFF*)
- Part of the "Midnight Heat" programme
- Carol Lai, director
- Starring Wong You Nam, Race Wong, Derek Tsang, Samuel Pang and Liu Kai Chi
I wish I could like this movie. This especially since not just one but three actual Cantopop stars (one each from Shine, 2R and EO2) took the rather bold – by Hong Kong popular music standards – move of appearing in a work with a substantial enough amount of gore to prompt questions from the HKIFF audience as to what was the psychological impact that working on the film had on its stars! However, the truth of the matter is that I found this (supposed) horror movie to be insufficiently scary or horrific and, consequently, is not a work that I could honestly recommend as a video rental, never mind a regular cinema ticket or DVD purchase.
My rating for the film: 5.5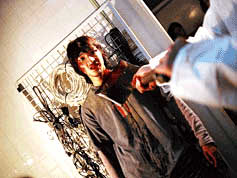 ---
Encore movie screenings:-
ZU: WARRIORS FROM THE MAGIC MOUNTAIN (1983)
- Part of the "A Tribute to Action Choreographers" programme
- Corey Yuen Kwai, Mang Hoi, Yuen Biao et al, action choreographers
- Tsui Hark, dir.
- Starring Yuen Biao, Mang Hoi, Adam Cheng, Damian Lau, Brigitte Lin Ching-Hsia, Sammo Hung and Moon Lee
The first time I watched this ground-breaking Tsui Hark movie was on a small screen which I now realize could not do the turbo-charged special effects extravaganza much justice. A case in point: Yes, Brigitte Lin – and maybe particularly so as the other-worldly Ice Countess -- is lovely to look at on a TV screen; but she absolutely comes across as divine when the film is experienced in its full glory in a theatrical setting! Then there's the sense that this manically busy work somehow seems far more comprehensible when viewed on a screen that's big enough to accommodate the myriad plot twists along with eye-popping action and assorted other eye-catching visuals that this offering is bursting to the seams with…
My rating for the film: Previously a solid 8 but now a high 9!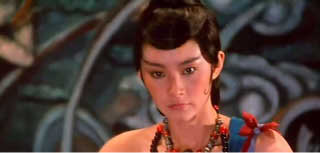 ---
POLICE STORY (1985)
- Part of the "A Tribute to Action Choreographers" programme
- Jackie Chan's Stuntmen Association, action choreographers
- Jackie Chan, director
- Starring Jackie Chan, Brigitte Lin Ching-Hsia, Maggie Cheung Man Yuk and Chor Yuen
Wow!!!!!!!! That was my feeling when and after viewing this superb Jackie Chan vehicle at the HKIFF. This not just because such as the destructive drive through the shanty town, the close-to-unbelievable action scenes involving the double-decker and the amazing finale that got this action movie nicknamed "Glass Story" is incredible to view on a big screen but mostly because this work got revealed to have been filmed in "scope" – something which is not at all apparent in any of the home video versions of the effort which I've seen (and I've seen it on VHS, VCD and DVD now!)!
My rating for the film: Previously an already very respectable 9 but now a perfect 10!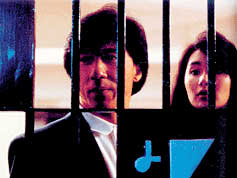 ---
The Hong Kong movie viewed outside of the HKIFF:-
BET TO BASIC (2006)
- Paul Chung, director
- Starring Jordan Chan, Yuen Wah, Chin Kar Lok, Rain Li, Eric Kot and Samuel Pang
A few thoughts struck me when watching this gambling movie from someone other than Wong Jing for a change. One is that it's patently obvious that this offering was made on a pretty small budget. Another's that it comes across as happily "throw-away". Alternatively put, the movie's makers seem patently aware that they weren't making a classic here nor were they about to come up with anything that was innovatively new. Rather, if they could elicit a few laughs (something which they managed to do at the Mongkok theatre screening I attended), give some often neglected actors a chance to strut their stuff and shine (which -- seeing as the film had me coming away with reminders that the likes of Jordan Chan, Chin Kar Lok and Samuel Pang are not without talent – I think it did) and produce something which was halfway entertaining, the individuals behind this modest effort which also can come across as a blast from the past surely would have considered their mission to have been accomplished, if not their job well done.
My rating for the film: 6.0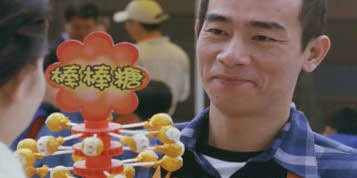 ---
Non-HK movies (including a couple of non-Asian movies -- but what the heck, right? :b) viewed at the HKIFF:
MY NIKIFOR (Poland, 2004)
- Part of the "Global Vision" programme
- Krzysztof Krauze, director
- Starring Krystyna Feldman, Roman Gancarczyk, Lucyna Malec, Jerzy Gudejko, Artur Steranko and Jowita Miondikowska
On the surface, this modest work is yet another bio-pic of an artist (with the genius in question being an eccentric "naïve" artist with tuberculosis named Nikifor Krynicki). It differs in two distinct ways though from most others of this category of offering. For one thing, it also gives a bit of attention and screen-time to the man who was willing to become a social pariah to care for Nikifor. For another, the moustachioed male protagonist is actually played by a woman: obviously heavily made-up actress Krystyna Feldman!
My rating for the film: 7.0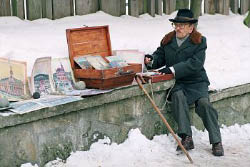 ---
PRINCESS RACCOON (Japan, 2005)
- Part of the "Master Class" programme
- Seijun Suzuki, director
- Starring Zhang Ziyi, Joe Odagiri, Hiroko Yakushimaru and Hira Mikijiro
This work from octogenarian auteur Seijun Suzuki is described in the 30th HKIFF's Programme and Booking Folder as "a lush Kabuki-esque operetta by way of Gilbert & Sullivan" (2006:23). However improbable it sounds, the film is indeed that and far more! E.g., howzabout if I just described it as "another entertaining, wildly fantastical, surrealistic "performance art" piece from the ever imaginative director of the already startling in its own right "Pistol Opera""? :b
My rating for this film: 9.0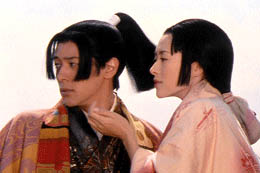 ---
BARDO (Taiwan, 2005)
- Part of the "Short Films" programme
- Lin Tay-Jou, director
- Total running time: 10 minutes
This short horror film from a Master's degree holder and university lecturer was shown as a prelude to Takeshi Miike's horrific "Imprint". It proved to be simultaneously painfully disgusting and boring as well as – excuse my French! – IMNSHO, utter shite! In short: The absolute nadir of my HKIFF viewing as far as I'm concerned (Thank goodness it was "only" 10 minutes long!).
My rating for the film: 1.0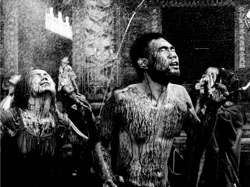 ---
IMPRINT (Japan, 2006)
- Part of the "Midnight Heat" programme
- Takashi Miike, director
- Starring Youki Kudoh, Michie Ito, Toshie Negishi and Billy Drago
Should any confirmation be needed: Yes, post viewing this offering Japan's current number #1 shockmeister, I can understand why the Showtime folks decided that this was one "Masters of Horror" episode that wouldn't be appropriate American TV fare. Alternatively put: Takashi Miike has gifted us another nightmare-inducing, torture-filled shocker. At the same time though, my inkling is that viewers of this effort will come away with stronger memories of *spoiler alert* "the hand" than such as the scores of dead fetuses on display or even the nonetheless cringe-inducing torture scenes! *end of spoilers*
My rating for the film: 5.0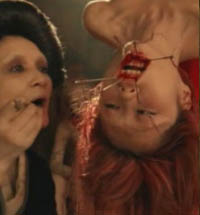 ---
THE BOOK OF THE DEAD (Japan, 2005)
- Part of the "Animation" programme
- Kawamato Kihachiro, director
- With the voices of Rie Miyazawa, Tetsuko Kuroyanagi, Toru Emotri, Kanze Tetsunojo, Takaaki Enoki and Kyoko Kishida
It's not every day that people get to view a movie made by someone considered to be one of his country's national treasures, never mind one featuring stop-motion puppet animation voiced by luminaries like Rie Miyazawa. So this HKIFF offering felt like a particular treat to be able to check out. A surprisingly meditative Zen as well as slow paced and spare work from a still undoubtedly creative octogenarian. So…what is it with Japan and creative octogenarian auteurs? First, there was Seijun Suzuki and now there's also Kawamato Kihachiro! ;b
My rating for this film: 7.0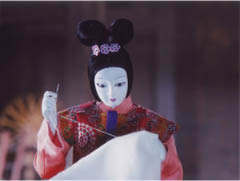 ---
TAIWAN BLACK MOVIES (Taiwan, 2005)
- Part of the "Filmmakers and Filmmaking" programme
- Hou Chi-Jan, director
- With Lu Hsiao-fen et al.
The young filmmaker behind this documentary about what the "South China Morning Post" labeled as "a black genre of flesh and blood in Taiwanese movies" (Clarence Tsui, April 17th, 2006) which once thrilled audiences -- but subsequently were dismissed by many, including some of their stars and producers, and forgotten by others -- is to be applauded for seeking to cast some light once more on these long neglected works. I do wish though that he had been able to give his subject matter a less pedestrian treatment. Also, one has to wonder whether the filmmaker has done sufficient research and is aware of such as parallel or earlier HK movie developments to the Taiwanese ones he chose to highlight in his study…
My rating for this film: 6.0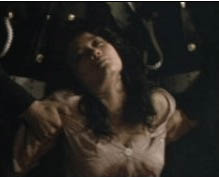 ---
THE NINE LIVES OF KOREAN CINEMA (France, 2005)
- Part of the "Filmmakers and Filmmaking" programme
- Hubert Niogret, director
- With Ahn Sung-Ki, Bae Chang-ho, Bong Joon-ho, Derek Elley, Hong Sang-soo, Im Kwon-taek, Im Sang-soo, Kang Je-gyu, Kang Soo-yeon, Kim Ki-duk, Lee Chang-Dong, Moon So-
ri, Park Chan-wook, Pierre Resilient and Shin Sang-ok
There's nothing special style - and also coverage-wise about this made-for-French TV documentary about Korean cinema. However, the individuals behind it are to be much commended for having been able to assemble the star-studded interviewee list that they did, and for managing to elicit interesting interviews and tales from quite a few of them, notably directors Kim Ki Duk and the late Shin Sang Ok (who passed away just days after this work was screened at the HKIFF).
My rating for the film: 7.0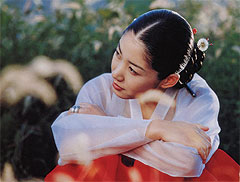 ---
THE LAST COMMUNIST (Malaysia, 2006)
- Part of the "SONY HDV Asian Digital Competition" programme
- Amir Muhammad, director
- With Zalila Lee et al.
Shortly before this clever plus daring Malaysian independent work was shown at the HKIFF, news came of it having been approved for screening in three local theatres by the Malaysian censors. When viewing it in Hong Kong, the main thought running through my mind during the screening was: "How the hell did AM manage to get this film with the still "hot" subject matter (i.e., an elderly man whose wishes to return home remain unanswered by the Malaysian government) past the Malaysian censors?!" Now, with the news that the Ministry of Home Affairs has latterly stepped in to ban the movie, I am really glad that I got to view this intellectually sophisticated offering. Alas, though, that this opportunity is one that cannot be shared with many other of the filmmaker's -- and my -- countrymen and -women.
My rating for this film: 8.0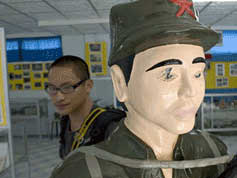 ---
INVISIBLE WAVES (Thailand, 2006)
- Part of the "Galas" programme
- Pen-ek Ratanaruang, director
- Starring Asano Tadanobu, Gang Hye Jung, Eric Tsang, Toon Hiranyasup, Ken Mitsuishi, Maria Cordero and Tomono Kuga
I've been following the career of director Pen-ek Ratanaruang with some interest since coming across his amusing "6ixtynin9" at the 2001 Philadelphia Festival of World Cinema. But after my viewing of his latest effort, I resolve to no longer do so. Terribly pretentious, overly-mannered, overly-languid and overly-lengthy (as a whole and also with regards to scenes within the movie), this much-anticipated work was by far the biggest disappointment of the 2006 HKIFF for me.
My rating for the film: 3.0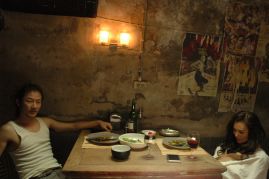 ---
GRAIN IN EAR (Mainland China & South Korea, 2005)
- Part of the "Chinese Renaissance" programme
- Zhang Lu, director
- Starring Liu Lianji, Jin Bo, Zhu Guanxuan and Wang Hui
This well-filmed minimalist-style offering centers on an ethnic Korean woman residing in a nondescript Chinese town who has the kind of tragedy-touched life that appears guaranteed to make anyone dull, drive them to despair or both. Expectedly sad (and not the kind of movie that I could bring myself to regularly watch), this almost ethnographic – if not for its story arc being too pat for a non-fiction work -- cinematic offering also happens to feel meaningful and thought-provoking. As such, I had no regrets in checking out this effort at the HKIFF; and, in fact, I actually count it among the highlights of this majorly awesome film festival.
My rating for the film: 8.0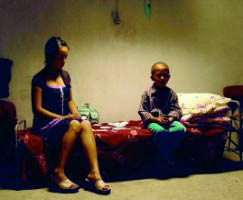 ---
NIGHT WATCH (Russia, 2005)
- Part of the "Midnight Heat" programme
- Timur Bekmambetov, director
- Starring Konstantin Khanebnsky, Vladimir Menshov, Maria Poroshina, Galina Tunina and Victor Verzhbitsky
This Russian fantasy blockbuster cum supernatural police procedural has been the subject of much internet discussion in recent months. So I welcomed the chance to check out this mega-hit in its homeland, and on a big screen to boot! Although some have complained that there's not too many original bones in the movie's body, I can't say that I am all that upset about this…and do, in fact, look forward to checking out its "Day Watch" sequel in the not too distant future (Hey, maybe at the 31st HKIFF? :b)!
My rating for this film: 7.0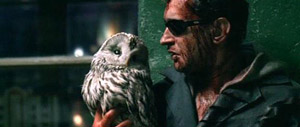 ---
YTSL can be contacted here.