Sleeping with the Dead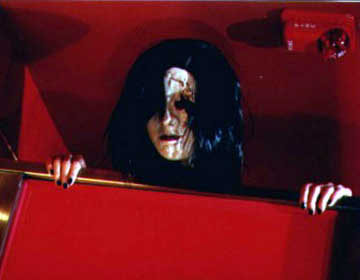 ---
Reviewed by YTSL
Unlike such as their Hollywood counterparts, scaring people doesn't seem to be a primary priority for "Jade Theatre" makers of ghost- and ghoul-filled movies. Although their output can disappoint those seeking out and out horror, this (re)viewer -- who considers its genre-blending and -bending tendencies to be among Hong Kong cinema's major attractions -- has often found herself very delighted with the results of mixing together supernatural themes with: romantic ones (Cf. "A Chinese Ghost Story" or "Spiritual Love"); spectacular action along with often admittedly base comedy (E.g., "Mr. Vampire" and any other offering that has Lam Ching Ying's learned Taoist as its hero); serious musings (like "Inner Sense" and "The Eye"); or most anything else. And so it was with this perceptibly low-budget potential sleeper of a ghostly crime (melo)drama whose lack of technical imagination and polish -- especially in the cinematography department -- is more than compensated by its main plus seemingly secondary stories' ability to touch one's heart.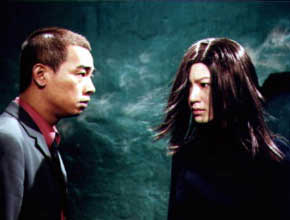 At the center of SLEEPING WITH THE DEAD lies a married medico who came by his ability to see paranormal beings after undergoing a near death experience as an infant. Like with a gifted spiritual medium who is a patient at the hospital where he works (and who gave him a free -- but valuable -- tarot card reading), Dr. David Tsang (who the ever dependable Jordan Chan understatedly portrayed) appears quite matter of fact about his post life-threatening bout of meningitis possession of that which many humans might regard as a curse but also can be a talent or gift. Indeed, when this Steve Cheng helmed film's viewers initially make their acquaintance with he who happens to be an adept artist on top of it all, the understandably rare smiler is seen being much more troubled by: having recently lost his beloved mother; and learning -- from a private investigator he had hired -- that his wife (the suspicion provoking Jane is essayed by Sharon Chan Man-Chi) has apparently been cheating on him.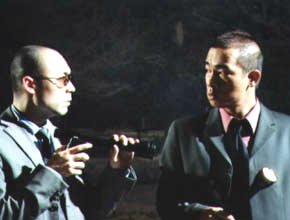 A conversation with a priest friend doesn't do much to lift David's spirits. Although they initially look like they're going to be a bust as well, visits to night spots that look to function in large part as pick up joints for professional men and physically attractive women -- at first in the company of a randier and more extroverted colleague (played by Cheung Tat Ming) but later on his own -- turn out to provide a welcome escapist panacea of sorts to the quiet man's domestic woe and related personal pain. More particularly, SLEEPING WITH THE DEAD's protagonist looked to have found an effective (even if just temporary) soother of his mind -- among other things -- in a mysterious, and probably all the more intriguing for being so, female who identifies herself to him as Cindy (and comes in the alluring form of Kelly Lin).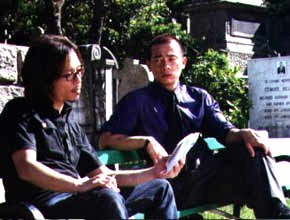 While Dr. Tsang's relationships were getting increasingly opaque, people -- who get revealed to have been childhood playmates and neighbors of his -- were violently dying. As it so happens, the police officer (the memorably monikered Iron Head Cheung is portrayed by Simon Loui, who also co-scripted SLEEPING WITH THE DEAD along with Wyman Wong, Lee Ho-Cheung and Lau Sheung-Yin plus is one of the Category IIB offering's producers) assigned to head the criminal investigations turns out to be another old friend and potential victim of the medical man who finds himself being asked to assist in figuring out who the killer might be. In the process, it is realized that it would help things to also come by the details of what has prompted the series of fatal attacks that all occur on the mutilated plus murdered parties' birthdays. Also, that the trail that David and the equally somber appearing Iron Head decide to follow looks to be leading the pair of newly reacquainted individuals to once familiar -- but latterly not much (t)ra(c)ked -- ground.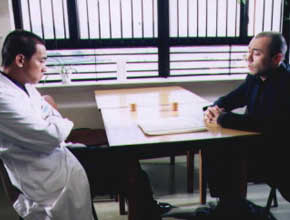 On a visit to the apartment building where he, his policeman buddy and -- before the investigation is over -- three age-mates whose lives were painfully snuffed had spent some of their formative years, David detects a disquieting -- but not necessarily evil -- supernatural presence in the abandoned home of a friend named Ling with whom he had once been close but had subsequently lost touch. As unlikely as it may (currently) seem, the story that it ends up telling is, IMHO, by far more tragic than the premature passing away of a small group of men who are revealed to have shared a very ugly secret. At the same time, it is another compelling plus, as it turns out, actually bitter-sweet tale in which the good doctor -- and a sad soul -- is involved that may well be more successful in eliciting tears from the eyes of viewers of this undeservedly under-heralded 2002 work.
My rating for the film: 7.5

---