Once Upon a Time in China III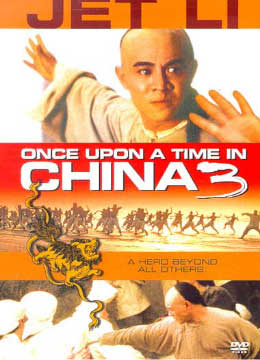 ---
Reviewed by YTSL
Before the opening credits roll in that whose Chinese title translates into English as "Wong Fei Hung 3: Lion King Struggle(s) for Supremacy", the viewers of this Film Workshop production are made privy to a conversation between the Dowager Empress Tzu Hsi and her Prime Minister. In it, the imperial personage seemed to knowingly assert that "these foreigners" who abound(ed) in China's capital city as well as elsewhere "are tricky" but then undermined the sense that she really knew them by asking her Prime Minister, in all seriousness, "don't you think that the foreigners will be scared to death by our lions?" (This especially so when the lions in question were not wild creatures but artificial ones of the kind that need to be "brought to life" -- in dances and (usually) on ceremonial occasions -- by humans).

Relatedly, the Prime Minister's suggestions that "our foreign policy should be to play one (foreign) country against another...(in order to) create conflicts among them" and "our internal policy should be to encourage the trend in martial arts" may seem theoretically sound; what with the former being akin to the "divide and conquer" idea that worked so well for the British colonialists and the latter appearing to be a pro-physical health perspective that Wong Fei Hung would whole-heartedly endorse. However, as succeeding events depicted in ONCE UPON A TIME IN CHINA III show, what can also transpire from such edicts issued from on high are communally divisive plus strength-sapping internal conflicts that are seriously in danger of being taken advantage of by China's powerful "gwailo" neighbors along with glory-seeking native individuals.

When viewed in this manner, the third installment in Tsui Hark's ONCE UPON A TIME IN CHINA series can be looked upon as one in which the auteur -- who has directing, producing and co-scriptwriting (along with the eccentrically monikered Charcoal Cheung) credits for this 1993 effort -- and the Cantonese folk hero who is at the center of this group of works attempt to enlighten the sadly out of touch government as well as strike blows against those groups and individuals who more directly threaten the well-being of Wong Fei Hung's beloved homeland -- enlarged here by Wong Fei Hung's father, Fu Shan native Wong Kei Ying, being shown to now reside outside of Canton/Guandong province (More specifically, in the capital city of Peking/Beijing) -- and its people. Still, this (re)viewer gets the sense that what mattered much more to many (other) Hong Kong movie fans about this offering from the often masterful plus political film maker -- whose style has been characterized by the likes of Stephen Teo as "nationalism on speed" -- was it being filled with lots of color (courtesy of the hundreds of battling as well as performing lions on display) and action (particularly that executed by Mainland Chinese wushu wizards turned action actors, Jet Li and Xiong Xin Xin).

Viewed in terms of such as on screen time devoted to it, political actions and commentary do largely take a backseat in ONCE UPON A TIME IN CHINA III to such as the highly spectacularly choreographed (by Yuen Tak), expertly edited (by HKFA nominees, Mak Chi Sin and Lam On-Yee) as well as fiercely enacted fight action. Even the often too timid plus gentle attempts to confirm and further develop the love between Wong Fei Hung (Jet Li makes his third masterful appearance as the rightly respected Wong Sifu) and his honorary Saap Sam Ee (She who would prefer to not be addressed as Thirteenth Aunt by him is sweetly played once more by Rosamund Kwan) -- that are somewhat complicated in this movie by the shock of Wong Kei Ying (essayed by the versatile Lau Shun) over this seemingly unlikely romantic pairing and Saap Sam Ee's re-encounter with a Cantonese-speaking Russian male friend named Tomansky (portrayed by John Wakefield) as well as the buffoonery that viewers will have come to expect of Wong Fei Hung disciple, Leung Foon (Max Mok has this once more generally thankless role) -- can appear to overshadow those intrigues which, nevertheless, could have grave international as well as national repercussions.

To a similar degree, the kind of stunning individual martial artistry and awe-inspiring one-on-one battles that were visual highlights of the two previous segments of Tsui Hark's Wong Fei Hung saga are mainly eschewed here in favor of lengthy and chaotic looking mass brawls involving scores of men, who are as much -- or even more likely to consist of -- teams of lion "dancers" as actual representatives of (rival) kung fu schools or other community organizations. Something else to note here is that, although Wong Fei Hung does have a couple of good opportunities to demonstrate his martial arts expertise in ONCE UPON A TIME IN CHINA III, this (re)viewer is of the opinion that the most breathtaking display of physical power and prowess is by an individual known as Clubfoot (portrayed by an intense Xiong Xin Xin, who earned a HKFA Best Newcomer nomination for "Once Upon a Time in China II" but impresses even more in this effort).

Either because many of its viewers don't share the film's makers major love for lion dance or as a consequence of their having made the at times pretty surprising choices that they did regarding what to foreground and background in this still quite original follow-up effort, ONCE UPON A TIME IN CHINA III does not seem to be as highly thought of by many Hong Kong movie fans as I and II. However, this did not prevent that which is the kind of non-CGI filled, big budget action offering that Mr. Tsui and his fellow HKSAR movie makers unfortunately no longer seem wont to craft from grossing HK$27,461,435 at the local box office. Neither does this inhibit the Andrew Lau lensed work from being a sumptuous plus enjoyable visual treat; this especially when it is viewed in its full glory on a big screen (like I recently had the (rather rare) privilege of doing). Consequently, I'd urge those who haven't checked it out already -- not least for fear of it not being up to the extremely lofty standards set by its 1991 and 1992 predecessors -- to do so.

My rating for this film: 7.5

---
Reviewed by Brian
For the longest time I had avoided seeing the Once Upon a Time in China films, instead preferring to treat them like lovely buried treasures to be saved for some future viewing. I had seen all of Jet Li's other films and simply wanted to have these to still look forward to. This delay proved fortuitous when all three films were shown in theaters over the past year and I was able to experience all three for the first time on the big screen. So now that YTSL is writing up a review of OUATIC III I thought I would finally take the opportunity to write up some brief impressions of these three films and give them a rating.

In 1990 Tsui Hark and Jet Li collaborated on a film that told of a martial artist who finds himself in a situation where he has to defend the honor of Po Chi Lam and his students in a world that had become very foreign to him. The film was a disaster. It was considered to be so hopelessly bad that it was not even deemed releasable. Who would have thought that within a year this duo would move on from the debris of The Master to creating one of the greatest martial arts films of all time.

Both men were at a point in their careers where one had to question whether the magic of their earlier films was gone. Jet Li began in the early 80's with the very impressive Shaolin Trilogy that highlighted what an astonishing martial artist he was and also allowed him to display his boyish charm, but since then little had gone right. The last of the trilogy was finished in 1986 and then Jet lumbered through his directorial attempt, Born to Defense, that was such a critical mess that he moved to the United States for a while to make the two low budget films, Dragon Fight and The Master. Even with his immense skills, Jet must have fallen off the radar of most filmmakers by 1991.

Tsui Hark of course began as the enfant terrible of Hong Kong film with his first three experimental and distinctly edgy films – Butterfly Murders, We are Going to Eat You and Dangerous Encounters that all showed little box office appeal. Afterwards, Tsui joined up with Cinema City and embarked on a glorious run of more commercial films (as either director or producer) that helped change the face of Hong Kong film – Zu Warriors, Shanghai Blues, Peking Opera Blues, Chinese Ghost Story and A Better Tomorrow. After 1986 though Tsui seemed to lower his aspirations and the successes were fewer in the next four years. These films were solid but rarely inspired – I Love Maria, The Big Heat, Gunmen, Web of Deception, A Better Tomorrow III and The Master. ABT III actually did quite well at the box office but is still considered a lesser Tsui Hark film. During this time he also produced The Killer but that is perhaps rightfully primarily associated with John Woo. In 1990 though Tsui again begin showing some of his earlier inspiration and ambition with the first film in The Swordsman Trilogy and the sequel to A Chinese Ghost Story, but it was to be another martial arts film about one of China's most legendary heroes that would bring both Tsui Hark and Jet Li back into prominence.

Traditional martial arts period films had been a major part of the Hong Kong film market from the beginning of the industry and then totally dominated the cinematic landscape from the late 60's to the late 70's when they began to lose some of their steam and they almost dwindled out completely by the mid-80s. Martial arts films were still being made but artists such as Jackie Chan and Sammo Hung had brought them into contemporary settings and really transformed them from the martial arts genre to a broader action genre. After literally thousands of films exploring what seemed every possible facet of the genre martial art films simply felt stale and exhausted. Beginning in 1990 though Tsui embarked on an incredibly ambitious series of films that reinvigorated the martial arts, the wushu and the supernatural fantasy genres.

Not only did Tsui Hark decide to attempt to bring back the traditional martial arts film but he chose to do it with as old and revered a chestnut as one could find by re-telling the story of Wong Fei Hung. Wong Fei Hung was of course a real person and a real martial artist who lived from 1847 to1924 and many films had been produced over time that detailed and embellished his life story, but the man most identified with him was actor Kwan Tak-hing. Kwan Tak-hing had portrayed Wong Fei Hung in over seventy films from The Story of Wong Fei Hung in1949 to Dreadnaught in 1981. He brought a dignified, disciplined and yet kindly air to the character that was very welcomed by the Hong Kong audience. Tsui Hark decided not only to re-invent the martial art film, but also to some degree to bring a fresh perspective to this legendary character. Everything was to be bigger, faster, grander and more epic in scale than what had come before and Tsui would also weave in the political themes of nationalism, religion, fanaticism, westernization and imperialism in a quickly changing world that occasionally feels out of control - themes that are as relevant today as they were in the world of Wong Fei Hung.

The period of time that Tsui chooses to pick for his martial arts epic is one of the most fascinating in Chinese history and he exploits all the elements of it to the fullest. At the end of the 19th century China was entering into a period of history that would result in over fifty years of warfare, revolution and political and economic upheaval that would change China in nearly every way. The Manchu dynasty was crumbling after decades of mismanagement and corruption, the military and economic rise of the West was allowing them to act on their desires for imperialistic expansion, fanatical religious movements were growing, Christianity was continuing its efforts to get a toehold in China, small groups of revolutionaries were pushing for reform and democracy, the triads were transforming from a patriotic group that was initially formed to resist the Manchus to a criminal enterprise and technology from the west was making its appearance in China and forcing China to examine it's long term policy of isolation that was now showing them what a weakened position they were in. In the first three films of this series Tsui Hark interweaves all these political and social threads into an amazing tapestry that paints a nation in the throes of change, but it still remains a very personable and intimate story of one man and the world he has suddenly found himself in. These are also, lest I forget to mention, astonishing action films filled with wondrous set pieces and breathtaking individual exhibitions of physical skills.

Within a few minutes of the first film, Tsui introduces many of these issues and puts Wong Fei Hung squarely in the middle of it all. Jet Li in his portrayal of Wong Fei Hung is a very different one than from his earlier roles – much of the boyish charm is shed for a sterner and more dignified demeanor (almost as if he senses Kwan Tak-hing's shadow over his shoulder) that is loaded with charisma. This role was to make Jet Li a huge star. Though the film has many wonderful supporting characters – Yuen Biao as Foon in particular is a standout – the real heart and symbolism of the film revolves around three characters that all represent China to some extent.

Wong Fei Hung is the traditional China – set in his ways to a large degree – but honorable, loyal, devoted to his family, his friends, his students and the ways and customs of China. Rosamund Kwan as Aunt Yee represents the need for China to modernize, to take the good things from the West but still retain the Chinese identity. The romance that blooms between Wong and Aunt Yee over the first three films are generally the sweetest and most touching scenes of the films - tender moments left unspoken, near shadow plays of longing and innocence. The third character in the drama is Master Yim (Yam Sai-kwoon) a magnificent martial artist fallen on hard times with no place for him and his skills in the modern world - and so he sells out his soul and joins the triads in order to make money. The anguishing scene of him bending to collect coins in the pouring rain as Foon bears witness to the death of the old world is a powerful bit of filmmaking.

The film is a constant melee of action, but in particular the final thirty minutes is absolutely emotionally riveting and action packed – from the moment that Yuen sees a tied up Rosamund about to be raped to the final satisfying flick of a bullet by Wong. Within this is also the legendary ladder duel between Wong and Yim that encapsulates the frantic, inventive and quick editing style of Tsui. The film has its share of weaknesses – it could have been tighter, some of the comic bits feel out of place and the broad evil characterization of the foreigners just looks like it belongs in another film.

In the sequel (1992), Tsui again explores the clash of cultures and beliefs and the turmoil that was overtaking a changing China. The time period for this film can be set as angry crowds are protesting the Treaty of Shimonoseki that was signed in 1895. This was the result of China's defeat in the First Sino-Japanese war and China was forced to cede the sovereignty of Korea and Taiwan to Japan. Tsui of course can't resist the political dig at the Mainland by having a spectator ask, "Where is Taiwan" and having his friend respond, "We have other things to worry about in Canton".

Wong Fei Hung has arrived in Canton with Aunt Yee and Foon (now played by Max Mok) to attend a medical conference only to find the city in near anarchy. The White Lotus Cult headed by the mystical Kung (Xiong Xin Xin) is fanatically xenophobic and is attempting to destroy all the Westerners and rid China of its influence. The shaky imperial government has sent Commander Lan (Donnie Yen) to the city to restore control, but even more so to root out a band of rebels headed by Sun Yat Sen (Cheung Tit-lam) and his second in command (David Chiang). Lan is only too happy to use the cult in order to seek out the rebels, but he finds Wong Fei Hung in his way. The politics of Wong are difficult to distinguish – his stance is more one of siding with fairness and justice rather than siding with a cause.

Much of the first hour of the film is taken up with setting up the characters and the situation and there isn't really much action until the second half. From the point of the White Lotus Cult invading the British consulate though the film becomes nearly a non-stop series of action set pieces. Two of them are very good – Jet challenging Kung in a fairly wire enhanced duel and then against Donnie in a more down to earth kung fu battle of poles and quick reflexes.

This film is more focused than the first and the narrative is stronger, but it misses the interesting personalities of Yuen Biao, Kent Cheng, Jacky Cheung and Yam Sai-kwoon. What is somewhat fascinating about this film is the shading of gray of the supposed villains. Donnie is only following orders to find the rebels and destroy them – some might consider him a patriot – as is true for the character played by Xiong. He may have been fanatical in his beliefs, but certainly reducing the influence of the foreigners was not an evil goal. Though they are definitely the villains of the piece, Tsui allows the viewer to understand where their actions are stemming from.

The box office success of the first two films led to yet another installment in 1993 that is again directed by Tsui Hark. Though this film has some terrific scenes, it lacks the energy and drive of the first two films and bogs down at times in the interplay between Jet, Rosamund, the father and the romantic rival. Tsui also seems to be making an attempt to lighten the Wong Fei Hung character by allowing Jet to play him slightly goofy at times, act love struck and display a ridiculous streak of jealously. The action scenes also fall short of the previous films – they feel too chaotic, are sped up way too much and make the characters take on almost superhuman abilities at times. For me the film just didn't click on an emotional basis – and I have to admit to being one of those people who can only take a few minutes of Lion Dancing before I am ready to nod out – and a story of rival Lion Dance clubs just felt very small after the political intrigue of I and II.

The film also does not have the requisite charismatic bad guy that is needed in a film like this. The most interesting new character is of course Clubfoot played by Xiong with a manic animal ferocity that eats up the screen, but he ends up siding with Wong Fei Hung. From an emotional standpoint, it is the humanity that Wong and Rosamund show a crippled Clubfoot and his switching allegiance that is the most poignant part of the film. Everything else by comparison feels routine. The best action set piece has Jet fighting on oil slicked floors against a mass of men, but again the absence of a powerful villain hurts the scene and the final lion dance/fight free for all seems to go on for ever.
After this film there was a temporary rift between star and director and Tsui brought in Chiu Man Cheuk (aka Zhao Wen-Zhou) for numbers IV and V before bringing back Jet Li for Once Upon a Time in America.
My rating for Once Upon a Time in China I: 9.0
My rating for Once Upon a Time in China II: 8.5
My rating for Once Upon a Time in China III: 6.0

---