Vengeance of a Snow Girl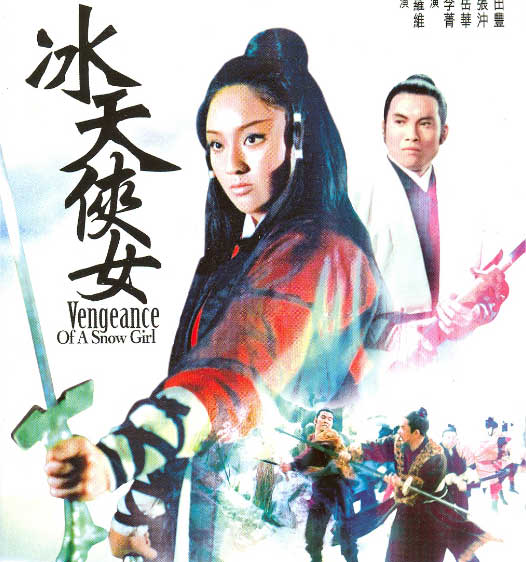 ---
Vengeance of a Snow Girl
Director: Lo Wei
Year: 1971
Time: 117 minutes
Vengeance of a Snow Girl is a somewhat long winded wuxia tale that ultimately takes on a surprising poignancy. The Snow Girl seeking vengeance is played by Li Ching, not exactly physically the most formidable or fearsome of actresses. She is about as tall as a roll of Charmin and just as soft with large beseeching eyes that would make a doe cry. She began mainly as a dramatic actress and quickly acquired the nickname "Baby Queen", but with the popularity of the martial arts film all the Shaw actors were expected to pitch in and Li Ching had her share of action roles. All that said, Li Ching is quite good in this wrathful role bringing her acting chops to one of wuxia's more memorable heroines.
In the dark a red hooded figure quickly flits from roof to roof , but the eyes make clear who is behind the masked face and what the gender is (though later the not too observant kung fu men seem to think she is a man – gender recognition rarely being a learned skill in many martial arts films). She darts into the room of Ge Hong and steals one of his deadly Golden Claws thus setting in motion a standard tale of revenge but with enough twists and curiosities to make it intriguing. Since she was a young girl Bing trained with two hermits in order to gain the requisite skills to avenge the murders of her mother and father at the hands of four martial arts masters. Now she feels ready to return the favor. She is at a slight disadvantage though as she is crippled and only able to walk aided by her two jade crutches (weapons within needless to say), but her kung fu is great and she can all but fly. Visually she makes a lethal looking killer – walking crab like she appears monstrous in her hate and at times when director Lo Wei speeds up her crooked walk she has a certain Ju-on quality about her.
Ten years previously Ximen Chong (Lee Kwan), Tong Hong (Ku Feng), Ge Hong (Wong Chung-shun) and Gao Yun (Tien Peng) demanded that Bing's father turn over the Jade Phoenix Sword to them for safekeeping and upon his refusal they kill him and his wife. In the shadows this is witnessed by Bing as she submerges herself for hours in ice cold water to both escape and to protect the sword– this turns out to badly damage her legs. Now in an explosion of hatred she wants blood. One of the three killers Gao Yun feels great guilt for his actions and sympathizes with his would-be killer and further complications arise when one of his son's (Yueh Hua) falls hard for Bing (after first thinking she was a he). Gao tells his son that she can be healed – but as in all wuxia stories it won't be easy – she has to go to a mystical snow field with a hot water spring – but she will be instantly frozen to death unless she has a magical pearl that resides inside a volcano with her – but she will burn to death in the volcano unless she is wearing heat resistant armour (looking amazingly like asbestos suits) that is the property of a Prince. The journey begins even knowing that when she can walk no one will be a match for her killing skills. Meanwhile, Tong Hong and his spoiled daughter (Chiao Chiao) are after Bing and the Jade Phoenix. Good production values and some great location shooting, the film could have used a little better editing and some better action choreography but it's the plot rather than the action that makes this a satisfying outing. Btw – keep an eye out for Sammo in red as one of Tong's henchmen.
My rating for this film: 7.0
---