Asia-Pol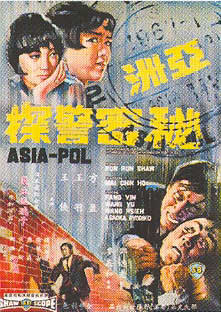 ---
Asia-Pol
Director: Akinori Matsuo
Year: 1967
The 1960's was of course the time of the great espionage films – the Cold War was good for that if nothing else - not only the Bond flicks but also the Flint movies with James Coburn, the Harry Palmer series with Michael Caine, the Quiller films with George Segal, anything based on John LaCarre novels and of course the classic Modesty Blaise! But Asia-Pol seems most influenced by an American TV series, The Man from U.N.C.L.E. in which a secret police organization has been created by the United Nations to combat global crime. Their secret headquarters is through a back door in a New York City laundry. This film uses that particular device and others in an effort to jumpstart this film but it falls surprisingly short of being fun.
All the necessary elements seem to be in place – sleek cars and sleeker women, two big stars, jet setting travel, great location shooting, exploding golf balls and shoot outs – but it never really revels in any of this and is rather plodding in its way too talkie execution. Shoot me, but Lo Wei would have done a better job with this material. Instead the Shaw's turned across the waters in a co-operative venture with Nikkatsu – using one of their directors (who was to do much better work in 1971 with The Lady Professional), a writer and one of Japan's biggest action stars, Jo Shishido of the chipmunk cheeks. So in a sense this is more Nikkatsu than Shaw but it lacks the ferocity that Nikkatsu brought to their action films and one can only guess that the Shaws wanted a watered down version of a Nikkatsu film with one of their rising stars topping it.
Jimmy Wang Yu plays Yang Ming Xuan, born to Chinese parents in Hong Kong but ending up as an orphan in Japan. He is a topnotch agent in a pan-Asian police organization and he and his partner are investigating large amounts of gold being smuggled into Japan that could destabilize the economy. Everything leads to the always smirking George (Shishido) who is in charge of the Japan branch of an equally secret criminal organization called ADV. The advantage keeps going back and forth between Yang and George as they one up each other. Unfortunately for George he suffers from that disease so many screen villains seem to catch – he prefers gloating to simply killing Yang every time he has a chance. Bad for him. Good for Yang. It appears that Yang's long lost Chinese father may be the head of ADV and so he goes to Hong Kong and later Macao to prove the charge false – ah the good old days of Pan Am and no airport security. In Hong Kong he meets up with a sister (the ever so demure Fang Ying) he didn't know he had who is also trying to prove her father's innocence.
From a 2009 perspective the location shooting is the best thing about the film as Yang drives all over Hong Kong (and a bit in Macau) in a city that is barely recognizable today.
Rating: 6/10
---