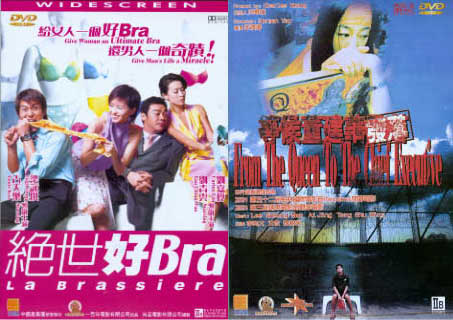 ---
Top 10 and Comments from YTSL
Some people -- including Brian himself... -- might look upon his and my having five choices in common in our Top Ten Films of 2001 lists as proof positive of there having been slim pickings in the past year for fans of Hong Kong cinema. However, a glance at the list of 2001 releases that I'm interested in checking out but still have yet to view -- which currently includes "The Peony Pavilion", "Lan Yu", "The Dark Tales", "Funeral March", "Merry-Go-Round", "Glass Tears", "Midnight Fly", "You Shoot, I Shoot", "Dance of a Dream" and "My Life as McDull" -- should show, at the very least, that my favorite film-producing territory -- one that is only about the size of Rhode Island and whose population numbers is around that of North Carolina -- actually has continued to put out a substantial amount of attractive looking offerings.
Other statistics that people might find interesting and pertinent are those which disclose that: Even while fewer Hong Kong movies were released in Y2K1 than Y2K, the total local box office gross of HKSAR films this past year -- of HK$480 million -- marks a healthy HK$93 million increase from 2000 (Cf. reports on such as Ain't It Cool News' web site). On a more personal note, I'd like to take this opportunity to express my happiness for 2001's marking the return to the Hong Kong film world of the likes of Carina Lau, Anita Mui, Loletta/Rachel Lee, Stephen Chow and Lau Ching-Wan after absences of a year or more. Additionally, although this turned out to be the year in which Joey Wong announced her retirement from acting, it ought to be remembered that it also marked her first appearance in a Hong Kong movie in seven years.

---
My Picks (One that's listed in order of preference, and which I do reserve the right to change more than once!):-
1. From the Queen to the Chief Executive: This serious -- but not at all pretentious -- socio-political drama seems to have been equally largely shunned by HKSAR movie viewers and international film festival organizers. IMHO, such a fate was not deserved by this moving work, whose makers courageously as well as controversially chose to highlight the real life plight of those Hong Kong based juvenile offenders who have had the misfortune of being sentenced to be detained "at Her Majesty's pleasure" and/or "at the Chief Executive's discretion" (i.e., a nightmarishly indefinite period of time).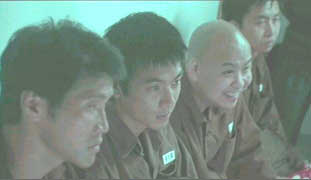 ---
1. La Brassiere: Was this fun as well as clever effort -- whose Chinese title translates into English as "The Ultimate Bra" -- designed to appeal more to males (by way of there being so many scantily clad as well as physically attractive women in the picture) or females (whose funny bones seemed to have been the main target of much of the movie's humor)? All I (really) know is that this candy and pastel color-schemed production appears to be Brian's as well as my definite favorite of a whole slew of (romantic) comedies that came out of Hong Kong in 2001 (and the previous year, in the wake of the mega box office success of "Needing You...")!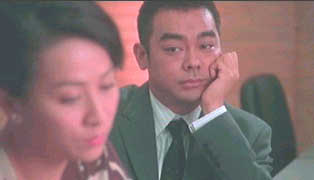 ---
3. Wu Yen: A delightfully wacky work that goes all out to entertain. In the process of doing so, this farcical Chinese New Year comedy serves up a bunch of hard to forget plus amusing sights -- and sounds -- as a result of Anita Mui having a double role as a hardly great Emperor -- who disguises himself as a female at one point in the movie! -- and his white haired, long eye-browed great-great-great-great-great-grandfather, Sammi Cheng playing a supposedly ugly woman warrior, and Cecilia Cheung portraying a fox spirit that's capable of assuming male as well as female human forms.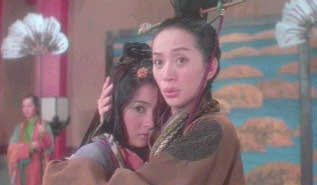 ---
4. Shaolin Soccer: I think it will be patently obvious to any soccer -- or, as I would prefer for the internationally popular sport to be known, (association) football -- fan who checks out this Stephen Chow film that it was made by fellow lovers of "the beautiful game" as well as the kind of creative folks who can see -- and prove to be adept at illustrating -- how certain Shaolin kung fu skills would be dream abilities for its players to possess. As such, even while this Ching Siu Tung action choreographed movie may not be Sing Jai's best work, it nevertheless has the potential to be the one that will endear him to a whole host of people who can't understand a single word of Cantonese, never mind the "mo-lei-tau" jokes for which he is (in)famous.

---
5. Love on a Diet: A comic offering which some people worried would be unavoidably tasteless and offensive turned out to be pretty cute, sweet and as much a testament of what people are willing to do for those they love than an out and out laugh riot. Another big surprise for viewers of this movie was not so much how its two leads are nearly unrecognizable when clad in their fat body suits but, rather, that Andy Lau could be such an attractive Fei Lo (i.e., "Fatty" or "Fatso") and Sammi Cheng's desperate dieter character endowed with so much (inner) beauty.

---
6. Gimme Gimme: The idea that "kids are people" too may be one that some adults find hard to buy. If any filmmaker could convince them of this fact though, it might well be director Lawrence Ah Mon. Alternatively put: In his second Milkyway Image production, the director of "Spacked Out", "Three Summers" and "Queen of Temple Street" has once again managed to produce a gem of social realism as well as succeeded in making me care about, and be interested in, the romantic yearnings and angst of this sincere plus authentic feeling effort's teenaged protagonists.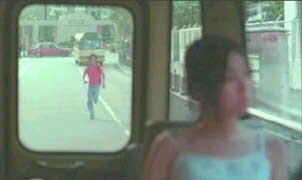 ---
7. Love au Zen: This contemplative romantic drama -- that was adapted by Raymond To from a 1996 play he wrote (entitled "Love a la Zen") -- compensates for its being devoid of star names in its cast by having such as a particularly thoughtful and intelligent script (that, fortunately for English subtitle reliant folks, appears to have been well translated). Then there's Tony Cheung's cinematography, which makes the film's main locale (a Lantau Island hillside monastery) and its rural surroundings look so idyllic that it is small wonder that people -- not least harried urbanites -- would want to retreat and spend some time there.

---
8. The Accidental Spy: A recent Jackie Chan film in which he mercifully speaks more Cantonese than English. Unfortunately, the Big Nosed One also doesn't do all that much fighting in that which is yet another Jackie-goes-globe-trotting blockbuster (one whose shenanigans largely take place in some very scenic looking sections of Turkey). Still, I found this Teddy Chan directed action-thriller to be a generally better production than "Rush Hour" 2 or 1 (not least because of it having a less bare bones, single joke/gimmick plot that allowed for more suspense and intrigue to build up over the course of the movie).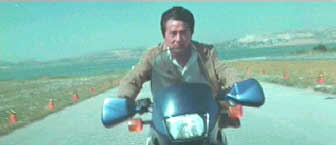 ---
9. Bakery Amour: This modestly simple but quite charming Valentine offering is a "must see" for fans of the versatile Francis Ng and pooky-faced Michelle Reis. As inconceivable as it may be for those who have not yet viewed this unabashedly romantic movie, the hardly very handsome character actor and former Miss Hong Kong are majorly convincing in their roles as two individuals who appear to have been made for each other. For those -- like myself -- who enjoy being given glimpses of less familiar sections of the HKSAR: There's the bonus of a visit to Francis' character's picturesque Hakka home village to look forward to.

---
10. Forever and Ever: As can be expected of an offering that's scripted -- as well as first time directed -- by Raymond To, lensed by Mark Li Ping-Bing and stars Sylvia Chang, this (melo)dramatic work is a well-written, beautifully filmed and bravura acted one. Furthermore, though it is more maudlin than I would have liked for an inspirational effort to be, this "heart"-filled earnest weepie also benefits from some (other) very affecting performances having been coaxed out of its younger cast members (who include Chris Lee, Chatman To, Josie Ho and Perry Chiu).

---